Almost 38 years to the day after its first flight, the Airbus A310 took a big step towards to oblivion as a passenger airliner on 30 March when Air Transat retired its final aircraft from service.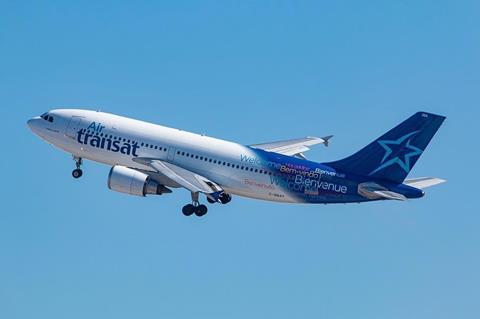 With the retirement over recent months of Air Transat's final four A310-300s, the total number of the widebody twinjets in active passenger service has dwindled to just seven aircraft, according to Cirium fleets data: five with Mahan Air of Iran, and one each with Ariana Afghan Airlines and Yemenia.
Air Transat was the last major A310 operator, introducing the type in 2000 to replace its Lockheed TriStars. Sourcing aircraft from the second-hand market, its fleet steadily increased to peak at 13-14 aircraft during 2008-2009. With A321LRs joining the fleet to replace its A310s, the airline confirmed in 2019 plans to retire the type the following year.
By late March, Air Transat had two A310s remaining and the type's last flight was operated on 30 March, a repatriation flight from Portugal to Toronto, via Halifax.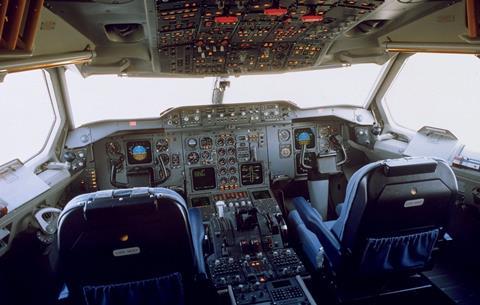 "It retired discreetly, but in a manner worthy of the reputation that preceded it," says Air Transat president-general manager Jean-François Lemay. "This aircraft has played a pivotal role in our operations over the years, flying to both our South and transatlantic destinations, thanks to its versatility."
There are four A310 freighters in service in the cargo role, operating with Royal Jordanian (one) and Turkish Airlines (three). A further 17 are currently being used in a non-commercial role, according to Cirium. This includes 13 flying in military service with the air forces of Canada, France, Germany and Spain in various roles such as tanker, multirole and VIP transport.
Airbus A310 active fleet
Fleet
Airline-operated
Ariana Afghan Airlines
1
Mahan Air
5
Royal Jordanian (cargo)
1
Turkish Airlines (cargo)
3
Yemenia
1
Non-airline
Miltary (cargo/VIP/tanker)
13
VIP/experimental
4
Grand total
28
Source: Cirium fleets data (Apr 2020)
The A310 was the second Airbus type to be developed, derived from the A300B series with a shorter fuselage and new wing as an "optimised 200-seater" to serve short- and medium-haul routes. Like its big sister, the A310 was offered with both GE Aviation CF6 and Pratt & Whitney JT9D power. A key advance introduced with the A310 was Airbus's first-generation two-crew electronic flightdeck equipped with electronic flight instrument system (EFIS) cockpit displays.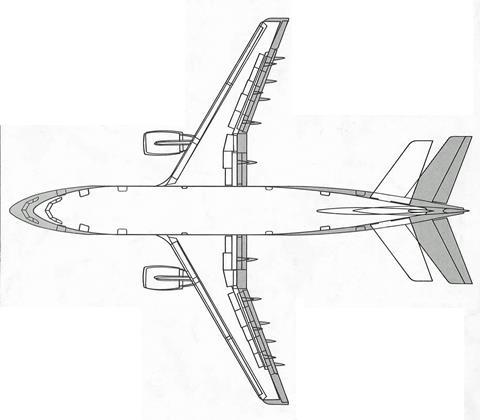 The A310-200 made its first flight on 3 April 1982 and the type entered service with Lufthansa and Swissair in April 1983.
An improved -300 version, featuring increased weights, additional fuel capacity and longer range, was introduced in December 1985 by Swissair. This variant was also the first production airliner to feature a carbonfibre primary structure – the fin box.
Airbus reverse engineered some of the A310's improvements, such as the EFIS cockpit, into the A300 series to create the A300-600/600R. Deliveries began of this version in March 1984.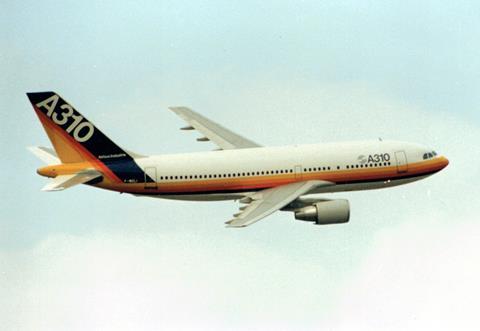 In all, Airbus delivered a total of 255 A310s – 85 -200s and 170 -300s – with the final delivery taking place in 1998, to Uzbekistan Airways. Combined with the A300, Airbus sold a total of 816 of its original widebody twinjet family before production of the A300-600F finally ended in 2007.
The A310 proved popular throughout Europe, with many of the region's flag carriers ordering the aircraft, including Air France, Austrian, CSA, KLM, Lufthansa, Sabena, Swissair, TAP, Tarom and Turkish Airlines. UK independent British Caledonian also took two aircraft. Lufthansa, which was a key launch customer, took delivery of the most A310s (23 aircraft).
The A310 in-service fleet peaked at around 230 aircraft in the late 1990s, by which time a cargo conversion programme was in full swing. Around one-third of the A310s built ultimately went through conversion, the majority of which were operated by FedEx.
The US express-package specialist has been a customer for Airbus's factory-built A300-600F, and the A310 complemented the fleet with its cockpit and cargo bay commonality. FedEx introduced the A310-200F in 1994 and subsequently also acquired the A310-300F. Cirium data shows that its A310 fleet peaked in 2008-2009 at around 70 aircraft before tailing off to just five aircraft during 2019 when the type was finally retired.
With the entire A310 operational fleet now below 30 aircraft, it falls to its sibling to continue the tradition for Airbus's founding family. Only a handful of A300s remain active in passenger service, with Cirium recording seven flying in total – all but one of which are with Iranian airlines. However, over 170 A300s remain active in the cargo sector (including five A300-600ST Belugas), so Airbus's original big twin should remain operational for some time to come.