As Etihad restores services with a third Airbus A380, Gulf carriers now account for more than two-thirds of the 155 superjumbos in service today
While Emirates' seemingly unshakeable belief in the Airbus A380 means it is no surprise that a majority of the ultra-large jets are flying on Middle East routes today, far less certain was that a similar enthusiasm for the superjumbo would also be found at Etihad Airways and Qatar Airways.
Etihad today restores flights with a third A380, again deploying the double-decker aircraft on its Abu-Dhabi-London service.
Cirium fleets data shows that of the 155 A380s that are now in service, more than two-thirds – 108 in total – are in service with the Gulf trio.
Airbus A380 fleet (Oct 2023)
Airline
In service
In storage
Source: Cirium fleets data 31 Oct 2023; Stored fleet inc Air France-KLM, HiFly, Malaysia Airlines, Thai Airways
ANA
3
0
Asiana Airlines
5
1
British Airways
12
0
Emirates Airline
97
24
Etihad Airways
3
7
Korean Air
6
4
Lufthansa
4
10
Qantas
7
3
Qatar Airways
8
2
Singapore Airlines
10
4
Total
155
65
The majority of these are operated by Emirates, whose president Tim Clark never left much doubt the carrier would return to service its more than 100 of the type after their abrupt grounding during the pandemic. However, both Etihad and Qatar had signalled that Covid was likely have drawn a close to their A380 flights.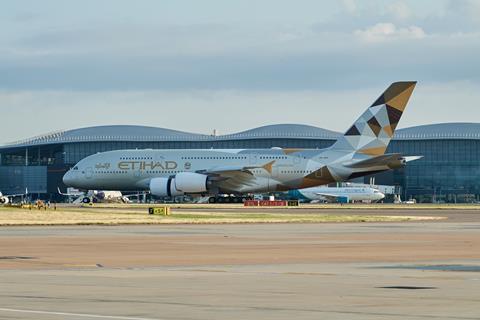 Qatar Airways chief executive Akbar Al Baker had been a vocal critic of the inefficiencies, both economic and environmental, of operating the A380 versus new-generation widebodies. However, amid industry-wide challenges in ramping up capacity post-pandemic, and with its own capacity further crimped by the grounding of a portion of its A350s, Qatar Airways returned the double-decker to service in late 2021.
"We are so desperate for capacity to fuel the huge growth in passenger numbers the airline is facing in this period," Qatar Airways chief executive Akbar Al Baker said last summer. Cirium data shows eight of Qatar's 10 A380s are back in service.
WHY ETIHAD RESTORED A380 FLIGHTS
But it would not be for another 18 months until Etihad followed suit. The Abu Dhabi carrier in July this year restored the first of four A380s to service after a hiatus of more than three years, deploying the jet on its London route.
The airline had grounded its 10 A380s indefinitely in April 2021, parking them as part of wider action in response to the pandemic.
While Etihad never completely ruled out the return of its A380s, it appeared one of the least likely operators to bring the widebody back into service. "We don't see them re-entering into our fleet planning unless the yield on the ticket price and the demand could ever make them financially viable," then Etihad chief executive Tony Douglas told FlightGlobal in an interview in March 2021.
The type though has secured an unexpected stay, as strong demand convinced the airline that restoring some A380s to service will be "financially viable".
"It's a great opportunity to reinvest capacity into [the] London-Abu Dhabi [route]," Ed Fotheringham, Etihad vice-president Europe and the Americas, told FlightGlobal after the ultra-large jet landed at Heathrow for the first time.
"As we return from the pandemic, there is a huge amount of growth across the world, and one of the great options Etihad has is bringing back the A380 on a high-capacity route like London-Abu Dhabi."
The airline is using all of its returning A380s to replace Boeing 787s on its four daily London flights.
Deploying the A380s, which seat 486 passengers in Etihad's configuration, significantly increases its capacity. The Airbus jets carry about 150 more seats than its two- and three-class 787s.
It also frees Etihad to redeploy the 787s elsewhere across the network. "As we move into the winter schedule, it allows the 787s… to return to Dusseldorf, four years after we left, [and to add] the new destination of Copenhagen," adds Fotheringham. Etihad also plans to send 787s to Osaka, its second Japanese destination.
LUFTHANSA BRINGS BACK ULTRA-LARGE JET
Etihad is not the only carrier to have reinstated the A380 this summer. In June, Lufthansa resumed flights with the A380, again in a bid to counter a wider capacity shortage.
During the Covid-19 pandemic, Lufthansa grounded its then 14-strong A380 fleet. It eventually sold six of the jets. Having initially planned to bring four aircraft back, it has now opted to return to service all eight of its remaining A380s by next year.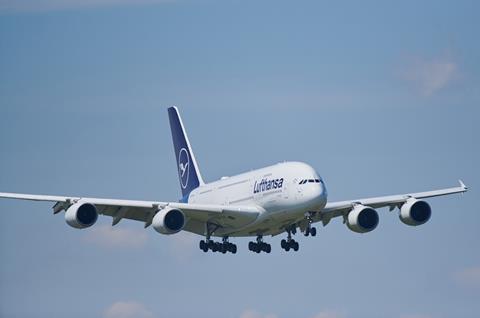 Lufthansa now operates the type on routes including Munich to New York, Boston, and since the end of October, Bangkok. By 2025 it plans to deploy them to additional destinations like New Delhi and Washington Dulles airport.
"Late 20s, early 30s," Lufthansa chief executive Carsten Spohr said in Spetember when asked how long Lufthansa expects to continue operating its Rolls-Royce Trent 900-powered A380s. "It depends on demand, and when Airbus and Boeing are able to deliver other airplanes."
It means 10 airlines have now brought the jet back into service. None of Air France-KLM, HiFly, Malaysia Airlines and Thai Airways have restored A380 flights, while China Southern Airlines, which had been one of the few to operate A380s through the crisis, took the type out of service at the end of last year.
EMIRATES REMAINS BIGGEST OPERATOR
Emirates of course remains the key A380 operator. Clark has been steadfast throughout the crisis in believing demand will warrant the return of the double-decker. In March last year, as international markets reopened in earnest, he flagged a combination of "astronomical demand" and slot shortages at major airports as making the case for the type.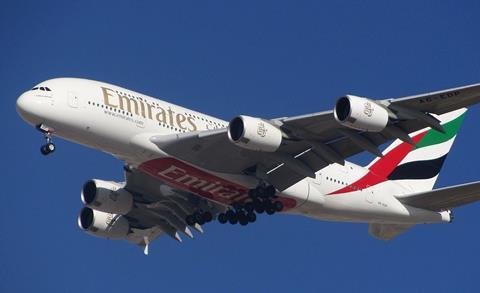 Emirates in November said it has now brought over 100 of its A380 fleet back into service.
Further underlining the importance of the type to Emirates' future, the Gulf carrier is retrofitting 67 examples with a new interior. The first of these, which has been refurbished to include a 56-seat premium-economy cabin, returned to service at the start of the year.
Story updated on 11 November to reflect Emirates announcement