As airlines tussle with an unprecedented slump in passenger demand triggered by the coronavirus pandemic, a key question centres on the fate of their near-term order backlogs.
Fleet data from Cirium shows that between now and the end of next year, the world's airlines are due to take delivery of over 2,700 Airbus and Boeing passenger aircraft. A further 350 aircraft are due to go to lessors where the end user has not yet been identified.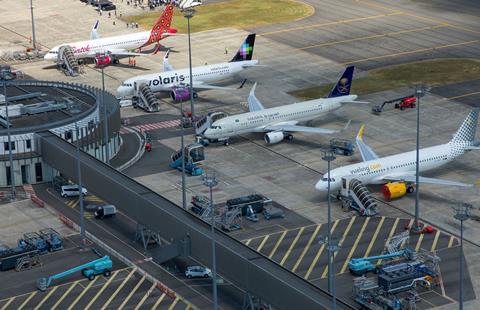 Of those on order for passenger airlines, Airbus has the highest exposure – at 1,546 aircraft. Boeing's 2020-21 scheduled deliveries comprises 1,159 aircraft. However, Cirium data includes an estimate of 880 737 Max deliveries during the period, as it anticipates shipments recommencing during 2020, subject to approvals. This data excludes lessor orders without an identified operator.
2020-21 deliveries due by region
Asia-Pacific
902
Europe
707
North America
593
Middle East
252
Latin America
185
Africa
52
Unassigned
14
Total
2,705
Airbus/Boeing passenger aircraft deliveries due (airline oprs)
Source: Cirium fleets data (March 2020)
Asia-Pacific airlines account for the highest number of aircraft due through the next 21 months (902 units/33%), with Indigo having the largest nuumber scheduled (72 aircraft).
Leading backlogs - 2020-21 (global)
Southwest Airlines
114
Delta Air Lines
98
American Airlines
90
Turkish Airlines
89
United Airlines
86
Airbus/Boeing passenger aircraft deliveries due
Source: Cirium fleets data (March 2020)
However from an airline perspective in global terms, the top three places are all occupied by US carriers. Leading the pack, according to Cirium fleets data, is Southwest Airlines with 114 737 Max due through to the end of 2021. Delta Air Lines is in second place with 98 deliveries followed by American Airlines with 90 deliveries.
European carriers make up over a quarter of the total (702 aircraft). Turkish Airlines is the European carrier with largest near-term backlog – 89 aircraft. This ranks Turkish fourth overall in global terms. Other European airlines with significant backlogs due by the end of next year are Wizz Air (51), Ryanair (50) and Lufthansa (40).