The Air France Airbus A380 fleet became a high-profile victim of the coronavirus pandemic in mid-May, emphasising how many aircraft types both new and old will not escape the far-reaching consequences of the industry's coronavirus crisis.
As of mid-May some 12,700 of the 21,500-strong global Airbus and Boeing passenger airliner fleet were grounded, according to Cirium fleets data. Many of these idle aircraft will be reactivated, but many more will likely not return to service. Exactly how this will play out in the coming months and years is still to be seen but there is already a groundswell of opinion that relatively youthful examples of aircraft variants that only recently went out of production are likely to be severely impacted.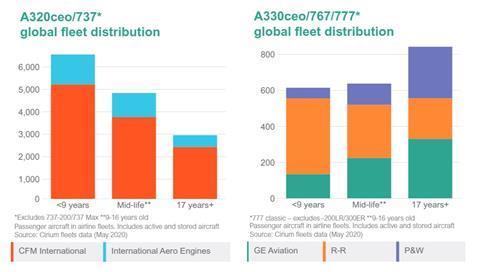 During an Ascend by Cirium webinar in April, global head of consultancy Rob Morris predicted that "four-engined widebody jets" would likely to bear the brunt of the crisis. "The passenger [Boeing] 747 is probably at the end of its line. The [Airbus] A340-600 is also threatened."
Ascend's head of valuations, George Dimitroff, added that "mid-life" twin-aisle aircraft such as the Airbus A330, Boeing 767 and 777 classic are "probably more threatened, because as traffic returns, we see single-aisles return to service first, followed by twin-aisles".
Morris added that mid-life single-aisles could be "quite threatened as well".
Ascend by Cirium views the "mid-life" category as aircraft in the nine- to sixteen-year-old age group. Across both the twin-aisle and single-aisle sectors, Cirium fleets data reveals that the mid-life group of aircraft account for around one-third of the total fleets.
The widebody passenger twinjet group (A330ceos, 767s and 777-200/300 classics – i.e. excluding the -200LR/300ER) comprises over 600 mid-life aircraft in service or storage globally. An additional 840 of these aircraft are more than 16 years old.
In the single-aisle category, around 4,700 mid-life Airbus A320ceo-family aircraft and 737 classics/NGs are currently in airline fleets. The older-than-mid-life category accounts for another 2,800 aircraft.
Both Ascend analysts believe that financing permitting, airlines should continue with fleet replacement programmes and avoid the temptation to capitalise on the low oil price by retaining older aircraft as they restore capacity. So what is the potential exposure to the engine makers for these older aircraft with uncertain futures?
In the twin-aisle twinjet sector, GE Aviation represents the largest fleet of aircraft in the mid-life and older categories – with 37% (554) of the 1,480 aircraft total. Rolls-Royce is not far behind with 521, but accounts for a much larger proportion of the young fleet, thanks to its dominance in the A330 market (421 aircraft).
R-R, which accounts for by far the largest fleet of twin-aisle twinjets (942 aircraft) overall, has the greatest exposure in the mid-life category, with 295 aircraft. Pratt & Whitney has the smallest fleet and the lowest exposure in each category – just 405 aircraft in the mid-life and older categories combined.
Unsurprisingly, CFM International accounts for a very large proportion of the single-aisle sector with its sole-supplier status on the 737 series and around half of the A320ceo market. This means that the CFM56 powers almost four-fifths (5,944 aircraft) of the 7,550 mid-life and older aircraft in airline fleets. Rival International Aero Engines accounts for the remainder of the older categories – 1,600 aircraft.
With the likelihood that fleets will not recover to pre-pandemic levels for several years and therefore many aircraft will be permanently withdrawn, there could be a glut of surplus engines populating spares inventories for the foreseeable future.