Tim Clark has spent literally half of his life steering – and subsequently leading – Emirates Airline on an incredible journey to become one of the world's most successful, well-known and feared network carriers. During the operator's more than three decades, he has seen – and dealt with – pretty much everything the airline industry has had to throw at him. But he continues to relish every challenge.
When Airline Business spoke to Clark in London during September, he seemed just as fascinated by the latest shenanigans in UK politics as he was by the progress of the latest Ashes test match. But as ever, Clark was most focused on the next steps for his airline and the looming challenges in the industry.
Emirates suffered a near-70% decline in net profit last year, to Dh871 million ($237 million), blaming the effects of fuel, competition and exchange rates. Clark is cautiously optimistic that the airline's fortunes are improving in the current financial year, but still has words of warning about the state of the global economy.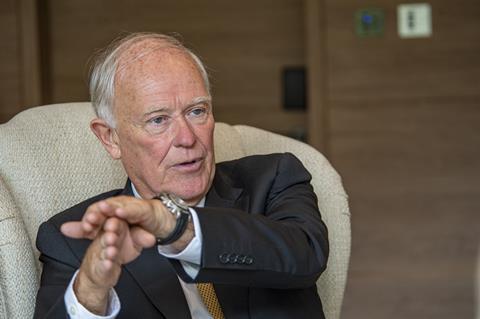 "Wherever you look today there are issues – whether it be the trade situation between the Chinese and the Americans, the difficulties of the Argentinian economy, the geopolitical issues where we operate, the fuel cost situation, therefore we can't be sure as to what is going to happen going forward," he says.
"There is a compendium of short-, medium- and long-term events which are affecting demand for air travel. I would see a diminishing growth of air travel – that will not go negative but I do see a possible couple of percentage points fall over the next three to five years."
Clark points out that the Dubai-based carrier operates at the dead centre of that geopolitical and socioeconomic global landscape, as Emirates is the largest international long-haul carrier in the world. "95% of our production is centred on a network that brings together 157 cities using 268 widebody aircraft, of which 112 are A380s," he explains.
Thanks to Emirates' agile network and capacity strategy, Clark says business is improving and the airline's cash position is 50% higher than expected at this stage, so there is "fiscal headroom".
"We've been smarter about aligning capacity to the situation, we haven't had large numbers of aircraft being delivered. We have been adapting our network on a prudent and immediate basis. And we've spent a lot of time on our revenue models to ensure that we optimise the revenue per seat kilometre," he says.
"If you can get a Dubai national to sit in my job that would be a good thing, because they will have earned it. and it sends a clear message because the government wants to accelerate the 'Emirates-isation' of the workforce."
But the global economic pressures are ratcheting up in tandem with Emirates impersonators emerging across the region "that have the single-minded attention to taking us down because we're so dominant in their markets – Africa, Middle East etc. It's like the champion boxer.
"We have some major players, whether it be it the Turks, Qatar Airways, or the curious exponential growth of Oman Air. So we deal with that. Pricing strategies of these carriers I'm a little bit surprised about, but ergo that affects what we do."
Clark describes the competitive landscape within the region as "quite fierce at the moment", adding that Emirates has to "make our way financially without any subsidies or government intervention".
That means Emirates has needed to "make sure our products were as good as they've always been and embark on a digital transformation to try and make the whole back-of-house systems leaner and optimise our fleet utilisation. That dashboard is really comprehensive now. The speed at which we make the decisions based on the information we get is a lot better than it used to be.
"And of course we've had things like recruitment freezes for years now. So our cost per available-tonne-kilometre has flattened or gone down over the years."
Emirates operates a handful of fifth-freedom routes and more could follow where it identifies a commercial opportunity. But Clark emphasises that they are not central to the wider business strategy.
The two routes currently operated are to New York, from Athens and Milan. A service between Barcelona and Mexico City will begin in December.
"Where there is an opportunity… where we see city pairs underserved by the incumbents, and where we see demand that will produce a return from us… we will take it," says Clark.
"Now just to be clear, fifth-freedom operations do not drive or underpin our business model. But when we look at the situation geographically, economically, certain things are staring us in the face. So could anything happen after that is anyone's guess."
What is clear is that an early thawing of the Gulf carrier's frosty relationship with the US major carriers is unlikely. "They've just lost a major battle in the White House. President Trump's [comments to the US carriers about their state-subsidy allegations] killed it dead," says Clark.
Changing shape of Etihad competition
The airline's closest neighbour, fellow Emirati carrier Etihad Airways, had been looming large as a global rival, but things are changing dramatically after the realisation at the Abu Dhabi-based carrier that it could not continue as it was, says Clark.
"Obviously, they're not as prolific as they were. The business model has changed fundamentally and the ability for us to extract more mutual value by working closer together in certain areas is clear.
"At the moment they're not such an entity that we have to deal with as we did before," Clark says, but cautions that he recognises a restructured Etihad will be a healthy competitor.
"This transition of the airline that will emerge as 'the new Etihad' over a maximum of the next three years, giving returns to the shareholder, will be a formidable force once they've sorted themselves out."
Emirates is mid-way through a major restructuring of its widebody fleet in parallel with the strategy unveiled two years ago to work much more closely with fellow Dubai government-owned carrier Flydubai and transport passengers on its sibling's metal. Officially, Emirates still has 50 Airbus A380s on order – although this contract is being revised downward to just 11 more deliveries as part of a pending deal for 40 A330neos and 30 A350s.
Similarly, Emirates has 150 Boeing 777Xs on backlog and a long-held commitment – yet to be firmed – for 40 787-9/10s. The Boeing contracts have also been under negotiation for order substitutions, but these talks – and those with Airbus – have been delayed by the various technical and scheduling woes the programmes have suffered from recently.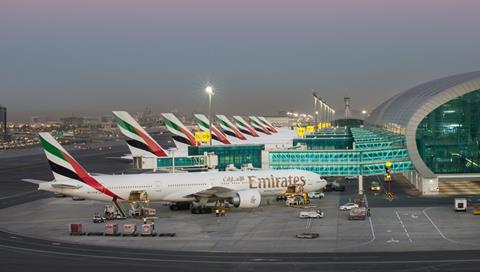 The uncertainty surrounding the schedule for the 777-9 variant of 777X – which had been due to fly by mid-2019 but has been delayed until next year – means "at this stage it makes little sense" for Emirates to enter into discussions around contract adjustments or the introduction of new aircraft to the order package.
Clark says that confirmation of the major delay to the 777-9's first flight, which was caused by issues with its GE Aviation GE9X powerplant, came at a time when Emirates was "fairly well advanced in our negotiations with Boeing on this particular order".
The 777-9 had originally been due to fly in October 2018 and the first aircraft was scheduled for delivery to Emirates by June 2020, with up to nine shipments in close succession. "All those have now been set back," he adds. "We cannot be sure as to when we are going to get them."
Given so many uncertainties around the new programmes and the global economy, Clark is reluctant to be specific about the outlook for Emirates' fleet development.
"Things are changing. At the moment it's clear we're in a period of contraction," he says.
"No day gives us the same answer [to the state of the global economy in the next three to five years]. So to say we will do as we planned two or three or four years ago would make no sense. We will make the agreements on orders and the type of aircraft at a time when we're satisfied that they are what we want, when we want.
"I believe in three to five years that the global economy will be in a better place. Demand for travel will have recaptured its 4-6% growth and the industry will be realigned to the new way of doing things. So probably by the end of 2022-2023, everybody will be in a much better position."
The airline's fleet development planning is complex, with retirements of older aircraft timed to coincide with new arrivals as required. The A380 fleet is reaching its peak and will soon start to decline, while the delay to the 777-9s can be managed by pushing back retirements, explains Clark.
Debuting premium economy on A380
The impending demise of its large contract for additional A380s has prompted Emirates to drop plans to install its new first-class suites into the aircraft, says Clark. However, the A380 will be used to debut premium-economy cabins in November next year. These were due to be introduced on the 777-9s in mid-2020 before the delivery delay.
Emirates began retiring its first A380s this year but Clark emphasises that the superjumbo "will remain a major component of our fleet mix for the next 15 years at least". The number "will stabilise at about 115… and then probably go down to about 90-100 by the middle of the next decade".
On the impact of 777-9 delays, Clark talks of the airline's "fleet safety net", explaining: "When the 777Xs were due we had a line of retirements planned – we've already got rid of some early 777-300ERs and the classics and -300s have gone.
Emirates in numbers
Passengers (2018): 58.6m
Revenue: $26.6bn
Operating profit: $721m
Net profit: $280m
Financial results for year ending March 2019
"So from June of next year right the way through to when we get clarity [on deliveries], we have the ability to stop the replacement/retirement programme. So I'm not unduly concerned."
Emirates and Flydubai are now two years into their collaboration and while the two operations remain separate from each other at a management level, the partnership is close operationally.
"Obviously their brand has to remain separate, but where we've now put our code on a huge number of their flights, and them on us," Clark says. "And we've integrated [operations]…. We've now got something like 20 departures a day from Emirates' own [southern] terminals at Dubai."
Clark says Emirates customers are already accustomed to a change of brand and aircraft type on the routes that both airlines serve: "The market has accepted that you might go to Mumbai on an A380 and come back on a 737 on the same code – that is now working very well."
The plan is to expand the tie-up, which is key to how the two airlines will wring the last drops of capacity out of the existing Dubai International airport (DXB) ahead of an eventual transition to the all-new Dubai World Central.
DXB is currently handling around 88 million passengers a year and heading towards its maximum capacity. With the timing of the expected respite through a move to DWC unclear as the project undergoes a complete re-evaluation, Emirates is examining how much more growth DXB can deliver.
"We believe we can get Dubai International up to about 115-120 million passengers a year… with more intelligent use of the real estate. We already have a terminal at DWC that can handle 30 million passengers [so there is a potential combined capacity of 150m already]."
Clark says the DXB "more intelligent use" plan will see Flydubai aircraft "injected" into the operational "troughs" created by the Emirates departure/arrival banks: "So we're shifting 737s into that off-peak contact gate availability."
Clark says the schedule changes can result in increased ground "dwell time" between connections from say 1h to 2h 30min but he says passengers "don't mind waiting [slightly longer] because the competitive alternative is probably 12-14h extra".
Clark also believes that the previous DWC design did not apply technologies to the level that they should be at in airport design and passenger flow.
"We've been smarter about aligning capacity to the situation, we haven't had large numbers of aircraft being delivered. We have been adapting our network on a prudent and immediate basis."
"DWC was not going to be ready until the early 2030s. To suggest that we should be applying existing technology and airport design on the basis of that [is misplaced]," he says.
"The passenger processor of the second half of the 21st century will be completely different from today. Biometrics will control access, and a lot of functions we do today will be off site," he adds
Clark estimates that the removal of the check-in function alone would cut staffing by 2,500 people per shift.
"Although we've pushed them out, the [two airport development] lines will cross. There will be an activation of the existing DWC terminal as the break-out. We'll see spillage down to DWC, so I'm not overly concerned about the ability of Emirates to grow its business alongside Flydubai in the existing structures.
"We could eke this out, given the overspill available at DWC, for probably 10 years. That gives us a small gap before we have to decide what we do."
Following in Tim Clark's footsteps
Succession planning at Emirates is a regular question that Clark faces and tires of answering. A founder member of the Emirates management team in 1985 and appointed president in 2003, Clark points out that identifying his successor is not up to him, saying only: "The time comes for all us, and when the time is right, I'll move on."
In some ways, running Emirates resembles playing with a giant train set for Clark, who was appointed Knight Commander of the Order of the British Empire in 2014. "Personally, this is kind of a hobby," he says, making no secret of his love of the aviation business.
"I will go home and read aviation publications. The kind of constant three-dimensional chess that goes on [in the airline industry] is good fun. But not without its difficulties and its pressures."
The arrival of experienced airline executives like Thierry Antinori and Christoph Mueller in senior roles at Emirates had led to speculation that they were being lined up to take over in the future. But both have now left and several Emiratis have recently been appointed into senior executive positions, including Adel Al Redha as chief operating officer and Adnan Kazim as chief commercial officer. Could the next Emirates president be a local?
"Personally, if you can get a Dubai national to sit in my job that would be a good thing, because they will have earned it," says Clark. "And it sends a clear message because the government wants to accelerate the 'Emirates-isation' of the workforce."
Airline competition in the UAE market
Top operators to/from UAE by ASKs, November 2019
Nov-19
Change vs Nov 18
Airline
Flights
Seats
ASKs
Flights
Seats
ASKs
Emirates
14,568
6,182,576
30,357,535,018
-1.6%
-1.2%
-2.1%
Etihad Airways
7,076
1,777,546
8,473,109,045
-0.2%
4.8%
3.5%
Flydubai
5,247
940,098
1,961,116,372
-17.7%
-16.3%
-6.9%
Air Arabia
5,379
918,490
1,834,881,916
1.6%
3.3%
6.5%
Air India Express
1,508
280,488
710,567,910
9.9%
9.9%
9.4%
Indigo
1,380
248,400
595,189,745
21.1%
21.1%
17.2%
Air India
780
157,084
379,294,553
35.9%
46.0%
39.9%
British Airways
240
63,514
349,818,343
0.0%
7.1%
7.1%
SpiceJet
642
136,104
307,728,139
9.9%
9.9%
8.3%
China Southern Airlines
186
52,346
293,494,846
28.3%
46.0%
50.7%
Saudia
1,020
228,758
273,160,328
5.2%
5.3%
4.7%
NAS
942
247,312
264,441,279
21.1%
77.3%
79.9%
Aur Air
363
66,759
239,957,200
47.0%
60.9%
70.9%
Turkish Airlines
326
76,274
229,074,467
21.6%
10.1%
10.1%
Cathay Pacific
178
46,636
191,010,819
-1.1%
-1.1%
-1.6%
Egyptair
394
76,896
185,359,814
9.4%
6.7%
6.7%
Cebu Pacific
60
26,160
180,905,587
0.0%
0.0%
0.0%
Pakistan Int'l Airlines
584
96,017
178,463,797
35.2%
36.5%
37.1%
Aeroflot
47,640
47,640
177,007,434
0.0%
-11.2%
-11.2%
China Eastern Airlines
112
28,992
165,889,648
86.7%
67.8%
68.0%
Source: Cirium schedules data