Damian Brett, the editor of Air Cargo News, outlines how the freight sector has been affected by the coronavirus outbreak
While passenger airlines have heavily reduced their services over recent weeks, the air cargo market has gone into overdrive as a result of the coronavirus pandemic.
The sector is managing a huge capacity crunch as airlines have largely stopped operating the bellyhold services which make up roughly 50% of cargo capacity.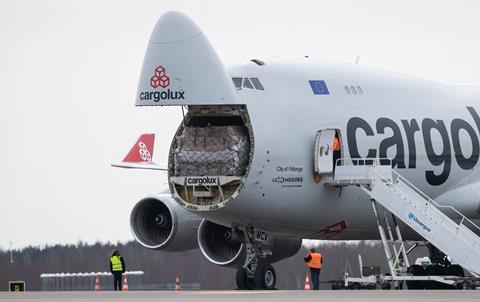 Consultant Seabury estimates that at the end of March, cargo capacity was down by around 35% compared with the year-ago figure.
Numbers vary dramatically between trade lanes, but of the busiest routes, North America to Asia Pacific had seen a 17% reduction in capacity, while in the reverse direction there was a 19% drop.
Asia-Pacific to Europe was down 30%, while the reverse direction reported a 32% fall in capacity. Intra-Asia was down by around 35%.
On the demand front, reports suggest there has also been a decline as social-distancing measures put the brakes on consumer spending and production lines ground to a halt.
The latest figures from CLIVE Data Services show that demand was down by around 23% in March.
The drop-off in demand lags the capacity reductions and, as a result, freight rates have taken off.
Numbers from Tac Index show that rates on services from China/Hong Kong to Europe increased by 158% from March 2 to April 6.
On China/Hong Kong to North America an increase of 90.5% was recorded during the same timeframe.
So what of the coming months? There are some early signs that the situation is easing as carriers have started to re-activate parked-up freighter aircraft, passenger aircraft are being utilised as ad hoc freighters and containership operations come into play.
Meanwhile, social-distancing measures in China are being eased, resulting in production lines getting back under way. It can only be a matter of time until the same happens in Europe and then the USA.
Lufthansa Cargo chief executive Peter Gerber says that while it is impossible to predict what the future holds, it could be the case that there are several spikes in cargo demand over the coming months as production plants in various countries come back online.
The prospect of this outcome was also posited by logistics and parcels giant Deutsche Post DHL in a recent business performance update.
"While the development of the business situation in China has been quite promising in the last weeks, Europe and North America are still in an earlier stage of the pandemic," DP DHL said.
"It is likely that these regions are going to see a comparable downturn and subsequent upswing like in China, while the peak of the pandemic and therefore the turnaround of the curve are not yet reached."