When Virgin Atlantic broke the news it would need to cut over 1,000 more jobs, even having secured its future within £1.2 billion ($1.6 billion) in refinancing commitments, it underlined just how damaging the failure to reignite the key transatlantic market was.
As its name suggests, long-haul flights across the Atlantic are central to Virgin's mission. While the carrier serves other long-haul markets, and has had a couple of ill-fated flirtations with short-haul operations, the bulk of its flights and revenues come from transatlantic services.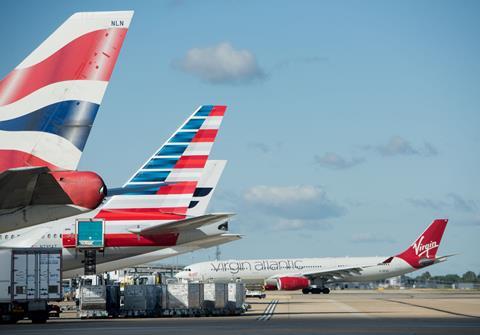 In its announcement Virgin noted transatlantic accounts for around 70% of its flying. While in resuming flights it has looked at diversifying by launching services to Pakistan later this year, the speed of its recovery is clearly tied to the fate of the transatlantic market.
"The US border closure and UK quarantine measures have been in place for far longer than originally anticipated. As the airline increases passenger operations, the opening of US borders and removal of quarantine is imperative to recovery," the airline says.
"These travel restrictions impact on Virgin Atlantic disproportionally given its long-haul operations focused on the transatlantic. The airline is calling for both UK and US governments to introduce robust passenger testing regimes to lift travel restrictions whilst protecting public health.
Cirium schedules data shows Virgin Atlantic operated 19 routes from the UK to North America in September 2019 – and only a dozen outside of the region. This accounted for more than half its flights and almost three-quarters of its ASK capacity. Schedules data shows that Virgin's North American capacity was almost 88% down this September.
While few carriers may be quite as exposed to the North American market, Virgin is far from alone in seeking an urgent return of transatlantic.
As the biggest international aviation market by capacity, transatlantic is not only a key segment for the major carriers across Europe and North America, but joint ventures between operators on both sides have expanded the reach, scale and profitability of these services.
Capacity on the transatlantic has grown in all but one year since the financial crisis, and schedules data shows seat and ASK capacity increased by around 50% in 2019 compared to 2009.
Date
Flights
Change %
Seats
Change %
ASKs
Change %
2009
299,875
-9
76,521,077
-9
516,965,286,392
-9
2010
304,018
1
77,338,458
1
524,097,077,825
1
2011
317,994
5
82,051,256
6
556,701,465,600
6
2012
309,885
-3
80,825,390
-1
549,582,996,829
-1
2013
311,270
0
81,902,837
1
558,858,756,142
2
2014
325,584
5
87,212,591
6
596,574,124,157
7
2015
340,361
5
91,792,734
5
629,660,023,097
6
2016
362,595
7
98,639,232
7
677,486,267,585
8
2017
380,215
5
104,413,785
6
717,959,004,779
6
2018
401,727
6
111,319,140
7
765,919,982,066
7
2019
405,917
1
114,009,555
2
791,286,639,232
3
Source: Cirium schedules data
This is why concerted efforts by players on both sides of the Atlantic have focused on seeking a solution – notably pressing for a testing regime to be implemented at airports – to facilitate some kind of normalisation of flight operations on core routes between Europe and the USA.
IMPORTANCE TO EUROPEAN CARRIERS
For London, transatlantic in general – and New York in particular – are key markets. Cirium schedules data shows last September there were 1,877 flights between the two cities' airports, operated across six carriers and accounting for almost half a million seats. This September there are just 386 flights operating, supplying just over 100,000 seats.
Small wonder then that Heathrow airport chief executive John Holland-Kaye recently pressed the case for the UK and USA to cooperate on a pilot programme to test passengers flying between London and New York for Covid-19 before they board to avoid them having to quarantine on arrival.
Traffic data from London Heathrow airport, the UK's biggest hub, shows that more than 23% of its passengers in 2019 were on North American routes. In August, the airport had just 88,000 passengers on North American routes – just 6% of total passengers that month and 95% down on the same month last year.
Cirium schedules data show that last September Heathrow's biggest operator, British Airways, operated 30 different routes between London – predominantly from Heathrow – and the USA. This accounted for a third of its overall ASK capacity in September 2019, illustrating the importance of the market to BA.
Schedules data for this September shows just nine of those routes restored. Of those routes only one, the daily connection to the Dallas/Fort Worth hub of its joint venture partner American Airlines, is operating at the same frequency. BA's 60 monthly flights from Heathrow to New York JFK compares to more than 250 monthly flights from London to the airport last September.
Transatlantic is also significant for BA sister carrier Aer Lingus, which is part of IAG and has applied to join the transatlantic joint venture between BA, American Airlines, Iberia and Finnair. Schedules data shows North American flights accounted for half its ASK capacity in September last year – and all of its long-haul capacity.
July figures from Dublin airport show passenger volumes to and from North America fell 96%, as almost 20,000 passengers travelled on transatlantic routes during the month
Transatlantic was also key to IAG's fledgling long-haul low-cost operator Level. The carrier today resumes flights, launching a weekly Barcelona to New York service on which it will also carry freight on behalf of IAG Cargo.
IAG had confirmed in July that it would maintain its Level operation out of Barcelona but indicated that its fleet would be reduced to two A330-200s. Level previously operated four A330s from Spain and another three from Paris Orly through its French unit Level France, which is being closed down.
Transatlantic was also a key market for market-disruptor Norwegian prior to the crisis. Cirium schedules data shows the carrier had been operating 49 routes between points in Europe and North America last September following its rapid expansion.
While this network was already being cut as Norwegian battled its mounting financial challenges even before the coronavirus crisis, the airline – which remains in hibernation mode, operating around 25 aircraft on short-haul services – has said it remains committed to returning to transatlantic routes, though on a smaller scale.
Air France and KLM – partners with Delta Air Lines and now Virgin Atlantic on transatlantic routes – both served 18 North American routes from Paris Charles de Gaulle and Amsterdam Schiphol respectively a year ago. Cirium schedules data shows five of those Air France routes – together with a Paris Orly connection to New York JFK – were still not operating in September. Four KLM transatlantic routes are still to be restored. Capacity is down on virtually all the restored routes.
Cirium schedules data for Lufthansa Group, in which several of its carriers have a transatlantic joint venture with Star Alliance partners United Airlines and Air Canada, shows its transatlantic capacity in September is at about a quarter of the levels of the same month in 2019.
Lufthansa itself operated 37 North American routes in September 2019 from Frankfurt and Munich – around half of which were restored in September this year.
Group carriers Austrian, Swiss International Air Lines and Brussels Airlines operated another 19 routes to North America in September last year. Ten of these are still to be restored, September schedules show.
IMPORTANCE TO NORTH AMERICAN CARRIERS
Transatlantic markets are also key for North American carriers. Notably, the big three US majors all have transatlantic joint ventures.
Schedules data shows around a fifth of Delta Air Lines' ASK capacity last September was on transatlantic routes. It operated 68 European routes, serving 26 different European destinations from a range of US points.
Just 18 of those routes had been restored in September and all of these were at much reduced capacity levels. This includes nine European destinations, but most of the capacity was centred on the Amsterdam, Heathrow and Paris hubs of its joint-venture partners.
It is a similar story for BA and Iberia transatlantic partner American Airlines. Transatlantic accounted for just under a fifth of its ASK capacity in September 2019, schedules data shows.
American operated 57 routes into Europe last September serving 23 European cities. But its transatlantic capacity is down 86% in September this year – as opposed to 60% for its network as a whole. It had restored just nine transatlantic routes in September, including four to Heathrow.
Lufthansa Group partner United Airlines operated almost 19% of its ASK capacity on transatlantic routes last September. It operated 62 routes into Europe, serving 26 destinations.
Schedules data shows United is operating a quarter of its previous European capacity levels in September. It has restored 21 routes, but all at flat or lower capacity levels.
Canadian carriers have also been hit. Air Canada and WestJet capacity, for example, on European routes is down 80% in September compared with the same month last year.
Air Canada has restored 15 of its European routes – it operated more than 50 routes last September — and again the restored routes have much lower capacity. WestJet has only resumed its Calgary flights to London Gatwick and Paris Charles de Gaulle.