UK carrier Virgin Atlantic is to cut a further 1,150 jobs after formally securing court approvals for a restructuring plan which will unlock £1.2 billion ($1.6 billion) worth of refinancing.
The fresh cuts reflect the continued challenges in restoring international air travel amid the global pandemic, in particular the key transatlantic market, which represents around 70% of the UK carrier's flying.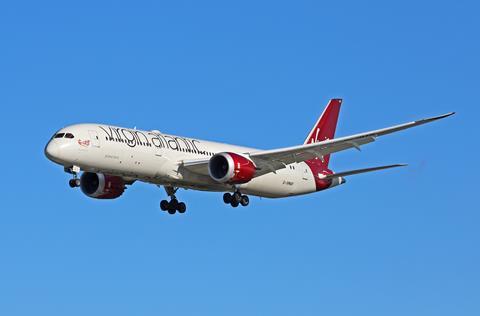 "Based on the current outlook, the airline is planning to a scenario in which transatlantic flying from the UK does not extend beyond current skeleton operations until the beginning of 2021," the airline says.
Under this scenario it expects its fourth-quarter capacity to be around 25% of 2019 levels and warns revenues next year could be only half of tose seen in 2019.
"Unfortunately, despite actions already taken to reshape and resize the business, regrettably the airline must go further one last time with changes at scale, to ensure it emerges from this crisis," it says.
Virgin is planing a further reduction of 1,150 jobs across all functions and a 45-day consultation begins today. It adds that to mitigatete as many cabin crew redundancies as possible, the airline is introducing a voluntary, company-financed furlough scheme for 600 crew when the existing UK government scheme finishes at the end of October.
In May, the airline cut over 3,100 jobs and retired some of its Boeing 747-400s in an effort to address the financial pressure of the coronavirus crisis.
The fresh cuts came as the airline formally completed its court-sanctioned restructuring plan, after a US court - where the airline had filed a related Chapter 15 protection procedure - had on 3 September followed an English court in approving the restructuring plan.
The refinancing is partly supported by existing shareholders Virgin Group and Delta Air Lines as well investment firm Davidson Kempner Capital Management. The airline had previously warned without the fresh financing it would run out of money by the end of September.
Virgin Atlantic chief executive Shai Weiss says: "The completion of the private-only, solvent recapitalisation of Virgin Atlantic removes much of the uncertainty we faced and represents a major step forward in our fight for survival.
"Now we must focus our efforts on securing our long-term future, by ensuring that Virgin Atlantic not only survives but thrives as passenger demand returns.
"After the sacrifices so many of our people have made, further reducing the number of people we employ is heart-breaking but essential for survival. I truly hope that as demand returns, we will see many members of our team returning to us."
In a bid to reignite the key transatlantic market, the airline says it continues to work with industry peers to persuade the UK and US governments to introduce robust passenger testing regimes to enable restrictions to be lifted,.
Weiss says: "It's clear that the introduction of passenger testing is the only way to enable the removal of travel restrictions and open up flying to key markets, while protecting public health. We will continue to work with our industry partners to press for urgent government action."