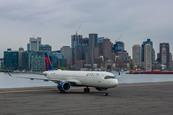 News
Delta Air Lines became the latest Airbus A321neo operator on 20 May when Delta flight 1202 departed Boston Logan airport, bound for San Francisco International.

News
Low-cost carrier EasyJet is citing its ability to up-gauge from smaller Airbus A319s as providing an opportunity to lift capacity in the coming years as part of its strategy of growing at slot-constrained airports.

News
IAG's decision to order a combination of Boeing 737 Max 10s and Max 8-200s puts an end to scepticism as to whether a tentative agreement for 200 aircraft, three years ago, would survive crises affecting the Max and the broader air transport industry, as well as changes of IAG management.

News
Singapore Airlines does not expect its growth plans to be greatly affected by delays with the Boeing 777-9 programme, while its 737-800s will serve until 2024-26.

News
Start-up US carrier Northern Pacific Airways, which intends to begin flights later this year, has applied with US authorities to fly between the USA and two Asian countries, initially using jets wet-leased from another carrier.

News
US aviation company Surf Air Mobility has unveiled plans to both become a publicly traded company and to acquire regional US carrier Southern Airways.

News
Turkish Airlines has disclosed that it intends to purchase six Airbus A350-900s, which will be delivered over the course of this year and next.

News
Lessor AerCap has taken a pre-tax charge of $2.7 billion in write-offs and other impairments relating to the inability to retrieve 113 aircraft leased to Russian carriers.

News
Japanese-owned SMBC Aviation Capital is to acquire fellow Irish-based lessor Goshawk Aviation under a transaction valued at $6.7 billion.

News
Budget carrier Ryanair is aiming to reach a fleet of 70 Boeing 737 Max 8-200s for the summer peak, up from the previous target of 65, as it seeks to deploy summer capacity 15% above the pre-crisis level of 2019.

News
Scandinavian airline Norwegian is hoping to benefit from improved economies of scale during 2022 after a 'disappointing' first quarter of the year.

News
Middle Eastern carrier Emirates had returned more than half of its Airbus A380 fleet to service by the end of the financial year in March, having already restored full Boeing 777 operations.

Newsletter
EasyJet's announcement this week that it would be removing six seats from its Airbus A319 jets might seem counterintuitive for a low-cost carrier, but it reflects creative thinking as the sector tackles a troublesome staffing shortage.