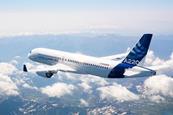 News
Russian carrier Azimuth's agreement to take Airbus A220s is the first from one of the country's airlines since the twinjet family quietly secured certification from the federal aviation regulator Rosaviatsia.

News
Airbus has concluded its first flight-hour services contract in Central Asia with an A220 pooling and component repair agreement with Kyrgyzstan's Air Manas.

News
Icelandair has seven of its nine Boeing 737 Max jets in service and expects to bring the other two into operation by late August.

News
AirAsia Group chief executive Tony Fernandes is still bullish about to taking delivery of all aircraft the low-cost carrier has on order with Airbus.

News
New TAP Air Portugal chief executive Christine Ourmieres-Widener has been in "listening mode" during her first few days in charge of the European operator, as uncertainty surrounds the business's second tranche of state aid.

News
Qatar Airways chief executive Akbar Al Baker has indicated he is ready to place a launch order for a new freighter with Boeing or Airbus by the end of the third quarter, though he added the caveat that the carrier would need to see concerns around the A350 settled before ...

News
Russian carrier Azimuth is set to become the first operator of the Airbus A220 in the country, following an agreement for six unveiled at the Moscow MAKS 2021 air show.

News
Airbus has carried out the maiden flight of its fourth BelugaXL high-capacity transport, which took off from Toulouse on 20 July.
News
Airbus has delivered its first A350 from its widebody completion centre in Tianjin, China.

News
Three airlines have signed letters of intent covering the acquisition of 50 Sukhoi Superjet 100s, as the MAKS 2021 air show opened in Moscow.

News
Russian carrier Aurora has signed a preliminary agreement to acquire eight Sukhoi Superjet 100s through state leasing company GTLK.

News
Volaris will finance its fleet via operating leases rather than with direct purchases until at least 2023, chief financial officer Jaime Pous has disclosed.

News
New Italian carrier ITA is set to bid for the Alitalia brand name through a public tender, as the airline prepares to commence operations in mid-October.