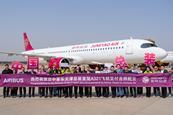 News
Juneyao Air has taken delivery of the first Airbus A321neo to be completed at the airframer's final assembly line (FAL) in Tianjin.

Analysis
Key data from the most-recent European earnings period – the fourth quarter of 2022 – and the equivalent periods stretching back to the last pre-Covid year, powered by Airline Business Insight


News
Emirates is set to operate its Airbus A380s on daily flights to Bali, making it the first carrier to deploy the superjumbo to Indonesia.

News
Brussels Airlines will operate 10% more European flights this summer than last, after signing an agreement to wet-lease two Bombardier CRJ900s from CityJet and taking delivery of two additional Airbus A320s.

News
Lufthansa will resume Airbus A380 operations on 1 June with daily flights from Munich to Boston, marking the return of an aircraft type that once looked unlikely to fly for the carrier again.

News
Turkish Technic has shown off in IndiGo colours the first of a pair of high-density Boeing 777-300ERs that the Indian carrier is wet-leasing from Turkish Airlines.

News
India's SpiceJet is to "significantly" restructure its balance sheet in the coming months, raise fresh equity, and embark on an "aggressive push" to grow its fleet.

News
Canadian carrier WestJet intends to begin flying Boeing 737-800 cargi aircraft next month after having received the required regulatory approvals.

News
RwandAir has introduced a third long-haul aircraft, receiving an Airbus A330-200 at its hub in Kigali.

News
Lufthansa Group appears to be nearing the formal launch of a new operation, branded City Airlines, out of its second hub at Munich.

News
Iraqi Airways is preparing to take delivery of its first Boeing 787, one of 10 due to be introduced by the flag-carrier.

News
FedEx is trimming its air delivery business to be "more agile and nimble" following a challenging fiscal third quarter.