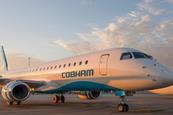 News
Australian charter operator National Jet Express (NJE) will retain its operating fleet – and grow it "aggressively" in the future – following its acquisition by compatriot Regional Express (Rex).

News
Swiss leisure carrier Edelweiss Air is to introduce an additional Airbus A340 to its long-haul fleet from next year.

News
Iraqi Airways has issued a request for proposals for wet-leased or ACMI aircraft for operations to Europe amid a continued blacklisting of the carrier by the European Commission.

News
Israeli flag-carrier El Al is to explore the possibility of additional Boeing 787s from the second half of next year, once it completes introduction of its current fleet.

Analysis
Cathay Pacific has arguably been among the hardest hit of airlines by Covid travel limitations over the past two years. However the Hong Kong carrier in its half-year results now appears to be cautiously positive about its future prospects, though travel restrictions remain a challenge.

Analysis
Boeing's much-awaited resumption of 787 deliveries on Wednesday provided a welcome boost for the manufacturer and Dreamliner customers who have been facing operational headaches caused by the aircraft delays.

News
Airbus A220s have helped lift the airframer's total global operational single-aisle fleet into five figures, according to the company's latest backlog data.

News
Siberian operator KrasAvia has entered a provisional agreement to acquire 10 UZGA LMS-901 multi-purpose aircraft.

News
Middle Eastern budget carrier Air Arabia's new Armenian operator Fly Arna commenced operations in July.
Analysis
Deals disclosed at recent Farnborough air show underline continued interest in transplanting new powertrains into existing airframes as a fast and affordable way to cut emissions and reduce maintenance costs.

In depth
Our regular examination of the latest global data for several key airline market indicators, including traffic and capacity in passenger and cargo markets, in-service and stored fleets, jet fuel costs, and share price trends for the world's largest groups.

News
US lessor Air Lease is optimistic that the long-haul sector is showing signs of following the short-haul market into recovery, claiming that 80% of aircraft on its widebody order book have been placed.

News
Swiss will lease as many as six Airbus A220-300 aircraft from Air Baltic in order to "stabilise its schedules" in the coming months.