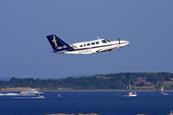 News
Cape Air is continuing a long-term transition away from its fleet of high-time Cessna 402s but still envisions flying the twin-engined aircraft well into the future.

News
Canadian company WestJet Group plans to complete its integration of Sunwing Airlines' fleet of Boeing 737s by October 2024.

Analysis
Low-cost carrier Pegasus Airlines is about to take delivery of its 100th aircraft. The passing of the landmark is not only illustrative of how far it has come since launching scheduled services in 2005, but of the rapid growth seen in the Turkish market – both before and since the pandemic. Now the challenge it is to continue this expansion.

News
Cathay Pacific has formally signed for 32 Airbus A321neo and A320neo twinjets, having previously indicated that it would exercise options for the type.

News
Central European budget carrier Wizz Air is working to minimise the impact of the technical issue affecting Pratt & Whitney PW1100G engines that will limit its planned capacity growth during the second half of the 2023-24 fiscal year.

News
China Eastern Airlines is to purchase another 100 Comac C919 twinjets, with deliveries of the aircraft set to commence next year.

News
Ural Airlines expects removal of the Airbus A320 which force-landed in a field outside Novosibirsk could take several months, and says storage work on the aircraft will be necessary in the interim.

News
Textron Aviation has confirmed California start-up Surf Air Mobility's order for the first 20 Cessna Grand Caravans to be converted with in-development electric and hybrid-electric powertrain technology.

News
Air Canada has ordered another 18 Boeing 787s and taken options to purchase a further 12 of the widebody jets as part of broader plan to renew its fleet.

News
Russian airframer Yakovlev is establishing a new aviation training centre intended to supply crews for a range of domestically-built aircraft types.

News
Ukrainian state aviation enterprise DAP Ukraine's presidential Airbus ACJ319 has undergone a refurbishment project at the facilities of Lithuanian-based J&C Aero and Estonia's Magnetic MRO.

News
Australia's Regional Express (Rex) intends to add two more Boeing 737-800s by end-June 2024, as it expands its mainline domestic operations.

Newsletter
It seems crazy to think that only a couple of years ago ample aircraft availability was one reason why the industry was seen as favourable to start-up carriers.