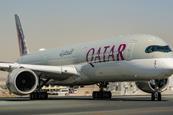 News
Qatar Airways chief executive Akbar Al Baker is keeping pressure on Airbus over a fuselage-degradation issue that grounded 20 of its A350s, while continuing to mull widebody freighter orders.

News
Scandinavia's SAS is evaluating fleet options to address lower demand on the company's network, and is closing in on a decision.

News
Relaunched UK regional carrier Flybe has taken delivery of its first De Havilland Canada Dash 8-400 twin-turboprop at its new Birmingham airport home.

News
Ukrainian carrier Air Ocean Airlines has commenced commercial services, operating an initial network of domestic routes using Antonov An-148 twinjets.

News
Ukraine's government is to invest in creating a new state carrier, under the working name of Ukrainian National Airlines, as part of a programme of economic development.

News
Nigerian carrier Air Peace is to introduce a pair of Airbus A320s through Latvian-based wet-lease specialist SmartLynx Airlines.

In depth
The latest Airline Business Index shows the global airline industry is nearing three-quarters of its pre-Covid size, driven by rapidly returning passengers and revenue in the third quarter.

News
Trading platform Auction House of the Russian Federation has started accepting bids for a Yakutia Sukhoi Superjet 100 which suffered a landing accident at Yakutsk in October 2018.

News
French logistics firm CMA CGM Group has become the second customer for the new Airbus A350 freighter after signing a memorandum of understanding covering the purchase of four of the type.

News
Icelandic start-up Play has signed for another pair of Airbus A320neo twinjets, sourcing them from Chinese lessor CALC.

Analysis
Organisers and visitors alike will be hoping that the biennial Dubai air show has bookended the worst of the Covid-19 crisis, proving the maxim that 'timing is everything'.

News
Lufthansa Group carrier Brussels Airlines has unveiled a new colour scheme and logo as it embarks on the post-crisis recovery track.

News
Boeing pitched a freighter version of its 777X to aircraft lessor Air Lease before that company decided instead to become launch customer for Airbus's newly announced A350F.