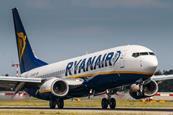 News
Ryanair chief executive Eddie Wilson remains optimistic of a strong lift in air travel in Europe this summer and expects consumers will extend holiday plans later into the year

News
Etihad has decided to ground it's entire fleet of 10 Airbus A380s "indefinitely", as it remodels its fleet around the Boeing 787 and A350-1000, chief executive Tony Douglas has disclosed.

News
Kyrgyzstan's Air Manas has become the first operator in the CIS to introduce the Airbus A220.

News
Tighter regulatory attention on Boeing following the 737 Max crisis is causing delays to its 777X programme and could contribute to Emirates switching its orders to the 787, the carrier's president Tim Clark has warned.

News
Chinese carrier Juneyao Air was loss-making in 2020, much like its larger, state-owned compatriots, which have also saw their profitability punished by the impact of the coronavirus outbreak.

Interview
After launching four successful airlines in 30 years, serial entrepreneur David Neeleman's latest project sees him targeting underserved US cities with Breeze Airways

News
Russian carrier Smartavia has introduced the first of three Airbus A320neo twinjets it is planning to receive this year.

Analysis
The first Airline Business Index put the airline industry at 0.58 of its pre-pandemic size at the end of 2020 – with 1 being the size at end-2019 – amid the devastating impact of the Covid-19 pandemic.

News
Russian budget carrier Pobeda has received the first Boeing 737-800 to be transferred to the operator under Aeroflot Group's broad fleet restructuring programme.

News
Commercial aviation industry services specialist GA Telesis is ordering another four Boeing 737-800SF converted freighters, the modified airframe developed by Aeronautical Engineers.

News
Virgin Australia Group will reintroduce 10 Boeing 737-800s into its fleet, as part of a wide-ranging, "fast-tracked" domestic recovery plan which will also see the carrier resume hiring.

In depth
Southwest's follow-on commitment for 100 Max 7 aircraft and Ryanair's imminent start of services with a higher density version of the Max 8 are further positives for Boeing's flagship programme after the restart of commercial flights last December, but further order cancellations and the back-up power control issuing impacting some of the fleet show challenges remain
News
Romanian carrier Tarom has put 14 aircraft up for sale, including all of its Airbus A318s, Boeing 737-300s and 737-700s.