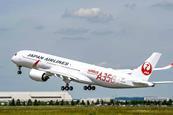 News
Japan Airlines has picked the Airbus A350 as its future flagship aircraft, as it retires its fleet of domestic Boeing 777s by 2023, and reduces the number of large widebodies in the medium term.

News
Lufthansa Group carrier Swiss is to cut its fleet by 15% and its headcount by a fifth as it attempts to right-size itself to serve what it perceives will be a permanently smaller customer base.

News
Israeli flag-carrier El Al has dropped plans to enter a sale-and-leaseback transaction for three Boeing 737-800s with an undisclosed foreign company.

News
Irish-based lessor GTLK Europe is to acquire four Airbus A321 converted freighters, induction for which will commence this year.

News
Lufthansa Group has ordered more Airbus and Boeing widebodies as it continues modernising its fleet, with the goal of reducing fuel consumption, complexity and cost.

News
Singapore Airlines has raised S$2 billion ($1.5 billion) in sale-and-leaseback transactions involving 11 aircraft.

News
Airbus has parked a second A300-600ST Beluga transport following the introduction of the higher-capacity BelugaXL.

News
JetBlue Airways has taken delivery of its first Airbus A321LR aircraft, with which it intends to launch transatlantic service later this year.

News
The Covid-19 pandemic has jumbled the aircraft maintenance and repair industry, driving down prices for some aircraft components and leaving MRO shops reeling from depressed demand.

News
Restructuring low-cost carrier Norwegian plans to ramp-up its operations to a peak of 50 short-haul aircraft this year once travel restrictions are lifted and to reach 70 aircraft next year.

News
Dutch carrier KLM has debuted a cabin upgrade for the first of 14 Boeing 737-800, a fleet revamp it aims to complete by March next year.

News
Silk Way West Airlines has placed an order for five Boeing 777 Freighters, the Azerbaijani carrier's first commitment for the long-haul twinjet.

News
Finnair intends to adopt temporary measures to manage its single-aisle fleet after putting narrowbody modernisation plans on hold while the pandemic crisis persists.