In the first of four articles that reflect on a comprehensive industry study, Michael Bell and Hans Nilsson of Korn Ferry's Civil Aviation Practice consider how airlines can make genuine progress on gender diversity and inclusion
It's about time that the aviation industry took serious action to address its major gender balance disparity.
To that end, key stakeholders in the aviation and aerospace industry undertook a comprehensive study – Soaring Through the Glass Ceiling – focused on enhancing the attraction, retention and advancement of women across all sectors of the industry, including airlines, airports, aviation service providers and original equipment manufacturers.
The study brought the industry together as a partnership of seven parties – the Aerospace Industries Association (AIA), IATA, Airlines for America (A4A), the International Aviation Womens Association (IAWA), Airports Council International (ACI), the Civil Air Navigation Services Organization (CANSO) and Korn Ferry. It represents the first truly global, multi-stakeholder study on gender diversity in the aviation and aerospace industry.
The objectives of the study were to identify the key inhibitors to the advancement of women and, more importantly, to identify, document and promote the key enablers in order to overcome those inhibitors. To address these objectives, the study focused on four key stakeholder groups – women, business leaders, human resources leaders and educators – and featured interviews with more than 60 leaders in the industry and survey responses from more than 2,400 individuals.
Soaring Through the Glass Ceiling tells a clear story of an aviation and aerospace industry that has made slow but important progress in improving the diversity of its workforce, with pockets of real success. For example, women represent 19% of the total number of aerospace and defence chief executives and more than 30% of airport chief executives in the USA, well ahead of the proportion across all industries (5%).
But the story at airlines is not nearly as encouraging. According to FlightGlobal's most recent annual survey of the 100 largest carriers, women held only 13% of executive positions in 2019. This represented only a marginal improvement from 12% in 2018 and 11% in 2017. Other studies reveal that only 3% of global airline chief executives are female. Amazingly, no major US airline has ever had a woman in the chief executive role.
Only 50% of survey participants in the Soaring Through the Glass Ceiling study reported that the representation of women in leadership roles had increased in their organisations over the past five years.
Lacking opportunities
Almost half of the women surveyed see a lack of opportunity for advancement within their organisations and believe that their voices are not heard. In many parts of the industry, the pipeline of female leaders is also thin, suggesting that the number of female chief executives may not significantly or readily increase in the near term. Moreover, the FlightGlobal survey also revealed that airlines overwhelmingly look internally for new chief executives, and generally towards candidates in positions that are dominated by men.
Extrapolating the average growth in female incumbents reported since 2017 in the FlightGlobal survey suggests it could be 2057 before gender parity is achieved in the global airline industry. Is the airline industry prepared to wait that long? Can it even afford to do so?
The bottom line is that the industry will not achieve gender parity unless it fundamentally changes its approach in this arena. As the FlightGlobal survey shared: "A wholesale shift in the C-suite gender balance is only likely if airlines change those habits and/or become better at promoting female talent."
What should that change be?
The study discovered that women are most likely to join the industry and advance if two fundamental conditions are in place:
1. When top leadership unequivocally communicates the importance of diversity and inclusion by setting a vision, ensuring accountability, and role‑modelling. Women in aviation and aerospace were almost five times more likely to feel there were leadership and development opportunities in their company when senior leadership was committed to diversity and inclusion.
2. When women see other women advancing to, and performing in, senior leadership and governance roles. Women are much more likely to join, remain with, and be engaged within an organisation that takes the necessary steps to appoint high-performing women into the most senior positions.
Unequivocal message
One airline that is making big strides in this arena is Air Canada, which has an unequivocal message coming from the top of its house:
"The CEO has to set the tone on this issue," says Calin Rovinescu, chief executive of Air Canada. "It has to be both top-down and bottom-up. We have diversity initiatives from the top and from the bottom of the organisation. As well, we have signed up for the 30% Club. Today, 82 of 245, or 33%, of our leaders are women, so we have already exceeded that commitment and will continue driving forward. Diversity is a clear and unequivocal personal objective for me."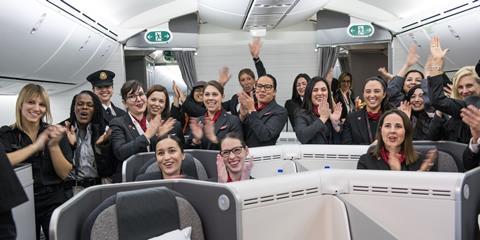 With an eye to helping airlines achieve the change they require, and with the goal of making progress through actionable solutions, Soaring Through the Glass Ceiling identified a suite of practical steps for airlines and other aviation organisations to act on.
Specifically, the study concluded that to continue to advance gender diversity and inclusion, the industry must address both the structural and behavioural impediments that hold underrepresented talent back and make it more difficult for women to advance to leadership positions:
Structural inclusion comprises putting in place inclusive and equitable structures, processes and practices, such as removing gender bias in job descriptions.
Behavioural inclusion manifests through mindsets, decisions and actions that visibly reinforce the importance of diversity and inclusion.
This finding aligns very well with the best practices outlined by Korn Ferry's Diversity & Inclusion Practice, which suggest that senior management commitment, combined with structural and behavioural actions, can truly "move the needle" on this important issue.
All stakeholders
But the study revealed that it is not sufficient just to address the issue through structural and behavioural means. The effort must itself involve all key stakeholders. The executive team, leaders at every level of the organisation, individual men, mentors, and individual women themselves all must play a role in eliminating systemic biases and supporting the advancement of women.
Specifically, the study identified five key drivers that aviation organisations should embrace to achieve more progress on gender diversity:
1. Publicly recognise and highlight female role models. The number one enabler for women to advance at their organisations was an internal female role model, supported by business and human resources leaders' active and visible championing of such women.
2. Ensure unquestionable senior leadership commitment to diversity and inclusion. Women in the industry were five times more likely to feel that there were leadership opportunities for women in their organisations when senior leadership was involved and unequivocally committed to diversity and inclusion.
3. Level-set expectations with individual contributors and management. A hallmark of more-diverse organisations is that both individual contributors and leaders are optimistic about their prospects for advancement. The study equally revealed that, within organisations that are less diverse, there is a material gap between the views of business leaders and individual female contributors regarding women's advancement potential, and this disparity must be rectified.
4. Ensure that more women have a seat at the table. Women who were included in senior-level decision-making processes in their organisations felt five times more strongly that women could excel within the organisation. Not surprisingly, they were also six times less likely to leave their organisation.
5. Invest in more inclusive talent management and succession processes. When women in the industry didn't see opportunities to advance, they were seven times more likely to rate their organisations as having ineffective talent management and succession practices. By building inclusive and effective practices, aviation organisations will remove barriers to the advancement of women.
Another high-performing carrier, Air New Zealand, has come to appreciate that real change on gender diversity and inclusion requires this type of multi-faceted approach throughout its organisation.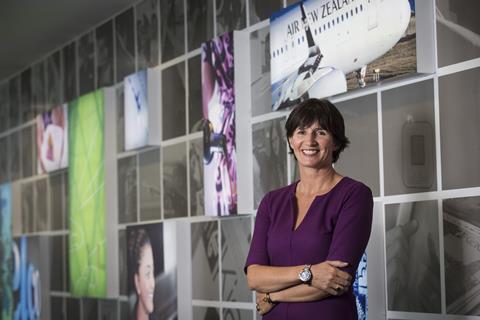 To that end, the airline has in place several programmes and initiatives that drive structural and behavioural change across the enterprise, including: a Women in Leadership programme, as well as three women's groups in business areas where they are underrepresented, including Women in Digital, Women in Engineering & Maintenance and Women Pilots Inspiring the Next Generation (WINGS); seven employee resource networks; a Maori and Pasifika leadership development programme and a cultural competence programme that is in its initial phases; Unconscious Knowledge and Bias Awareness workshops, which more than 1,600 employees have voluntarily attended to date; and passionate diversity and inclusion champions throughout the business, who serve as agitators for positive change.
Airline stories
Over subsequent articles, we will bring these best practices to life through profiling the progressive actions of three other airlines that have been highly successful on the diversity and inclusion agenda – one from each of the full-service, low-cost and regional business models.
The stakes are high for the airline industry. Organisations that fail to develop a diverse and inclusive workforce will find it harder to recruit great people, retain top performers, and foster out-of-the-box thinking to meet new business challenges and capture new opportunities.
Diversity is critical to business success, leading to a wider talent pool, a higher level of employer attractiveness, differing and insightful perspectives on issues, a more inclusive customer view, enhanced collaboration, and better retention.
As Delta Air Lines chief executive Ed Bastian shared through the Soaring Through the Glass Ceiling study, "gender diversity isn't just the right thing to do, it's the smart thing to do".