Airline Management Group founder Peter Davies believes the industry needs to do more to identify new opportunities during the crisis, whilst managing the immediate balance sheet challenges.
Speaking during the Alternative Airline CEO podcast, a new airline management-focused series, Davies flagged the need for airline leaders to look beyond simply surviving the crisis.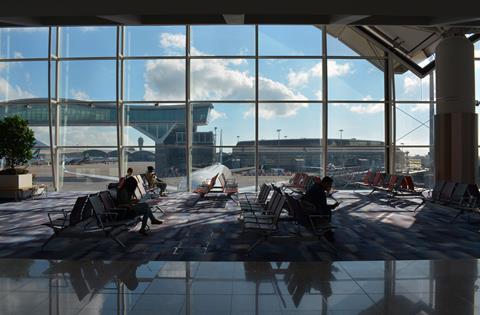 "No one is telling me …..about what needs to happen in the future, as opposed to what should or could happen and I think this is an area where as a CEO, I would be challenging my senior level people as to what they think the opportunities are and what they think needs to happen," he says.
Davies, who has led airlines including SN Brussels Airlines, Air Malta and Caribbean Airlines, highlights the tendency for airlines to focus on their competition rather than the potential the crisis offers to reset business models.
"Just to go back to what they were doing before would be absolutely incredulously stupid," he says. "So I think this is a fantastic opportunity. So my eyes would certainly be on the balance sheet, but equally I would be throwing out the nets from my trawler looking for those areas of opportunity."
Davies is joined on the podcast series by another experienced airline executive Philip Saunders, who most recently served as chief commercial officer at South African Airways.
"There have been so many moments where people have come along and broken what is accepted as status quo wisdom, and put new business models in place," he says. "I think having that imagination about how you move your business forward is critical.
"This is not business as usual – which is a bit of cliché, but the point is this is one of the moments in history when you recreate what is happening in your industry."
Saunders though adds the ability for airlines to take a strategic lead is also heavily influenced by their circumstances.
"You have to recognise that different airlines have remarkably different starting positions," he says. "So if you take for example low-cost airlines in Europe, it seems to me they are well-capitalised first of all, and they actually have a tremendous opportunity to set strategic direction right now and to take that opportunity from the existing situation.
"That in turn can threaten some of the less well capitalized airlines or the airline that are relying on state bailouts or have less healthy balance sheets. But it doesn't take away the fact that the leadership in those airlines need to establish a vision, a strategy and take that business forward."
For more on the Alternative Airline CEO series of podcasts:
‎The Alternative Airline CEO Podcast: Crisis. This Crisis on Apple Podcasts
The Alternative Airline CEO podcast (player.fm)
The Alternative Airline CEO Podcast - Peter Davies | Listen Notes