As the end of the third-quarter approaches, the only thing analysts can agree on is that the complex factors affecting the industry mean accurate delivery predictions for 2020 are all but impossible
With a little over three months left of 2020, it remains far from clear what the industry's mainline jet delivery total will be for the year, amid uncertainty over the pace of the recovery and the availability of finance. Adding to the confusing picture is the likely timing of the Boeing 737 Max's return and, if it does get a green light in 2020, how many aircraft will be handed over.
During the first eight months of 2020, Airbus and Boeing had delivered around 340 mainline jets (including the A220) to commercial customers, according to Cirium fleets data. This compares with 1,186 commercial deliveries for the whole of 2019 (with 737 Max shipments suspended from March) and a record 1,580 in 2018.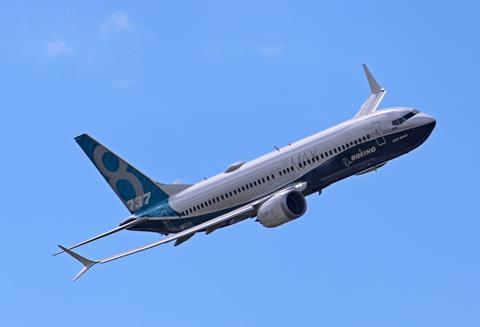 Given the continuing unknowns, Airbus and Boeing have withdrawn all delivery guidance, and shipments will bear little relevance to production rates in the near-term at least. Consensus among various analysts canvassed by FlightGlobal is that the complex mix of factors make any accurate forecast for 2020, and indeed 2021, all but impossible.
So even with just over one quarter left to run the current forecasting range is broad at 600-800 units. Next year the divergence among experts is even greater, with one analyst describing his forecast of 800 units as "optimistic" while others believe deliveries could exceed 1,000 aircraft. All analysts agree that the situation with the undelivered Max inventory will be a key factor.
"Will the various authorities allow them to start the 'de-grounding' of the 737 Max by 2020 Q4 and will the logistics of modifying and delivering Max aircraft become a bottleneck, especially in a period where not many airlines are really eager to add capacity?" asks Bert van Leeuwen, who is head of aviation research at financial firm MUFG. "For the time being we assume that Boeing will slowly start delivering the Max in 2020 Q4."
Analyst delivery forecasts - 2020/2021
2020
2021
Cirium
Single-aisle
450-500
900-950
Widebody
150-200
200-220
Total
600-700
1,100-1,170
IBA
Single-aisle
390
720
Widebody
150
160
Total
540
880
MUFG
Single-aisle
490
660
Widebody
160
140
Total
650
800
Teal Group
Single-aisle
590
850
Widebody
200
170
Total
790
1,020
Estimates for Airbus/Boeing mainline jets (including A220)
Rob Morris, who is head of global consultancy at Ascend by Cirium, concurs on the Max return: "We are estimating around 450-500 single-aisle deliveries in 2020, including a small number of 737 Max where we expect return to service in the final quarter and some deliveries of pre-built aircraft to US airlines," he says.
There are also uncertainties around the strength of short-term demand for new aircraft and the availability of finance.
"Probably conserving cash is more important than flying the absolutely optimal aircraft on most routes," says van Leeuwen. "It seems many airlines will seek to cancel or defer deliveries till the recovery materialises – perhaps in 2023."
Chris Tarry at aerospace consultancy CTAIRA says that poor visibility around the pace of recovery raises questions over "the shape, size and profitability of the industry" in the near term.
"We have seen a dash for cash – comprising debt, cash from asset sales and some equity – and on the other side of the 'equation' action being taken to defer and delay capital expenditure and in particular aircraft deliveries," he says. "But the likelihood is that the winter season will be even more challenging than had been anticipated, which means that there will be a need for more 'new cash' over the next few months."
Van Leeuwen expects many airlines will need to tap external funding sources from banks, capital markets or leasing companies. This has already seen several lessors entering into sale/lease-back transactions with stronger airlines because they had the budgets for capital investments available. "We are already picking up signals that some of the major financial institutions may limit or even stop investing and/or financing aviation," he says. "It cannot be excluded that certain airlines won't have financing in place to take delivery of new aircraft. While the OEMs are generally willing to find a solution for airlines, they will be less flexible with lessors who will be forced to take aircraft they ordered."
Aviation data and advisory firm IBA is the most pessimistic for 2020, forecasting deliveries as low as 540 aircraft, but sees 737 Max factory deliveries unlikely in 2020. Conversely, Teal Group is the most bullish for 2020, with a forecast of 790 deliveries and expects limited Max shipments to restart.
All the analysts spoken to expect deliveries to equal or better the eventual tally in 2020, but much will depend on the roll-out of a coronavirus vaccine. The forecasts range from an "optimistic guesstimate, maybe 800 deliveries" by MUFG to up to 1,170 aircraft by Cirium. Teal Group's forecast is slightly less optimistic, at just over 1,000 units. IBA is in between, with a forecast of 880 deliveries but says that narrowbody numbers could rise rapidly "if the 737 Max gets underway and the pre-built ones start to churn out on top of ones straight from the factory".
Morris says the current 2021 forecast includes an estimate of around 900-950 single-aisles which would include almost 300 pre-built 737 Max aircraft. With Ascend by Cirium expecting much of Airbus and Boeing's glut of undelivered 2020 stock to be shipped in 2021, Morris says this will have a knock-on effect on the return of the parked fleet.
"Given these delivery and fleet estimates, the implication is that some 2,000 single-aisle and 1,000 twin-aisle aircraft that were in service at the start of 2020 need to be removed from the system through 2023," says Morris. "This implies an average 750 retirements annually in that period. To date we have only seen around 180 retirements in 2020, so we can expect a significant number of the roughly 7,000 aircraft stored today remaining parked at yearend, and ultimately never return."