Singapore Airlines (SIA) and Airbus's A380 superjumbo have been inextricably linked for the past two decades. The airline has been at the forefront of each major development of the ultra-large airliner, from cradle to grave.
And while it would be an exaggeration to say that SIA and the A380 is a love story that turned sour, it is certainly true that the aircraft never quite achieved the high expectations Airbus had when the airline signed up its original commitment for what was then the A3XX project 20 years ago.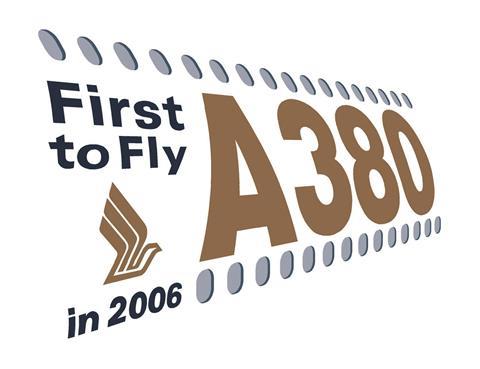 SIA was one of a number of major Boeing 747 operators that were key to the development of Airbus's own super-large aircraft. It was part of the original airline advisory group with many other prospective future customers.
As the Airbus superjumbo studies crystalised around the double-deck design that would effectively become today's A380, Toulouse needed to secure formal backing from the market. So in 1999 and 2000 the manufacturer's senior management – led by Airbus chief executive Noel Forgeard – set about securing "letters of interest" from prospective customers to support a decision to launch the programme.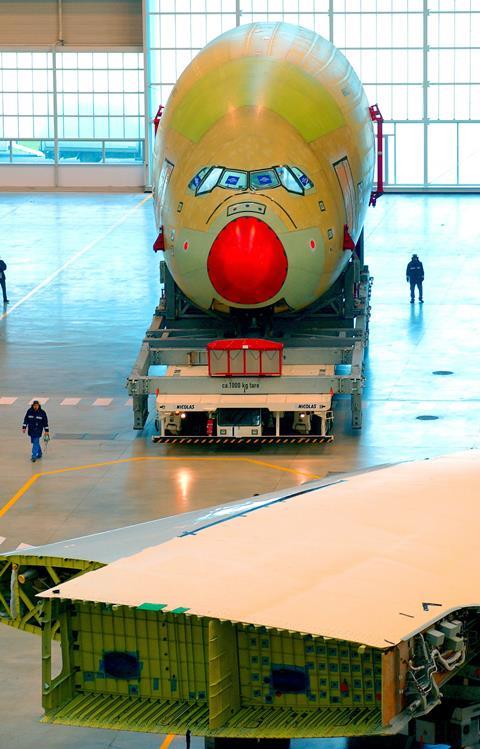 In May 2000, SIA became the second carrier to sign a letter of interest, signalling its intention to order up to 10 A3XXs once the programme was launched. Emirates had led the way, with an earlier agreement for five aircraft – this modest deal gave little hint of the huge role the Dubai carrier would subsequently play in the A380's fortunes.
Despite SIA's statement of support, firming up its A3XX "interest" was apparently no slam-dunk for Airbus, as the airline continued to evaluate the 747X stretch proposal from Boeing as an alternative. At the time, SIA was a major operator of the original jumbo jet, with 36 passenger 747-400s in service and a further eight -400 Freighters.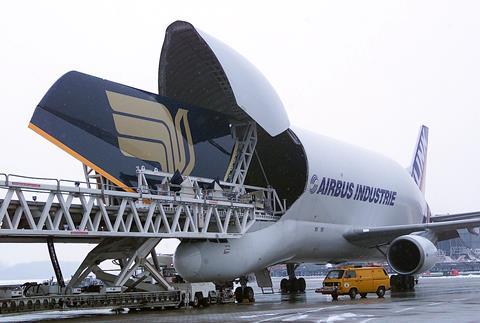 However, Airbus eventually won the day, with SIA moving its agreement on to a firmer footing in September 2000 when it signed a commitment – valued at the time at $8.6 billion – for up to 25 A3XXs, including 15 options. The A380 would eventually succeed the 747 as SIA's fleet flagship.
Significantly, Airbus had been pushed by SIA during contract negotiations to refine the A3XX's noise performance to ensure its compliance with more stringent requirements being introduced at London Heathrow, referred to as "QC2".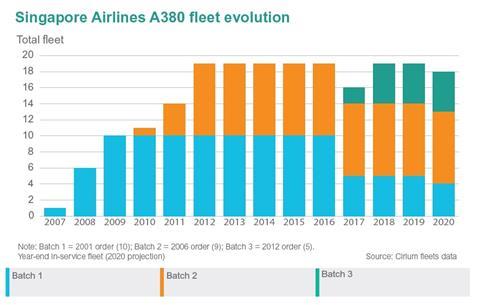 To achieve this, the two A3XX engine suppliers – Engine Alliance and Rolls-Royce – confirmed they would develop larger fan versions of their engines to ensure noise compliance. Shortly after signing its A3XX commitment, SIA confirmed it had selected R-R to supply the engines, which gave the UK pole position on the programme as its new customer was to be launch operator.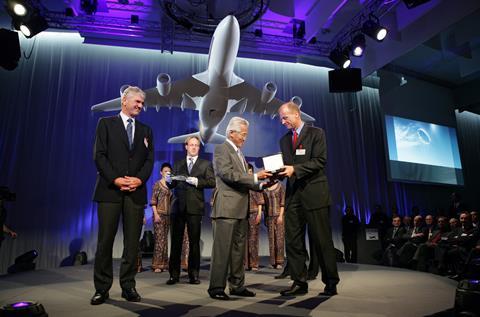 By the end of 2000 Airbus had secured sufficient backing from customers to move ahead with a programme launch. The 555-seater, now named A380, was given the go-ahead on 19 December 2000 with a tally of 50 firm orders. Alongside SIA, customers included Air France, Emirates, US lessor ILFC, Qantas and Virgin Atlantic.
At the time of launch, the first flight of the A380 was for 2004, with deliveries due to begin to first operator SIA in early 2006. This schedule subsequently turned out to be ambitious: the programme experienced several delays during development – both before and after its first flight.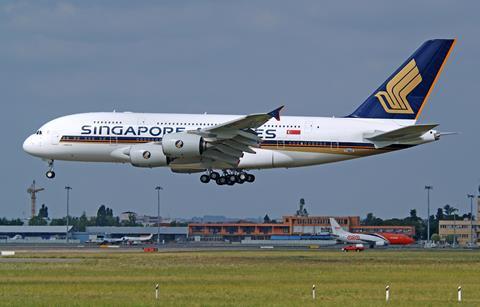 Firm contract
But all that was in the future when SIA completed contract negotiations and signed a firm contract for the A380 on 16 July 2001. The deal mirrored the original commitment, comprising 10 firm orders for the A380-800, worth $2.5 billion, along with options on a further 15. It was due to receive all 10 firmly ordered aircraft by the end of 2007.
By 2002, as development progressed, the first flight schedule for the A380 had slipped in to 2005. The first aircraft, MSN001, was finally rolled out at a glitzy ceremony held at the new purposed-built production facility in Toulouse on 18 January 2005. Three months later, on 27 April, MSN001 lifted off to initiate its flight-test and certification programme.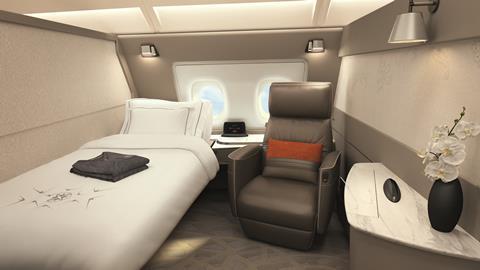 While the first flight had gone smoothly, the same could not be said for the industrialisation of the A380 programme. It quickly became apparent that, owing to production management issues, the plan to deliver the first aircraft in 2006 was unrealistic. Eventually the delivery schedule was reorganised around a fourth-quarter 2007 target, as Airbus worked hard to resolve the infamous "wiring issues" that plagued production of the early aircraft – caused by incompatibility of design software used by French and German divisions.
Meanwhile, production was under way on MSN003, the first customer A380 for SIA, the sub-assemblies for which entered the final assembly line during 2005. Completion of the airframe was delayed by the wiring glitch and the aircraft eventually rolled off the line for a first flight on 7 May 2006. To be registered 9V-SKA, MSN003 headed from Toulouse to Hamburg for its interior installation and customisation.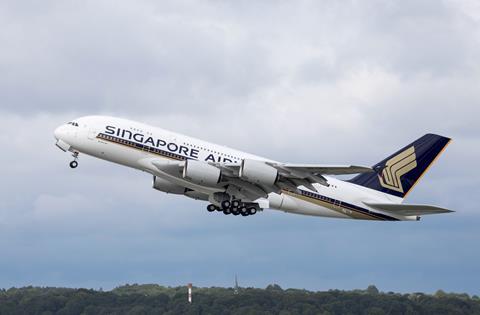 As the certification programme progressed, a key milestone was passed in March 2006 with the emergency evacuation demonstration. The full-scale trial was undertaken in Hamburg on 26 March 2006: 853 passengers, 18 cabin crew members and two pilots left the aircraft within 78s.
Despite the delays, SIA reaffirmed its commitment to the Airbus giant during 2006 by firming up orders for nine more A380s, taking its total orderbook to 19 aircraft. It was an important statement of support for Airbus as it worked to launch series production of the aircraft.
Conservative approach
European and US A380 type certification was awarded on 12 December 2006. However, the industrial delays had forced Airbus to take a conservative approach to bringing the ultra-large aircraft into service as it battled to get on top of the issues.
As a result, another 10 months would pass before the first A380 was formally handed over to launch operator SIA. The momentous event for Airbus took place at its shiny new delivery centre in Toulouse on 15 October 2007 – around 18 months later than the original schedule at launch.
The 471-seater was accepted by SIA's then chief executive, Chew Choon Seng, who said: "Although it has taken more time than first anticipated, the A380 is well worth the wait. From today there's a new 'queen of the skies' for air travel."
Airbus's then chief executive, Tom Enders, recognised the "landmark day" for everyone involved in the programme.
SIA wasted no time in introducing its new flagship, operating the first passenger service 10 days after delivery, on 25 October. The inaugural flight (SQ380) from Changi to Sydney and the return were special debut services where most seats were sold through a charity auction. Normal revenue services began to Sydney on 28 October and the aircraft subsequently served London Heathrow and Tokyo Narita as part of its early network.
New order
By 2012 SIA had taken delivery of its original batch of 19 A380s and placed a top up order for an additional five aircraft taking its total commitment to 24 – just one short of the number it had originally signed for in 2000.
However, before these new aircraft had arrived, in 2016 SIA dropped a bombshell for the A380 programme when it confirmed that it would not be extending leases on its early batch of aircraft.
This meant that as the new batch arrived from 2017, featuring updated cabin layouts, withdrawal of the oldest A380s began. The airline's fleet of superjumbos ultimately peaked that year at 20 aircraft, according to Cirium fleets data. By early 2020 SIA had withdrawn its first five aircraft and is operating a fleet of 18, with the 14 remaining from the original batch being included in the $850 million cabin refurbishment.
November 2017 marked the beginning of the end for SIA's original A380, when MSN003 was ferried with its SIA livery removed from Singapore to Tarbes, in southern France. The aircraft had been returned off lease to its German owner, Dr Peters Group, in June that year and was taken into the care of Tarbes-based aircraft recycling specialist Tarmac Aerosave.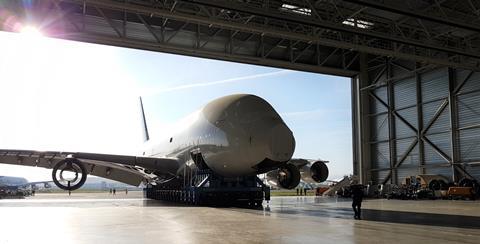 MSN003 is one of two ex-SIA A380s parted out for spares by Tarmac, which says it has managed to recycle more than 90% of the aircraft's overall mass and is now offering the spares on the secondhand market.
Two other ex-SIA A380s remain in storage and a third is operating with Portuguese wet-lease specialist Hi Fly, which says it plans to take more of the second-hand superjumbos.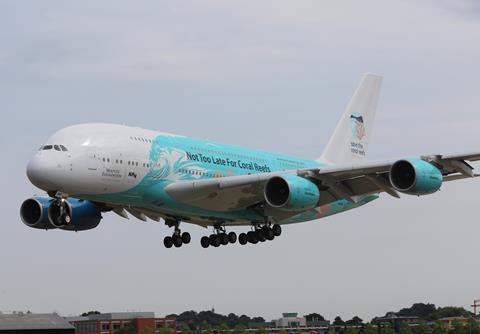 Speaking in September 2019, chief executive Paulo Mirpuri said that operations of Hi Fly's single A380 had been going well: "It cannot go anywhere, to any airport, so the A380 is a niche market aircraft, but there is good demand [for it]."
The final blow for the ultra-large airliner programme came on 14 February 2019, when Airbus confirmed rumours it was to axe the A380 programme, announcing that deliveries would stop in 2021. The decision came after Emirates agreed to cut its total A380 orders from 162 to 123 aircraft.
"We have no sustainable A380 backlog and hence no basis to sustain production, despite all our sales efforts with other airlines in recent years," said outgoing Airbus chief executive Tom Enders.
Describing the A380 as an "outstanding engineering and industrial achievement", Enders added: "[This] announcement is painful for us and the A380 communities worldwide."
But life will go on and on for the A380 at SIA. The 2020 fleet stands at 18 aircraft according to Cirium, with the youngest A380s having arrived as recently as 2018. So while the retirement of its early aircraft after just a decade was a setback, the type is set to remain in the airline's for many years to come.