Amid a profound shift towards sustainability in the wider economy, airlines are getting a helping hand from an unlikely source to help them pay for pricey sustainable aviation fuel
For years, the line has been that sustainable aviation fuel is too expensive for airlines to take seriously as a replacement for fossil-fuel based Jet A-1. Up to five times as costly.
That is changing. And one of the main reasons for that change is a surprising source – their all-important, high-yield corporate customers. Companies like Deloitte, the global professional services network, and a growing band of other corporations, are paying for SAF.
But it is not to provide charity to hard-hit airlines. They want to use sustainable fuel to reduce their emissions and meet their own climate-change targets.
For Deloitte, the problem is clear and immediate. In Autumn 2020, the firm launched "World Climate", its sustainability strategy to help the world achieve the goals of the 2016 UN Paris Agreement – with the aim of limiting global warming to 1.5°C (2.7°F) compared with pre-industrial levels.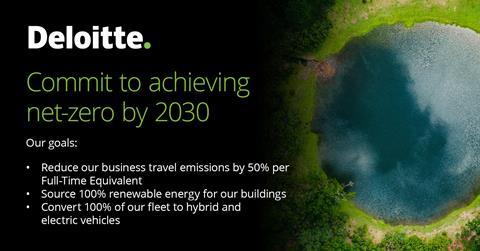 Deloitte, in common with hundreds of businesses, is adjusting its strategy and actions quickly in a profound shift to sustainability.
The relevance for airlines is that in committing to achieve net-zero greenhouse gas emissions by 2030 for its own operations, Deloitte pledged to reduce its business travel emissions by 50% per full-time employee from 2019 levels by 2030.
"Business travel is a significant part of our [emissions] footprint," says Lisa Newman-Wise, senior manager and chief of staff, sustainability and climate change at Deloitte USA. "There are not too many ways to reduce emissions from business travel right now."
This is why Deloitte, and corporations like Microsoft, Boston Consulting Group and JPMorgan Chase, are backing SAF. "The use of SAF is a way to immediately start reducing emissions," says Newman-Wise. Although the pandemic has reduced most travel to a trickle, Deloitte's commitment does not mean cutting business flying in the future to zero, but travel patterns will look different, she says.
Kathyrn Bell, managing director at Boston Consulting Group (BCG), speaking at the launch of the Sustainable Aviation Buyers Alliance (SABA) in April, says: "We are learning that we can continue to deliver exceptional client value whilst travelling much less." However, few believe video conferencing will replace in-person meetings altogether. "Face-to-face interactions are so important. You can do a lot verbally, but we will go back to business travel, and we want to do that sustainably," Brian DiMarino, chief financial officer of operational sustainability at investment bank JPMorgan Chase, explains at the SABA event.
SABA is an unusual, but pragmatic creation. In the world of SAF, these seemingly odd corporate bedfellows believe they have a critical role to play by sending a clear demand signal that sustainable fuels are critical to help tackle climate change.
PRIVATE SECTOR
Interestingly, the initiative is being led by the private sector, not by the airline industry. SABA is spearheaded by names that will be new to many in the airline business, but familiar to those working in the sustainable aviation field, often for years. The US-based Rocky Mountain Institute (RMI) is an independent, non-profit organisation dedicated to the global transition to clean energy, while the Environmental Defense Fund is a US-based non-profit, environmental advocacy group. RMI was founded in 1982, EDF in 1967.
The founding members of SABA, with more to be added as the year goes on, are Deloitte Boeing, JPMorgan Chase, BCG, Microsoft, Netflix and Salesforce. One of SABA's prime aims is to "work to accelerate the path to carbon-neutral air transport by driving investment in SAF, catalysing SAF production and technological innovation, and supporting member engagement in policy-making efforts".
SABA's advocacy role supports a fundamental building block in the SAF space – a SAF certificate. "This is a certificate that correspondents to a volume of SAF [delivered to an aircraft]," explains Adam Klauber, senior technical advisor at RMI. A SAF certificate will be more than "a piece of paper" but part of a global and transparent system that will enable any party – not just aircraft operators – "to invest in high-quality SAF to meet their ambitious climate targets".
To grow the market there is a need for a standard – the SAF certificate (also dubbed SAFc) – and the need for platforms and initiatives to promote SAF to corporates. SABA is one of these platforms.
Whoever buys and owns the SAF certificate will be able to count the emissions reduction stated on the certificate towards their target. Such a product makes sense to the finance leads at major corporations because the investment has a genuine value. "In addition, for many players, it is much more attractive to invest in a product that actually reduces emissions within the supply chain, compared to compensating through carbon offsets elsewhere," believes Charlotte Hardenbol, head of programmes and solutions at Dutch SAF pioneer SkyNRG.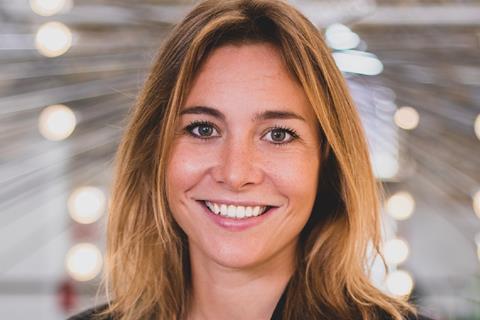 Newman-Wise at Deloitte hopes that corporate backing of SAF via SABA, investments in SAF with the airlines, and other projects that aggregate demand for the fuel, will send a clear signal that encourages suppliers and producers to invest. Governments around the globe are also bringing in rules or incentives that will support SAF adoption.
It was recognised several years ago that while SAF held promise as an emissions reduction tool, expecting airlines to pay the premium alone to use it was unrealistic. Bodies like RMI and SkyNRG had partnered to explore different methods to fund SAF, but the key step was the involvement of the World Economic Forum (WEF), the independent international foundation for public-private collaboration in 2019, and its formation of the Clean Skies for Tomorrow initiative. This coalition, working across the aviation value chain to help the transition to net-zero flying by 2050, is leading the delivery of the SAF certificate.
For the corporations wanting to fly and decarbonise at the same time, the WEF identified that SAF was the only viable option in the near to medium-term, says Klauber at RMI.
"Today, to manage this systematically we basically need to give something back," explains Christoph Wolff, global head of mobility at the WEF. "We need to create a currency that shows companies reducing or abating their Scope 3 emissions with carbon accounting and an environmental integrity framework under a 'book and claim' system." So-called Scope 3 emissions are all indirect emissions that occur in the value chain of the reporting company.
WHITE PAPER
WEF has teamed with professional services firm PwC to produce the SAF certificate and the work is advanced, including an imminent white paper explaining the concept, and the development of the technology platform to operate the system, says Wolff. The aim is to have a full launch of the certificates by COP26, the United Nations Climate Change Conference being held in the UK in November.
The SAF certificate work is connected to the Science Based Targets initiative in the private sector by enabling companies to set science-based emissions reduction targets. This means it is following the right steps and is connected to globally accepted environmental actions and bodies. For example, its development is being done in conjunction with ICAO's Carbon Offsetting and Reduction Scheme for International Aviation (CORSIA), says Wolff.
The plan is that associations like SABA and its members, and any other body seeking to verify the SAF transaction, would use the certificate system, says Wolff.
The certificate system will be a key pillar in incentivising the use of SAF and bringing corporate money into play. KLM, alongside its SAF partner SkyNRG, was a pioneer in this field, first engaging with its corporate customers a decade ago. It launched the KLM Corporate SAF Program (originally called the KLM Corporate Biofuel Program) in 2012. The idea was that corporates would sign up and pay a surcharge that covers the difference in price between SAF and Jet A-1.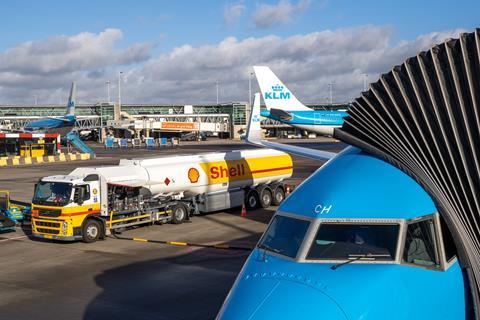 Today, there are 16 members of the programme, including ABN AMRO, Accenture, and the Schiphol Airport Group. Up until now, the companies involved have tracked the carbon they have saved, but beyond a public demonstration of their environmental credentials, the investment has not counted towards emissions reduction targets.
SkyNRG, which sources and supplies the SAF for the KLM Corporate SAF Program, launched its own airline-independent SAF aggregation programme called 'Board Now', says Hardenbol. "We go to market and ask corporates to commit to a forward offtake from one of our supply chain development projects for a minimum of five years, where they only pay once we start delivering the fuel. With that commitment we can finance those projects and add additional production capacity to the market," she says.
SkyNRG is looking to establish a series of SAF production plants, with the first planned to come online in 2024. SkyNRG's SAF program Board Now has PwC, Skyscanner and Microsoft among its customers, and the expectation is that WEF's work on the SAF certificate will help unlock more.
CARRIER ALLIANCES
Airlines too are establishing SAF buying groups. Some are announced and more are in the works, possibly involving the airline alliances as well. In April, United Airlines launched its Eco-Skies Alliance, with firms such as Nike and Siemens, while Lufthansa has expanded the scope of its SAF offsetting scheme Compensaid to corporate customers.
While this activity kicks off, it seems clear all parties need get up to speed swiftly to understand and manage a new offsetting and sustainable fuel eco-system. It is, however, unclear how the cost of the various elements in the value chain will develop. Today, as Newman-Wise of Deloitte explains, although the price of paying a SAF premium is still much higher compared to buying carbon offsets, the clear motivation for her company is to make a "meaningful investment" to demonstrate intent and commitment to work with the aviation industry as it advances towards a low-carbon future.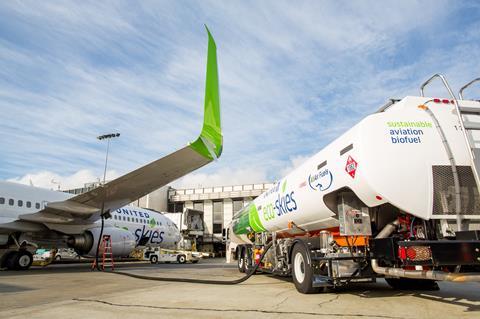 In the long run it is expected that the price of SAF will decrease, and the cost of offsets will increase. "In a decade, offsetting emissions is going to be much more expensive than buying SAF, which is why investing now is a good idea," says Newman-Wise. At some point they will reach parity, with some observers thinking that will occur around 2035-2040.
In many ways, the desire of some of their most important customers to use SAF is a huge relief for airlines. The higher cost of moving to SAF just two to three years ago was impossible for even the largest and greenest to stomach. "The fact that their customers are coming to them is a powerful signal," says the WEF's Wolff.
As Emma Stewart, sustainability officer at Netflix, said at the SABA launch: "We are investing in high-quality offsets today, but we'd like to upgrade to SAF and ultimately [have Netflix staff travelling] aboard SAF-powered planes.".