Since their 7 February 2022 merger announcement, ultra-low-cost carriers (ULCCs) Frontier Airlines and Spirit Airlines have been racing towards the wedding altar. They are busy preparing for their combination, working along an ambitious timeline of closing in the second quarter of this year.
The carriers are now in the pre-merger phase, a period when objections could arise from the Department of Justice (DOJ), other airlines and lawmakers and regulators. Many details need settling, including those touching on brand, headquarters, board members, the leadership team and labour agreements.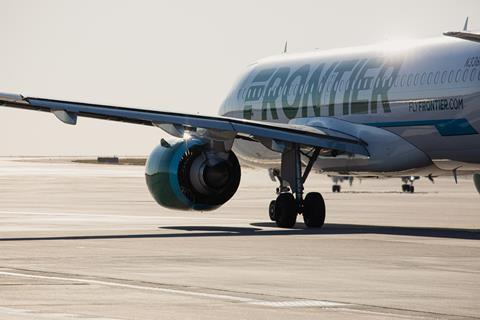 Omicron is not making the wedding march any easier. This week, Spirit chief executive Ted Christie said during a JPMorgan conference that the January-February period was "probably the worst period during the whole pandemic, with the exception of the beginning of the pandemic, as a result of the Omicron surge".
That period is traditionally off peak, but this year was the "off-est of off-peak that we've seen", he added.
There has been a V-shaped recovery in demand as Covid woes rescinded by mid-February. Then came war in Ukraine and $100-per-barrel oil.
But escalating costs, including for oil, and elevated inflation actually give low-cost carriers a competitive benefit over traditional network players, according to Frontier chief executive Barry Biffle.
"You've got the cost advantage widening at the same time that… you've got the fare advantage widening. Those things are coming together to create what we believe is the best set up for ULCCs," Biffle said at the same conference.
He thinks those benefits, combined with merger synergies, will position a joint Spirit-Frontier for success.
"We've got over 2,000 markets of opportunity, over 600 aircraft," Biffle says, adding that Frontier and Spirit have a combined 350 aircraft on order.
With the merger still pending, Frontier and Spirit find themselves threading a needle between partners and competitors. And both are growing rapidly as air travel demand returns.
Since the merger plan was disclosed, Frontier has announced plans to launch 27 new routes and to add two destinations to its network (Guadalajara and Monterrey, Mexico), while also significantly bulking its presence at Philadelphia and Raleigh-Durham.
For its part, Spirit has announced five new destinations and 14 routes. On 16 March, it disclosed plans to add flights to Boise (Idaho), Albuquerque (New Mexico) and Reno-Lake Tahoe (Nevada) from its burgeoning Las Vegas base. Spirit ranks number two, behind Southwest, with total seat share of 13% at Las Vegas, according to Cirium data. Frontier, at 9% share, is not far behind.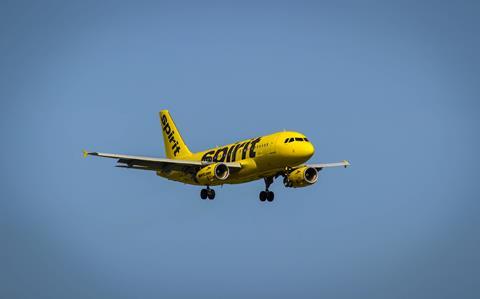 Spirit will begin serving Rochester (New York) and Monterrey in June. Its service at Myrtle Beach (South Carolina) will mushroom this year, with nine new and returning city-pairs.
Increasingly, Frontier and Spirit find themselves invading each other's turf, especially in Florida.
In Orlando, the airlines are locked in a virtual dead heat for second place, with 15% market share each, behind only Southwest. Once merged, Southwest will take third place. Spirit has opened a crew base at Orlando, following Frontier.
The carriers are also battling in Miami. Since its mega-launch to 31 destinations at Miami International airport beginning in October 2021, Spirit has vaulted to the number two position at the South Florida mega-hub, with 5% seat share. But Frontier has also been busy at Miami since starting service there in 2014. It opened a Miami crew base in 2020. Spirit responded, saying on 3 March that it also will open a Miami base for 100 pilots and 200 flight attendants.
Frontier then upped the ante. It launched a full-on assault of Spirit's fortress home base airport, returning to Fort Lauderdale-Hollywood International with the launch of 12 nonstop routes in February 2022.
The sparring continues in Atlanta, where Frontier and Spirit are running neck and neck. Like in Miami, Frontier has a crew base in Atlanta, and Spirit is adding one. The carriers plan eventually to merge the bases.
On 1 March, Frontier also announced plans to open a new crew base at Phoenix Sky Harbor International airport in November 2022, with up to 180 pilots and 275 flight attendants. "We are currently the third-largest airline at PHX, based on number of destinations served, and we anticipate continued growth as our fleet and route network further expand," said Biffle.
Both airlines are eating into the 80% post-consolidation, pre-Covid market-share held by the US Big Four airlines – American Airlines, Delta Air Lines, Southwest Airlines and United Airlines.
Cirium data shows Spirit is growing fastest, with June capacity (in available seat miles) expected to be up 24.7% year-on-year. It has added 14 destinations and 75 new routes.
Frontier will have 8.1% more capacity in June 2022, year-on-year. It has added 12 destinations to its network, but also dropped 15, including the high-profile deletions of Washington Dulles and Los Angeles International airports. Newark, Boise and Albuquerque were also dumped by Frontier, but Spirit picked up the latter two.
Both partners are bringing considerable fleets of Airbus A320-family jets to their partnership. Spirit has 175 aircraft in service, with 154 on order, according to Cirium data. The airline's October 2021 fleet-plan reveals it expects to receive 24 A320neos during 2022 alone.
Frontier has 110 aircraft in service, with 232 on order, including A321XLRs, Cirium shows. In 2022, Frontier expects to add 18 A321neos, keeping with its up-gauge strategy, while returning four leased A320ceos, according to a November 2021 fleet plan.
APPROVAL UNCERTAIN
It is no slam dunk that authorities will bless the marriage. Though the consolidation of the US airline industry in the 2010s was a boon to profitability and stability, many consumers, pundits and regulators decry the effect on competition.
The American-US Airways and Alaska Airlines-Virgin America combinations – both completed under previous president administrations – raised objections by the DOJ, which required remedies such as slot swaps and surrenders. But those deals ultimately were approved.
The DOJ under the Joe Biden administration is giving more anti-trust scrutiny to mergers, and to even alliances, that it deems anti competitive, with the "Northeast Alliance" between American and JetBlue Airways now in its crosshairs.
Spirit and Frontier argue their merger is different because the combined entity will only have 5% market share – but still enough to compete against the giants. The airlines say they will pass costs savings on to consumers. They pitch their marriage as additive, saying it will create 10,000 union jobs by 2026, let them add service to smaller high-fare markets, and, backed by more scale, help them operate more-reliable schedules and improve irregular-operations recovery.
"Out of the top 50 airports in the United States, Fort Lauderdale is the only one that is controlled by either one of us," Biffle said at JPMorgan's event. Spirit's 27% share of seats there, augmented with Frontier's 3%, would give the combined carrier 30% share, compared to JetBlue's 19%.
Airports like those in Orlando and Fort Lauderdale, where a combined Frontier-Spirit would dominate, might lead to anti-trust questions.
Story updated on 18 March to include the last two paragraphs.