Unlike many passenger-focused airline leaders today, Dorothea von Boxberg has faced a challenge securing enough capacity since taking over at Lufthansa Cargo.
In March this year, as passenger traffic remained at punishingly low levels in Europe, few people would have envied anyone taking control of an airline operation. But for Dorothea von Boxberg, stepping up from chief commercial officer to lead Lufthansa Cargo was a very different proposition to that faced by her passenger-focused peers.
In March 2021, global air cargo demand reached a new high, exceeding pre-crisis levels by 4%. In April, it was some 12% higher versus the same month in 2019, with IATA director general Willie Walsh describing it as a "good news story for the air transport sector".
According to IATA, "underlying economic conditions" and "favourable supply chain dynamics" are behind the freight sector's surge, with freight rates boosted by a capacity crunch.
If you were going to be anywhere in the airline industry beyond a few buoyant domestic passenger markets, cargo was it.
But while dedicated cargo operators have reaped the benefits of air freight demand, it has not been all plain sailing for the new Lufthansa Cargo chief executive.
"We've been flying as much as we can," von Boxberg said, speaking in May. "As you know, demand for air cargo is really high and that's due to the lack of capacity that we're experiencing because a lot of our long-haul passenger aircraft are still on the ground."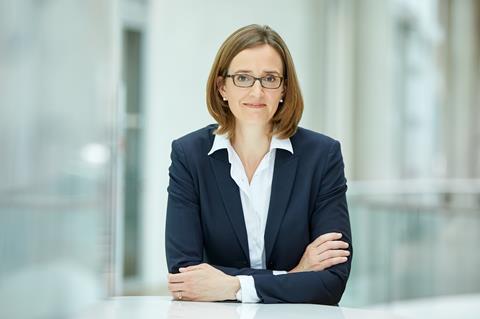 The operator's partial reliance on carrying bellyhold cargo in passenger jets means Lufthansa Cargo capacity was down 22% year on year in the first quarter of 2021. Crucially, however, amid a global air freight capacity crunch, sales fell by just 8%, improving its cargo load factor by 11.9 percentage points to 75.7%.
At the same time, yields were up in all regions served by Lufthansa Cargo, at 61% higher overall compared with 2020.
Amid that positive data, some relief from that bellyhold capacity crunch may present itself soon.
"I think we're now at a point where we can be quite optimistic about it coming back sooner rather than later," she says.
"If you look at the progress of vaccinations in different locations, as well as the easing of complications with travel restrictions in some places, the easier it gets for people to travel then the more passengers will come back and we really look forward to getting our bellyhold capacity back."
VIABLE OPERATIONS
During this recovery period for the industry, von Boxberg says that there is a need for "flexibility and understanding".
She says: "Of course, we try to support our passenger colleagues by filling the bellyholds very well and making it viable for them to fly to more destinations.
"We also still have some cargo-only passenger flights running at the moment."
Still, von Boxberg highlights that some routes are heavily disrupted by the effects of the pandemic, and that this is considered when addressing and adding capacity.
"For example, [coronavirus] is a big issue in India at the moment," she says. "This means our crews can't have their layover there, so how can we still serve India?
"There are a lot of these operational questions that we have to answer."
Nevertheless, von Boxberg sees "a lot of good indications demand will remain high".
This is, she says, partly because air freight is seen by suppliers as a reliable means by which they can transport goods when supply chains are disrupted.
She gives the example of recent disruption to seafreight capacity; for automotive and other time-sensitive industries, air freight is often sought after as a solution to prevent or minimise delays.
Other drivers of air freight demand include the growth of e-commerce and the effects of the pandemic.
Noting the increasing reliance on e-commerce, she says: "People are so used to – and find it so convenient – to do their shopping online now.
"I think customers sometimes don't realise where their goods are sourced from. They think 'it's just a click away' and they assume that it's coming from somewhere close by, but on some occasions they may wonder why the delivery is taking so long. That's because it could be coming from somewhere as far as China."
On the need for pandemic-related supplies, she says: "There is huge demand on the pharma side. Vaccines are being flown into lots of countries that don't produce them, or that are not close enough to airports to be served by road feeder services."
She observes that many countries in Europe are receiving vaccines by road, whereas some countries located in Africa, South Asia and Southeast Asia, are reliant on air freight to bring them in.
But with a recovery from the pandemic in sight and e-commerce growth showing no signs of slowing down, what does the 'new normal' for the air freight sector look like?
Von Boxberg says that it's difficult to tell "because air freight is so short-lived, and customers only tend to book around seven days in advance".
However, she adds: "Looking at the bigger picture from 30,000ft, I think capacity will be tighter than demand for a long time. But we all know that air-freight trends are never steadily positive. I don't know exactly when there will be a downturn in the next five years, but there will be one for sure."
With one eye on the sector's inherent unpredictability, Lufthansa Cargo is continuing to invest for the longer term with its dedicated freighter fleet.
"We're moving towards having a pure Boeing 777 fleet in the fourth quarter," von Boxberg says.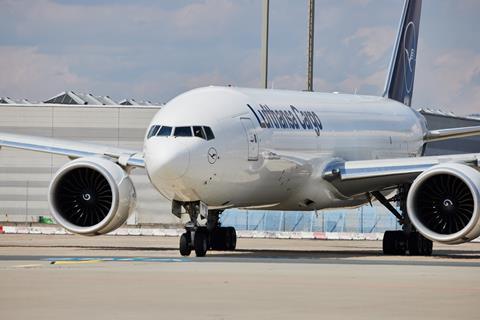 The carrier is set to take delivery of its fifteenth Boeing 777-200LRF – four of which are part of its AeroLogic joint venture with DHL – before the end of this year, after its 14th example arrives in the autumn.
"The Covid-19 crisis has impressively underlined how important these aircraft are for global supply," von Boxberg says.
The carrier retired three of its MD-11Fs last year and delayed the retirement of its other three examples of the type to secure cargo capacity at the onset of the pandemic. The latter are set to exit the carrier's fleet by the end of this year, Lufthansa says.
As Lufthansa Cargo's capacity situation improves, von Boxberg has also been focusing her attention on the carrier's more fundamental strategy, as well as how it can be an attractive partner to its customers.
"We want to improve customer experience, innovate for air freight and offer more sustainable solutions," she says. "Those are the three things that we want to do for and around our customers.
"In addition, we need to look into how we can be even more of an attractive employer and explore what we can do when collaborating with our staff and colleagues," von Boxberg adds.
She also considers infrastructure, asking: "Do need more investment in the air, on the ground and in IT?"
SUSTAINABILITY CHALLENGE
Of those priorities, most are framed within the sustainability challenge that has rocketed up the airline industry agenda in recent years.
Von Boxberg says that although sustainability has been a concern in the air cargo sector for some time, the issue had not "taken off" until recently.
"It seems to be the topic that customers are really concerned about at the moment. They want to know what options are available to them," she says.
Von Boxberg notes that Lufthansa Cargo is actively looking to reduce its carbon footprint.
"Around 95% of our carbon footprint stems from flying. We're looking into how we can use as little kerosene as possible," she says.
She outlines the carrier's AeroShark initiative – a new film added to aircraft exteriors, which makes them more aerodynamic and thus helps to save fuel.
The AeroShark film was developed by Lufthansa Technik and BASF. It consists of riblets measuring around 50 micrometres, and optimises the aerodynamics on flow-related parts of the aircraft.
The film will be added to the carrier's freighters from the beginning of 2022.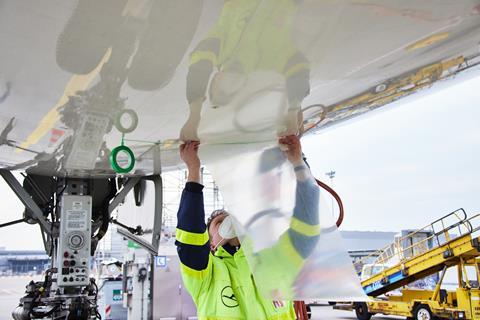 Lufthansa Technik estimates a drag reduction of more than 1% for the fleet, which translates to annual savings of around 3,700 tonnes of kerosene and just under 11,700 tonnes of CO2 emissions – the equivalent of 48 individual flights from Frankfurt to Shanghai.
Von Boxberg adds: "We've got similar initiatives around weight: so, having lightweight containers and thinking about what we can do to avoid weight that doesn't need to be transported."
Additionally, the carrier's pilots continue to forecast how much fuel they will need for each flight, to prevent overfilling tanks.
Von Boxberg is quick to point out that these solutions seek to reduce the use of fuel – "but of course, we still need fuel", she says.
"Electric airplanes are not realistic," she states. "I don't think they will ever be realistic for long-range and high-tonnage freight flights. The question is, what can we do about it?
"We can either compensate, for example, planting some forests; or we can try and take some CO2 out of the air before even flying. This is an option that works with sustainable aviation fuel (SAF). That is an area that we're really focusing on."
Indeed, late last year, the carrier teamed up with DB Schenker to carry out the first ever CO2-neutral freighter flights, powered by SAF.
Goods from Siemens Healthineers and other companies were transported on the Boeing 777 flight from Frankfurt to Shanghai.
Since then, the two companies have launched a regular CO2-neutral freighter route, operating between Frankfurt and Shanghai.
Fuel requirements on the Boeing 777 flights are covered by SAF – at a maximum mix of 50% – which the companies say will save around 174 tonnes of conventional kerosene each week.
Although the use of SAF in the air cargo sector is promising, there are limitations, as von Boxberg observes.
"The problem is that SAFs don't exist in large quantities," she says. "You've got a little bit of biofuel that you can buy; there's innovative solutions to get more of it in the future, but it's not proven in large-scale refineries or production units. That's what we need.
"We [as an industry] also need to have discussions with oil companies and politicians; the people who can help get this industry started off. Currently it's a solution that is in its infancy and it has some growing up to do."
DIGITAL INTERFACES
Von Boxberg says that digitalisation is a "more longstanding topic" that "the pandemic has given a big boost".
"People are seeing the benefits of not seeing people in-person, or not being able to see people in-person and then doing things digitally," she says. "We've seen a lot of uptake in our digital interfaces; people are using them a lot."
When asked what Lufthansa Cargo's digitalisation path looks like, von Boxberg says: "It's hard to say what exactly it will be, but we will make our user interface better in our e-booking system to offer customers our information wherever they want to see it.
"So that could be an online marketplace, such as cargo.one, or it could be a direct link into the forwarders' transport management systems if the customer prefers putting in the effort to connect directly with us. The idea is really wherever you would like us to be for you, we would like to be present and give you that information."
She adds: "Next, of course, it's about making our air cargo processes easier and avoiding paper – not just for air waybills but also for all kinds of other documents like veterinary and customs documents."
For now, von Boxberg can expect to implement her strategies amid strong underlying industry fundamentals that passenger-focused airline executives can only dream of.
Rachelle Harry is news editor at Air Cargo News