A reactive strategy has helped Qatar Airways keep a significant number of aircraft flying in the crisis, says group chief executive Akbar Al Baker, as the airline prepares for the recovery.
Akbar Al Baker has a brief moment of reflection pondering how he is planning an escape path through the coronavirus crisis. "I wish I had a crystal ball," says the Qatar Airways Group chief executive, before quickly following with a resolute response more typical of the renowned airline boss.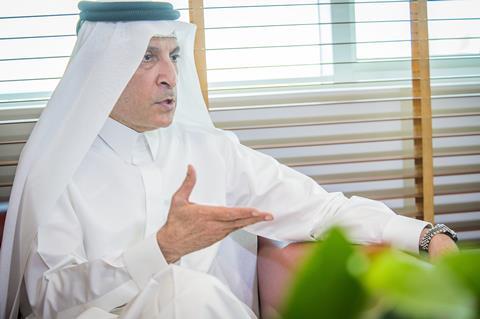 "But we do have a glass ball by which we have been able to achieve better than everyone else. Because we at QR react very fast. And we have proven in the last four months how we have been reacting to opportunities, and we will continue [to do] the same."
The airline has been hit as hard as all other carriers around the world by the crisis, and this is taking its toll on fleet, staffing and aircraft orderbooks. But Al Baker tells FlightGlobal in an exclusive interview that he had been determined to keep the business running as effectively as possible. That is why so many Qatar Airways aircraft have been criss-crossing near-empty skies since the crisis took hold in early 2020.
"The aviation market nearly collapsed. But for us it was very important that we didn't ground the entire fleet," says Al Baker. "Because in every downturn the are opportunities. We at QR will try to take risks and we were very lucky and successful."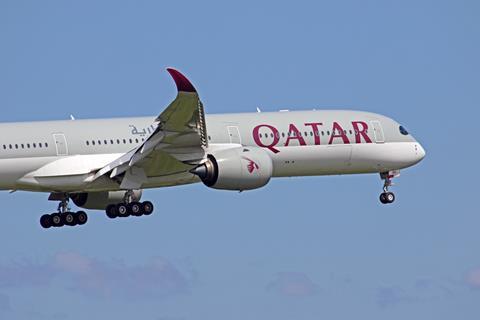 Through a strategy of quickly switching some passenger aircraft to the cargo role, as well as operating repatriation flights, Qatar Airways "did the highest flying of any airline in the world in the last three months up to May. And both our flight numbers and load factors are increasing," he says.
"We invented a very good idea during this difficult time to use our passenger aeroplanes for cargo. We have been operating a very large number of cargo flights with passenger aircraft every day."
This has seen many of the widebodies in Qatar's fleet operating with their bellies – as well as the passenger cabins – full of freight. These flights have been supplemented by its existing air cargo division, which operates a fleet of 28 dedicated freighters.
"There is a very robust leadership in our company when it comes to the decision-making process. So we are always ahead of the pack," says Al Baker.
Despite this operating strategy, two-fifths of the Qatari flag carrier's fleet of some 240 aircraft (including freighters) are grounded, and many of those will not return to service, says Al Baker.
"Over 40% of my fleet is on the ground. Nearly 20-25% of that fleet will not fly again. We are going to ground the entire A330 fleet and a large part of our A320 fleet."
The airline's current fleet, according to Cirium, comprises 33 A320/A321ceos. The A330 passenger fleet totals 18 aircraft. The oldest examples of both of these types were delivered more than 15 years ago.
While Al Baker says that only "very few" of the airline's Boeing 777s will not be operated, the outlook for the A380 is mixed: "The entire A380 fleet will not fly for at least a year if not more, because we don't see that there is any market for an A380-sized aircraft," he says. "It will only be a miracle if we operated some of those aeroplanes earlier, depending on how the rebound in air travel will come."
All 10 of Qatar Airways' A380s are currently stored, and Al Baker indicates that the prospect of the entire fleet being revived is not too bright – particularly given his previous declarations that the type would likely be retired once reaching 10 years of age.
What next for Qatar's A380 fleet?
"I don't think we will need more than a maximum of seven aircraft in the near term. We have already shelved the plan to upgrade the product until they retire from the fleet," Al Baker says. "The oldest aircraft is only six years old, so we still have another four years for its use."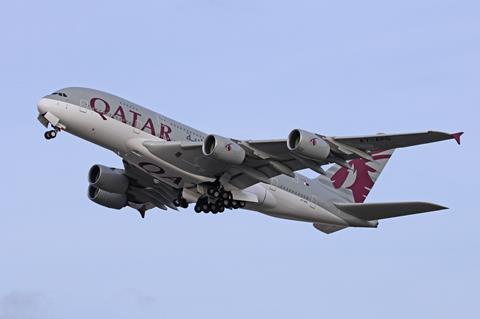 While no cancellations are planned among the airline's 170 orders with Airbus and Boeing, deliveries are being rescheduled. The orderbook comprises a mix of Airbus A320neo-family aircraft and A350s, plus Boeing 777Xs and 787s.
"We will not cancel any of our orders. We have pushed them back," says Al Baker.
Short-term deliveries due in the next two years have been deferred and later orders could be rescheduled by up to a decade. However, deliveries could be accelerated again, depending on the speed of the recovery.
"But both manufacturers should note that Qatar will not be bullied to accept aeroplanes that we do not have any need [for] during the pandemic," warns Al Baker. "We should have the ability to delay deliveries – nobody expected something like this to happen."
Al Baker says the aircraft manufacturers have enjoyed the benefits of the airline's business in the good times and "should know they have to stand with us at difficult times… so now it is time for them to support us.
"If they don't, we will still not accept those aeroplanes and if necessary, we will litigate. But if we go that way then they should know that we will never do business with them again," Al Baker states. "There are only two manufacturers, so you have to do business with one – but we have other ways of not letting them get direct benefit from the airline – I don't want to dwell on what that is, but I'm sure they know."
Qatar Airways fleet
Current
On order
A319
2
0
A320
29
0
A321
4
A321LR
0
50
A330-200F
5
0
A330-200
12
0
A330-300
6
0
A350-1000
15
27
A350-900
34
0
A380
10
0
737 Max 8*
5
5
747-8F
2
0
777-200LR
9
0
777-300ER
48
0
777F
21
5
777-8
0
10
777-9
0
50
787-8
30
0
787-9
7
23
Total
239
170
Current fleet includes stored aircraft
*Previously operated by Air Italy
Source: Cirium fleets data (June 2020)
However, Al Baker says that the airline doesn't "want to be unfair" about taking aircraft that had been awaiting delivery as the virus struck and expects to reach a mutually acceptable accommodation on these.
Investment strategy intact
The Qatar Airways investment strategy has exposed it to the coronavirus crisis on a global scale, but the airline remains committed to these partnerships for the long term, says Al Baker.
"We don't have an appetite for any more investments, [apart from] one or two that are in the pipeline," says Al Baker. He identifies one of these as RwandAir but the other, which Qatar Airways is "eyeing very interestingly", cannot be revealed yet.
Al Baker says the existing holdings in Cathay Pacific, China Southern, IAG and LATAM give the group sufficient exposure around the world "along with Africa, which will be another big market. We are investing in a state-of-the-art airport in Rwanda and in the airline."
The two partners worst hit by the virus are Cathay and LATAM. The Hong Kong government has provided Cathay with financial support as part of a HK$39 billion ($5 billion) recapitalisation plan, while LATAM has filed for bankruptcy protection.
"Both Cathay and LATAM require funding from their shareholders and we are there to be with them," says Al Baker. "It shows to the aviation community that Qatar Airways is there as a strategic partner long term and not there to take opportunity when the days are good."
The group's recent involvement in the Italian market came to an abrupt halt in February when Air Italy – in which Qatar Airways held a 49% stake – was wound up. However, this reopened the door for Qatar at American Airlines – which had viewed Air Italy as a vehicle to bypass US/Gulf open-skies regulations and had brought an ending to its codeshare partnership with Qatar. This was immediately revived when Air Italy closed.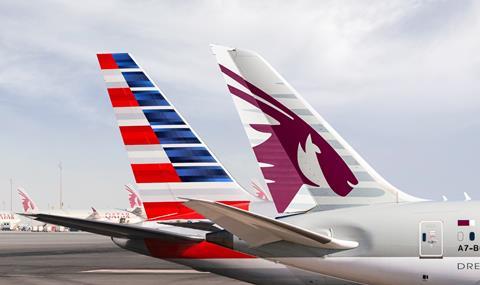 "We have started to develop a very strong relationship with American, and it is not dependent on us continuing with Oneworld," says Al Baker, referencing his long-running dispute with certain fellow members.
"We have still not changed our mind about Oneworld and may still withdraw. I have one or two conditions – if these are met then we could consider continuing our alliance membership."
As the industry looks to start rebuilding its network, Al Baker says it is unclear how fast the recovery will be. The airline is operating almost 35% of its normal schedule and has targeted an initial network of 80 routes to be activated as lockdowns are lifted.
"We will definitely not have the same network [as prior to the crisis] for at least the next two years," he says. "For certain, we will have at least 75-80% of our fleet back in the air in a similar timeframe."
Al Baker says that overall, the industry's "pie has shrunk. But there will be fewer people to share that pie, so I'm sure that there will be business to go around. The only thing is that people don't get crazy [strategies] that harmed so many airlines in the past by dumping capacity."
And the crisis has, of course, taken its toll on Qatar Airways' staff levels, but the airline is trying to limit the size of cuts.
"We are trying to make sure we can save as much employment as possible because Qatar Airways is a very big economic tool for our country, so we make sure we don't want to make a social disruption by creating a void with too many people laid off," says Al Baker.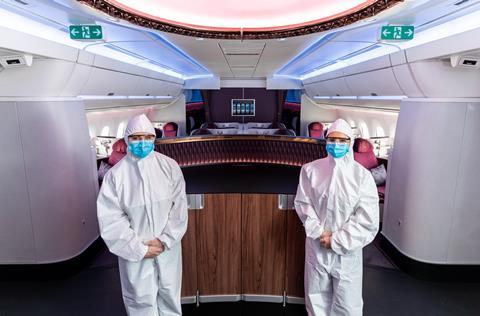 As it re activates its network, Qatar Airways is fully geared up for the extensive requirements in place to protect travellers. However, economic realities mean that the airline industry cannot adopt certain practices in place to protect people in the high street.
"Social distancing in an aeroplane is not possible. You will only have a 30% load factor in your aeroplane. That would not cover your operating cost. So what this would entail is the ticket price going up three times – who is going to travel?
"And even with social distancing, you cannot be 100% certain that you are not going to contract the virus. So the whole purpose is defeated."
The focus must be on tackling the spread of the virus through state-of-the-art materials and cleaning substances, and providing maximum protection for passengers – masks, gloves, face shields and cabin crew wearing personal protective equipment, says Al Baker.
But in the longer term, Al Baker believes that the global hunger for travel that is so important to the Qatar Airways business model will return, powered by a scientific breakthrough.
"The entire scientific community is working to defeat this pandemic and I'm sure there will be a breakthrough that will make people have confidence to travel again," he says.
Watch FlightGlobal Premium's indepth video interview with Akbar Al Baker