As he nears his departure after more than three decades at the heart of Emirates Airline, Tim Clark tells FlightGlobal how the Middle Eastern operator went from minnow to global player
Emirates is entering a brave new world as one of its most faithful stalwarts – the airline's chief, Tim Clark – steps aside and makes way for the new leadership team to fully take the helm.
He is set to leave after over three decades in the "cockpit" of Dubai's flag carrier – the last 17 of them as the airline's president. That Clark is leaving the airline as it – and the rest of the industry – faces its worst crisis ever is not by design. His plan to step aside was disclosed last December, long before the world was being battered by coronavirus.
Clark will stick around at least until next year to support the transition – the details of which are still sketchy – but the reality is that his departure marks a key turning point for the business. As Clark says himself, he is about the last remnant of the Emirates founding fathers – many of whom were ex-Gulf Air.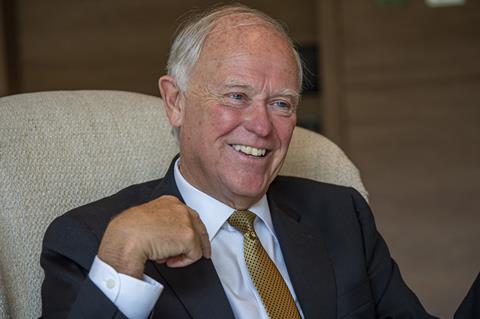 "That team of people started to disappear by the mid-to-late 1990s. I think I'm the last one here," he tells FlightGlobal. "But the one thing we did was be absolutely focused. Uncompromising. Merciless. We would not let anything get in our way.
"We had everyone and their dog telling us we were doing the wrong thing. 'Give it to other carriers, they know what they're doing.' Really? Then five years later they were asking: 'Do you think you can help us?' The boot was on the other foot and it's been like that ever since."
And he leaves with a simple message to his successors: that they must stick to what Emirates does best and keep innovating: "Don't worry about the competition. Let them worry about you. I always used to say: 'When I stop hearing the noise out there about us, then we all need to worry.'"
PANDEMIC JOLTS AIRLINE AFTER YEARS OF GROWTH
Like everyone else, the airline has been severely affected by coronavirus. Its most recent financial year, ended on 31 March, was partially affected by the pandemic, with traffic declining 4% year on year to 56.2 million passengers and airline revenue falling by 6% to Dh92 billion ($25 billion).
That decline in traffic – virtually unheard of during Clark's tenure at Emirates – also reflected both the closure of the southern runway at its Dubai hub for upgrade work and a more cautious approach to aligning capacity with a tighter market. This approach helped boost the carrier's net profits by one-fifth to Dh1.1 billion.
As Clark steps aside, he hands over the reins to a fleet (including many temporarily stored) of some 269 airliners and freighters – and a further 203 on firm order, according to Cirium fleets data. The airline is the largest global network carrier and is ranked first for the number of widebody aircraft deliveries, at 360 jets.
Clark concedes that no-one could have imagined this level of size and scale when in April 1985 he joined the small group of executives creating an airline for the emirate of Dubai. He had been watching from Bahrain, where he was working in the management team at Gulf Air, when the embryonic plan for a new Dubai carrier came together.
"Gulf Air was a very successful operation; the sole carrier in the Middle East at a time when oil was going through the roof. The early '70s through to the mid-80s were just a gold mine for anybody in air travel down that part of the world," he says. At that time Gulf Air was structured as a joint-venture airline comprising four Middle East states – Bahrain, Oman, Qatar and the United Arab Emirates via the state's capital city, Abu Dhabi.
Clark indicates that growing aeropolitical tension between Gulf Air and Dubai ultimately led to the creation of Dubai's local carrier. When Gulf Air attempted to block certain international operations across its member states, Dubai cried foul.
"Sheikh Mohammed bin Rashid – now the ruler – was absolutely adamant that there was nobody going to tell Dubai what they could and couldn't do with their aviation policy," says Clark.
Gulf Air retaliated by starving Dubai of capacity in 1983-1984, he adds.
"They used to have about 400-plus flights a week and took it down to about 20-30. I remember thinking at the time: 'Well, I hope they know what they're doing.'"
Sheikh Mohammed decided that Dubai needed its own airline, although not on the scale that Emirates is at today, says Clark.
"I was still in Gulf Air until April 1985, when there was the realisation that they might have created something that they may not be able to deal with – i.e. competition. Gulf Air had a total monopoly on everything in the Middle East and had a fantastic product on the [Lockheed] TriStars, a lot of which you see – the 'fingerprints' of Gulf Air – in Emirates today."
It was Maurice Flanagan, "a stalwart" at Dubai's airport and handling group DNATA, who was assigned by Sheikh Mohammed to create the emirate's airline. "He then got a team of 10-12 of us. Some were already here and others were brought in – like me – and off we went," says Clark.
CHALLENGING START FOR EMIRATES
"We started flying on 25 October 1985 with two leased aircraft – a 737-300 and A300B4 from PIA."
It is ironic how much of a role Gulf Air inadvertently played in the early success of its nearby nemesis, given the competitive tension that originally led to the creation of Emirates.
"The small group that were trying to make it work were, fortunately, pretty long in the tooth," says Clark. "One, about the aviation business as it stood then, and two, about the aviation business in the Middle East. We all came from Gulf Air and we knew how not to do it. We knew the pitfalls. So that team basically set this company up."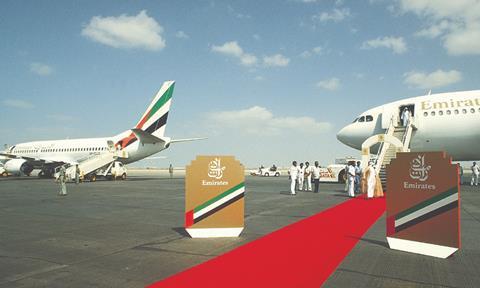 It was early days, but Clark already had ambitions for his new employer to usurp his previous one – although he was cognisant of the challenge they faced: "I remember sitting back and thinking: 'Well, we could become a Gulf Air if we wanted to, but that's going to be very difficult.'"
Clark explains that between the start of operations in 1985 and the end of the first Gulf war in the summer of 1991, Emirates was not permitted to serve any of the Gulf Air member states, including Dubai's neighbouring emirate and state capital, Abu Dhabi. And this was probably another crucial piece of the jigsaw that created the Emirates success story.
"I'd been very close to the way Gulf Air went about their business – I knew how they thought. So, to a large extent, personally, I could out-manoeuvre the way they dealt with Emirates, which was a difficult one for them because they just didn't know what to do," says Clark.
"So, faced with that [restriction], we then decided to take some very bold moves and I said to the guys here, Maurice, [chairman] Sheikh Ahmed: 'If we're going to make a go of this, let's really go for it.'
"I explained that if you look at the geography, look at where Dubai is, look at the landmass, look at the population centres, look at the powers of economies – look what we could reach with what we have, so let's go for it. Let's start London. Let's start Paris. Let's start Rome and Indonesia and Hong Kong. Forget the Middle East, because they're not going to let us in and if we're not going to be let in, what are we going to do?"
Brand and product had been a key part of Gulf Air's success – the airline's "Five-Star TriStar" campaign in the mid-1970s raised the bar in this respect. Clark had been part of that and knew that Emirates could do even better.
"I remembered how well the Gulf Air product was perceived and enjoyed. I said, if we do that right and use the latest aircraft available and start the basis of a hub. To cut a long story short, that's how we started."
In July 1987, Emirates put the first new aircraft in its fleet, two Airbus A310-300s, into service to London Gatwick, and Frankfurt was added a month later.
"And so it went on. The more we did the more we got. We punched above our weight," says Clark.
FRESH DESIGN KEY TO CARRIER SUCCESS
Flanagan had assigned renowned creative agency Negus & Negus – which was famously the originator of the British Airways red, white and blue scheme in 1973 – to design the airline's image.
"Dick Negus was invited down by Maurice and told the brief. And he said: 'We haven't even got a name for it.' So he sits in one of Maurice's bedrooms and not only came up with the livery, including the broad sweep of the flag, but the name as well, which of course resonated immediately with the ownership."
Clark credits Flanagan with the success Emirates had in its public relations and marketing strategy.
"Maurice had a very good eye for the power of brand and the PR side of things. He deployed the various agencies to punch above our weight in those markets," he says.
"We spent an awful lot of money. The result of that was that by 1990-1991 when we had a grand total of 20 aircraft, people began to think we had 200.
"We came to be described as 'the designer airline' because we were young and relatively hip and attuned ourselves to what clients really wanted. And so suddenly we became kind of the darling of the international world and we challenged the KLMs, the Air Frances and the British Airways, and then challenged the very aeropolitical structures that hadn't moved since 1945."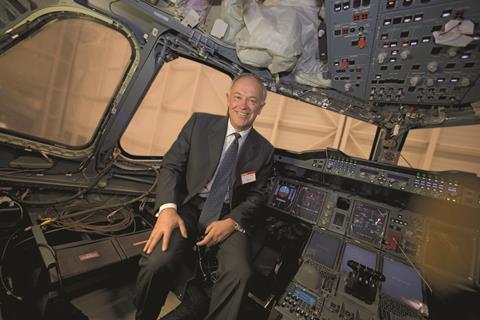 Clark explains that this was the era when to fly from Africa to the Middle East, passengers always had to route over a European hub. This was also the case for travel between Africa and Asia.
While major network-carrier rivals focused on key destinations such as Hong Kong, Singapore and Sydney, Clark saw the opportunity for Emirates to address sixth-freedom operations from other destinations. "Let 'em get on with it," Clark says he told his Emirates colleagues. "We'll just go for all these other places which are equally aspirational, equally demanding and we'll still go to those [key] places but we'll go to all the other places as well.
"So we were always going around the primary hubs because we knew where the markets were and where they were flowing into their hubs, and onwards.
"What we invariably found was that [on services to] the Asian, South American and African markets offered by the European carriers – given this strange aeropolitcal flow – was: one, the capacity was far, far below what it should have been; and two, the prices were extraordinarily high.
"And there in lay the opportunity, because we could start connecting – China-Middle East, India-UK, multiple points in India and in Europe, and so on," explains Clark.
Another key moment for Emirates was the birth of the "age of information" in 1995: "The internet hits us all and that puts us into a time warp, accelerating at such a pace that we were almost unable to keep up with demand."
By now, Emirates had hit the boom time with profits "rocketing" and cash building – amid accusations that it was being supported financially by its shareholder, the government of Dubai. "The fact of the matter is that what we did, we did so well that it was hugely cash positive. And because we offered a unique product, demand continued to grow, so we were able to navigate all the usual traumas that everybody faced."
Emirates was also quick to identify the value of the air cargo sector, and grew that business exponentially through both its bellyhold capacity on the passenger fleet and dedicated freighters. "So Ram Menen, who was our cargo supremo then, gets a bee in his bonnet and really gets going. He creates a super cargo hub here and at that point it used to give us 20% of our income."
By January 2000, Cirium shows Emirates had a fleet of 30 aircraft – a mix of Airbus and Boeing widebody twinjets – and 21 firm orders. It was poised to be launch operator for the ultra-long-range Airbus A340-500, which was introduced in 2003.
A380 MOVE CHANGES SCALE OF BUSINESS
The airline's ongoing success positioned it for its biggest step, which it took on the first day of Farnborough air show in 2000, says Clark.
"I think the biggest single thing we did, was in July 2000 to order the A380. When we did that – ordered 15 of them and no-one else did except for Air France and latterly Lufthansa – then people started to think this is something we need to take a bit more seriously.
"But by then it was far too late. We were 15 years into the growth of the business. The business was excelling, it was expanding. We threw more and more and more at product and were constantly refreshing and renewing. And more and more people were coming to us. And when we started flying the A380 in 2008, the world took off for us."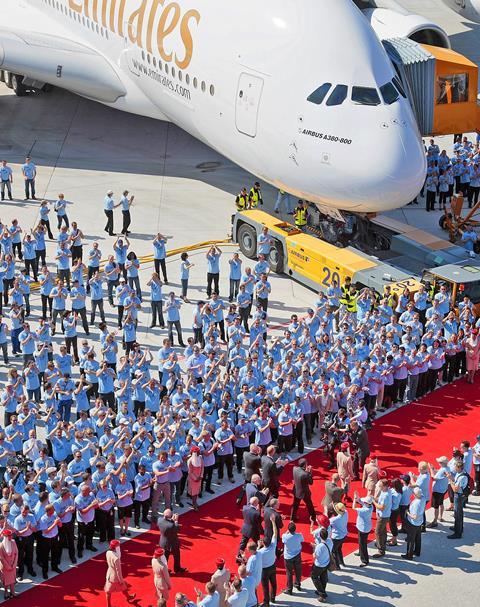 In the run-up to the A380 order, Emirates was gaining increasing credibility with the aircraft manufacturers and beginning to be able to influence the performance characteristics during the design phase. From the late 1980s, Clark had been urging the airframe and engine makers to deliver ultra-long-range capability to expand its nonstop network from Dubai, and it finally arrived with the A340-500 in 2003.
"By then, Toulouse and Seattle knew we weren't messing around… time wasters. And they knew that if they did what we asked them to do, we would buy the aeroplane, which is what we did."
The airline's increasing influence and credibility with the OEMs brought other advantages, says Clark.
"The banking community, so hooked into the OEMs, suddenly began to take us a lot more seriously and realised that we were generating cash sufficient to take on quite a lot of debt, service that debt on a business model that was already startlingly good."
Clark and Emirates took a front-seat role in the development of the 777-200LR/300ER, pushing the engine makers to deliver far more thrust than originally envisaged: "I said you've got to have 110-115k (thrust) to do the job that we want to do."
GE Aviation stepped up with the GE90-115B and Emirates ultimately took delivery of 114 -300ERs, along with 10 of the ultra-long-haul -200LR. "The beauty of the aircraft's design – and I don't think Boeing realised it – is that they had built something that absolutely hit the sweet spot," he says. "The -300ER, until the A380, was our flagship."
Meanwhile Airbus, distracted with A380 development, initially responded to the threat of the all-new 787 twinjet with a derivative of the A330, but Clark urged Toulouse to go with a clean- sheet design.
"I said you need to come up with a brand-new aeroplane. So enter the A350. When they asked me what they should do with it, I said make it a 777-200 lookalike. About that size. 250 seats in three classes… and you've got to put big windows in!"
Emirates was an A350 launch customer, placing orders for 70 aircraft. But the original deal collapsed after Emirates became dissatisfied with the creeping empty weight. "Eventually it came in so far above its contracted spec at its MEW that we had to walk away from it," he says. "Ever since then they've been bringing it back to try and get back to at least where we used to be and that's why more recently we had an interest in it and did the order at Dubai last year."
Emirates has almost single-handedly kept the A380 production line running and is due to complete its contract with the delivery of the final batch of eight aircraft from an order for a total of 123 aircraft. Clark still laments that the proposed "A380neo" failed to materialise, believing that this Rolls-Royce Trent XWB-powered refresh "has a place today, post-Covid, in the 2025-plus timeframe. But events overtook us and that was the end of that."
HOW MAX FALLOUT MAY IMPACT 777X PLANS
Progress of the next Emirates-influenced aircraft programme, the Boeing 777X, has been intermittent, amid early engine development problems and now the coronavirus crisis. Fall-out from the Boeing 737 Max grounding could also affect the 777X, says Clark.
"Unfortunately for Boeing, the 777-9 is the first aircraft to evolve after and during the Max saga, and whether or not it is absolutely perfect, the regulators are going to be absolutely demanding on what's going on. So when they say 2021-2022 [first delivery], we'll see."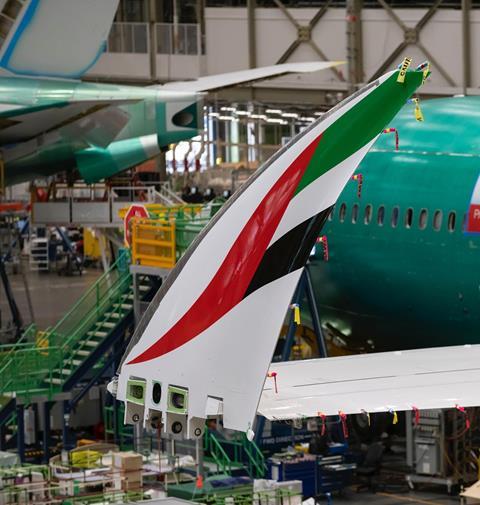 As Clark prepares to step aside from the executive team, he's clearly not intending there to be an immediate hard stop. He knows the industry is facing an unprecedented crisis and that a vaccine "must be found" for it to recover fully, but is "100% confident" that one will be.
The airline has been gradually restoring operations since the grounding in March and by August daily frequencies equated to around 40% of the pre-coronavirus tally. However, half of those frequencies were operating some form of cargo-only service.
After 35 years facing everything the industry could throw at him, Clark has a simple mantra about dealing with the continuing challenges thrown at the airline leadership: "Go round them, under them, over them. But never let them stop you. Just keep going."
FlightGlobal Premium subscribers can watch a video of the full interview with Tim Clark