Neither Airbus nor Boeing has significant backlog exposure to the Russian market, but the leasing industry appears harder hit by the sanctions imposed by the EU against Moscow in the wake of its invasion of Ukraine.
Airbus data shows that Russian flag carrier Aeroflot has outstanding orders for 14 A350-900 widebodies, while lessor Ilysuhin Finance has a long-standing deal for 14 A220-300s in place.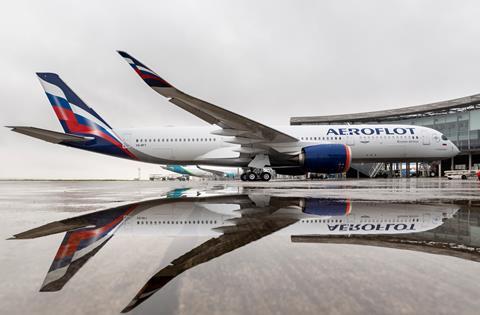 On the other side of the Atlantic, Boeing holds outstanding orders for 28 737 Max 8s from Utair and six 777 Freighters from the UK-based arm of cargo airline Volga-Dnepr, its data records.
Details of the sanctions contained in the 25 February edition of the Official Journal of the European Union point to the leasing industry having the bigger immediate problem.
Introducing the export ban "covering goods and technology suited for use in aviation and the space industry", the prohibition also covers insurance, re-insurance and maintenance services, plus financing and financial assistance related to those products.
Cirium fleets data shows that of the 777 aircraft leased to Russian airlines, a little over 500 have been provided by non-Russian entities.
Carriers with large leased fleets of Airbus jets include Aeroflot, Rossiya, S7 Airlines and Ural Airlines, according to the manufacturer's data. In total, around 270 Airbus aircraft are leased to Russian carriers, the vast majority of which are narrowbodies.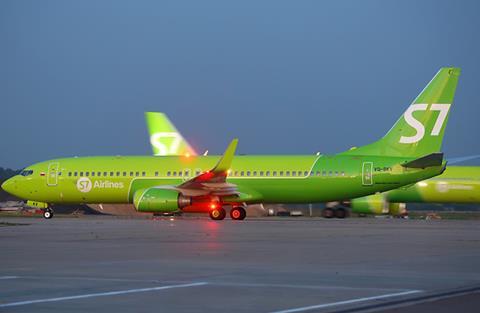 Dublin-based AerCap has by far and away the largest exposure to the Russian market, with 146 jets on lease to carriers in the country, followed by SMBC Aviation Capital (35, plus one managed aircraft), and Air Lease (31). Other lessors in the top 10 include BOC Aviation, Carlyle Aviation Partners, Dubai Aviation Capital and Avolon.
AerCap, in a 28 February stock market filing, says as of 31 December 2021 around 5% of its fleet by book value was on lease to Russian airlines.
"AerCap intends to fully comply with all applicable sanctions, which will require us to cease our leasing activity with Russian airlines," it says.
SMBC says it is "carefully monitoring developments in Ukraine" and is engaged with all relevant authorities.
"The business will fully adhere to any relevant sanctions and we are now working on the process of terminating all leases with Russian airlines," it says.
Avolon, which has 14 owned and two managed aircraft with Russian airlines, declines to comment.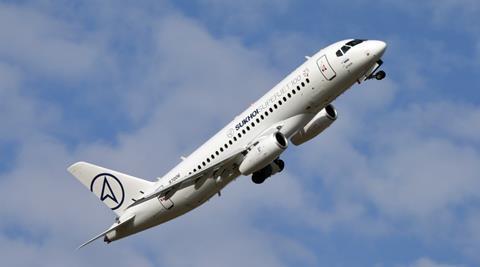 Because the EU's restrictions are so far-reaching – covering all aircraft types, not just commercial airliners, plus parts and components – many European companies fall foul of the sanctions, which specifically prohibit dealings with the majority of Russia's aerospace industry.
Safran, for example, collaborates through the PowerJet joint venture with United Engine, producing the SaM146 turbofan for the Sukhoi Superjet 100.
In addition, its helicopter engines business provides turboshafts for the Russian-built Kamov Ka-226 and Ka-62, albeit the latter is yet to enter service.
Safran says that Russia represents around 2% of its sales annually, chiefly in relation to PowerJet.
"The recent sanctions against Russia decided by the USA and EU authorities target aeronautical products and activities. In order to comply with these decisions, Safran has suspended all export and provision of services to Russia until further notice," says the French aerospace firm.
United Engine has been developing the indigenous Aviadvigatel PD-8 engine as an option on a modernised version of the Superjet, called the SSJ-New. However, certification is not due until 2023. Similarly, Russian Helicopters is planning to introduce domestic engines on several of its rotorcraft as alternatives to the current Western equipment.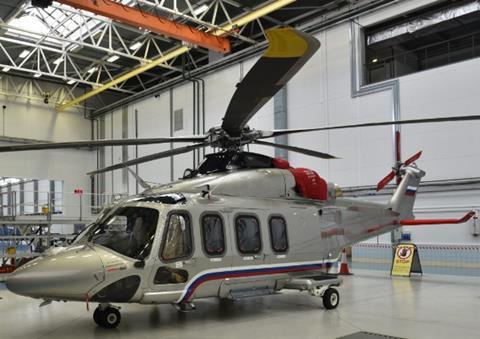 Italy's Leonardo Helicopters, meanwhile, has a 40% stake in Moscow-based HeliVert, alongside Russian Helicopters and oil firm Rosneft, which each hold a 30% share. HeliVert assembles AW139 intermediate-twins for the Russian and CIS markets, and also acts as a maintenance base.
Leonardo Helicopters declines to comment on the impact of sanctions.
Although the USA has yet to explicitly limit aircraft exports to Russia, the global nature of the aerospace industry means that no aircraft or engine assembled there escapes the European ban.
Take, for example, the 737 Max, which is powered exclusively by Leap-1B engines made by CFM International – a joint venture between GE Aviation and Safran.
The Pratt & Whitney PW1400G engines which were destined to power the first Irkut MC-21s to enter service are also covered by the EU's ban: although they are assembled at P&W's facility in East Hartford, Connecticut, 18% of each engine is supplied by Germany's MTU.