China's domestic air travel market has fallen off a cliff, as the country's strict zero-infection policy clashes with a fresh wave of coronavirus infections.
Traffic results from China's three largest airlines for March highlight the decline, with passenger numbers plunging to levels not seen for nearly two years.
Underpinning this is the Chinese mainland's ongoing battle with the more contagious Omicron variant of Covid-19, which has seen lockdowns and restrictions sprout across the country at a scale not seen since early 2020 when Wuhan, where the coronavirus was first discovered, was shut off.
While this is not the first time Chinese domestic passenger traffic has fallen, this is the lowest it has fallen during the pandemic.
Beijing-based Air China flew just over 2 million domestic passengers in March, a 70% decline year on year. It is the lowest since February 2020, when the carrier flew only 1.3 million domestic passengers.
China Eastern's passenger numbers in March plunged 71% year on year to around 2.5 million, the lowest since March 2020, when it flew 2.1 million domestic passengers. Its main hub of Shanghai is under its strictest lockdown yet, amid a spike in daily new infections.
As for China Southern, it carried 4 million passengers in March, a 64% year-on-year decline. The figure is about 45% lower month on month, and is the carrier's lowest passenger number since April 2020.
China's current domestic air travel situation stands in stark contrast to the buoyant sentiment elsewhere in Asia-Pacific, where countries are easing border restrictions and airlines are ramping up capacity.
In the early months of the pandemic, when doom and gloom were the order of the day and borders slammed shut, China's domestic market was perhaps the region's sole bright spot.
Yet, while it came close to achieving recovery to pre-pandemic levels, Chinese carriers never really breached the mark, and instead, subsequent waves of infections – promptly snuffed out by Chinese authorities – have dragged these numbers lower and lower.
Observers say it is clear the Chinese government's zero-Covid stance is – unsurprisingly – the main reason for the decline.
WHAT PRICE, ZERO-COVID?
Ascend by Cirium aviation analyst Herman Tse notes that the "willingness of passengers to travel" is still low, given that local governments discourage non-essential travel "under the critical period".
Concurring, HSBC's head of Asia Pacific transport research Parash Jain adds that the domestic travel market is "a function of the Covid-19 situation in the country".
"During the period of well-controlled Covid-19 situation, we have seen strong pent-up demand for tourism and thus travel to an extent even exceeding the pre-pandemic periods. Separately, during times with [resurgent] domestic Covid-19 cases, we see unavoidable decline in air traffic as the government is trying to combat the domestic infection," Jain tells FlightGlobal.
HSBC Global Research has, in past reports, stated that the 'Big Three' are well-positioned to weather the pandemic, compared to airlines from countries without a domestic market.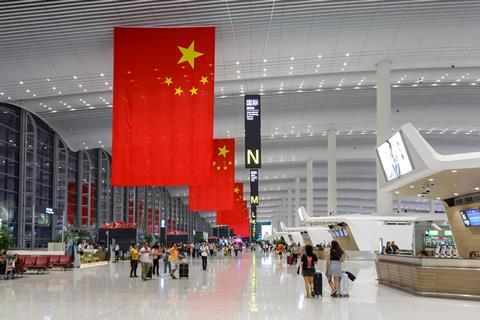 Jain, in his latest comments, echos the optimistic sentiment: "[We] believe the ['Big Three'] will emerge stronger post the pandemic and gain further market share in the global context, thanks to balance sheet strength and capable fleet size."
Ascend by Cirium's Tse notes that China's unyielding adherence to a zero-infection policy "is unlikely to be eliminated" soon, and that Chinese carriers have to be "flexible" in capacity management.
"They do not only need to focus on managing capacity by cancelling flights, but also to determine when to add the flight back. [Demand] could bounce back very quickly after stopping the transmission of the virus within the province. Airlines should have the capability to allocate resources to accommodate the demand in short notice," he says.
HSBC's Jain notes that there is still "robust" demand, pointing to similar observations raised by Tse.
He adds: "[A stable] Covid-19 situation in mainland China helped domestic travel while potential further relaxation to the Covid-zero policy could accelerate international travel recovery, boding well for both market sentiments and company earnings in the future."
However, until Beijing shifts from 'zero-Covid' – a move that is unlikely for now, as Chinese leader Xi Jinping has doubled down on the policy in recent months – any optimism on a strong rebound will be a pipe dream.