Thinking of innovative ways to cut fuel consumption is nothing new for the aviation industry.
Since the start of the Jet Age, commercial aircraft have become progressively more efficient in a continuum of fleet renewals and carbon dioxide emissions reductions, Sheila Remes, vice-president of environmental sustainability for Boeing, told FlightGlobal on 16 May.
"It is innate in what we do," she says. "We have reduced the fuel burn every single generation, but we have reduced it by 70%…. Getting to that last 30% is a really, really hard task when you consider how far we have come."
The matter is more urgent now. The aviation industry must supercharge its efficiency gains to meet its pledge to achieve "net zero" carbon emissions by 2050, Chris Raymond, Boeing's chief sustainability officer, said during the airframer's first-ever Sustainable Aerospace Together Forum in Seattle, Washington on 17 May.
"We have come far, but we are also known as a hard-to-abate sector," Raymond says, "and now we have a new shared industry challenge of how to get to net zero."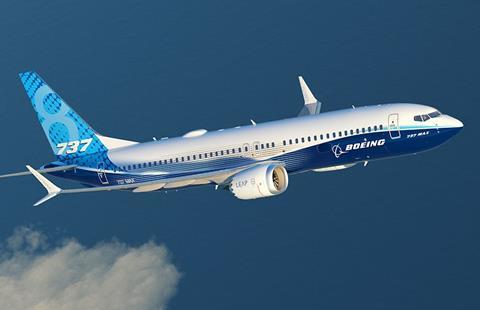 Raymond spoke to representatives from major aerospace stakeholders such as NASA, IATA, ICAO, the US Federal Aviation Administration and the European Union Aviation Safety Agency (EASA), along with airline executives, bankers and energy sector representatives.
The gathering was Boeing's first effort to expand sustainable aviation discussions beyond individual meetings with "think tanks, energy companies, fuel producers" and airlines, Raymond tells FlightGlobal.
"This is our first time bringing a global audience together," Remes adds. "But we are really focusing on the… four different sectors – policy, finance, energy and aviation – because all of these sectors have to come to terms with what we need to accomplish in order to scale decarbonisation solutions."
'SAF ALL AROUND THE WORLD'
Boeing says the consensus solution is drastically scaling up production of sustainable aviation fuel (SAF), which is said to be sustainably derived and to have a smaller carbon footprint than conventional jet fuel. SAF is typically biofuel but can be synthetic fuel derived from CO2 and hydrogen.
Though propulsion systems powered by electricity and hydrogen fuel are showing early promise – particularly for regional and urban air taxi operations – SAF has emerged as the leading emissions-reduction strategy for airlines.
"When we look at all of the options that are available, the one that is clearly and evidently ready to be used by the industry is sustainable aviation fuel," Willie Walsh, director of IATA, told attendees to Boeing's forum.
Juan Carlos Salazar, ICAO secretary general, adds that efforts to ramp up production of SAF must be international. "It is clear that we need a significant early push on SAF all around the world, and that this is vital to get the sector to where we need to be by 2050," he says.
Salazar urges attendees "not forget the potential of the developing world" and smaller markets to contribute to SAF production capacity. "I think we will find that SAF may come from many surprising places around the world," he says.
That idea was shared by Binyam Reja, who oversees a World Bank transportation decarbonisation programme.
"For many emerging economies, SAF represents a development agenda and job-creation agenda," he says. "They have a big quantity of feedstock they can leverage… We have estimated that if many of the countries we work in get into this space, that can create up to 14 million jobs just in the SAF production and feedstock space."
India, Kenya and South Africa are economies that are "positioning themselves in developing feedstock" and producing SAF in the decades ahead, Reja says.
THE .1% PROBLEM
Though most airlines' decarbonisation strategies rely heavily on SAF, significant challenges remain – including lack of available feedstock and land-use issues, which involve concern that land used to grow food crops will be converted to grow SAF crops, driving up food prices.
Currently, less than .1% of jet fuel burned globally is SAF, according to a March report from the US Government Accountability Office.
But production is scaling rapidly, Remes says. "Over the last two years, the amount of sustainable fuel has increased by over 200%," she says. "200% of a small number is still a small number, but what it tells you is that there is a transition happening."
SAF is typically produced from alternative hydrocarbon sources like corn grain, oil seeds, algae, fats, oils and greases, and agricultural and forestry residues. Engines burning SAF still emit carbon, but that carbon release is considered offset by carbon pulled out of the atmosphere by plants used to make the fuel. Depending on production methods, SAF is advertised as having 80% less life-cycle greenhouse gas emissions than fossil-based fuel.
Actual benefits remain debatable.
"There is uncertainty on what the actual life-cycle emissions reductions from these fuels will be," said the FAA in a November 2021 report. "There are no mandatory governmental standards for calculating the environmental benefits or dis-benefits of SAF."
The FAA's report assumed SAF has net-emissions reduction of "at least 50%" compared to conventional fuel. At 50%, the US aerospace industry's net emissions would be roughly the same in 2050 as in 2020, the report said.
Research is also underway to convert carbon removed from the atmosphere into a synthetic SAF, with United Airlines disclosing in March a $15 million investment in carbon-capture technology firm Svante. Converting municipal waste into SAF is another possibility, though some argue that doing so would release into the atmosphere carbon that would otherwise remain buried underground in landfills.
"Focusing on the next type of feedstock is really important because there is a limit to [the availability] of fats, oils and greases," Remes says. "Essentially all of the sustainable fuel that is being produced now is from that feedstock."
Under current standards, approved SAF can be combined with conventional petroleum-based jet fuel in blends of up to 50%, but 100% SAF that works as a "drop-in" replacement for the most common jet fuels – Jet A and Jet A-1 – remains in development and unapproved.
A first step would be widespread use of half-and-half blends, Raymond says: "Just getting to the 50/50 blend would be incredible for the industry."
Some critics of the SAF-centric approach – such as Val Miftakhov, chief executive of hydrogen-fuel-cell propulsion specialist ZeroAvia – say SAF is far from a perfect solution.
"Sustainable aviation fuels… do not eliminate carbon emissions in flight, nor do they significantly reduce other noxious and climate-warming emissions," Miftakhov said in prepared testimony during a 30 March Senate hearing about the feasibility of SAF and alternative propulsion systems.
"These non-CO2 emissions, as well as contrails, are known to have a multiplier effect on climate change."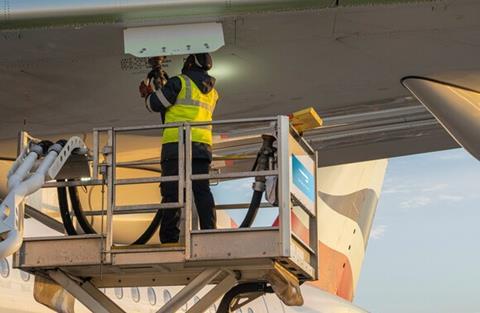 'STILL A HYDROCARBON'
Raymond says it is "too early to say" whether hydrogen- or electric-propulsion systems could be incorporated into Boeing's next clean-sheet narrowbody aircraft design, which Boeing chief executive David Calhoun says the company will bring to market in the mid-2030s.
But hydrogen brings with it significant engineering challenges – requiring aircraft to be substantially redesigned – and has less volumetric energy density than fossil fuel. All-electric propulsion is widely seen as unsuitable for anything but small aircraft.
For those reasons, some analysts suspect Airbus and Boeing's next narrowbodies will have largely traditional fuel-burning engines – though perhaps the powerplants could be open-fan designs, such as one under development by CFM International, or be augmented by electric systems, known as the hybrid-electric approach.
"Finding renewable energy alternatives with the same energy density and volumetric efficiency as fossil fuels is difficult," Raymond wrote in an op-ed article earlier this year.
Advances in battery technology will allow for electric-powered short-haul flights in the near future, for example, but batteries still weigh too much for long-haul routes.
"We are going to need sustainable aviation fuel, but that doesn't mean we are not spending [research and development funding] on electric and hydrogen," Raymond says, pointing to Boeing-backed electric air taxi developer Wisk. "It means that we have taken a position that we are probably not going to achieve very much aviation carbon emissions reduction on a global scale [from hydrogen or electric propulsion] by 2050."
Despite recent landmark flights achieved by start-ups developing hybrid-electric propulsion technology – and Airbus' exploration of several conceptual hydrogen aircraft designs – Boeing remains sceptical of fuel cell-powered commercial flight.
There are a number of technical and logistical issues currently preventing hydrogen propulsion from taking off, Raymond says. He cites NASA's experience with handling cryogenic fuel as a cautionary tale for the aviation sector. (Hydrogen fuel must be stored at extremely low temperatures to retain its liquid state.)
"We use it in rockets every day," he says. "Hydrogen is hard to work with and changes the properties of metal. It is hard to store. It leaks. These are all things that have to be solved if we really think we are going to run a scheduled commercial service on [hydrogen] with airplanes leaving 15 minutes after they arrive at a gate."
"Getting something into service and having it scale up to the point where it makes a big dent in the carbon emissions of aviation… we just don't see that coming from electric or hydrogen by 2050," he adds. "That doesn't mean we shouldn't be working on it, but we have been pretty straight on that, based on our analysis."
Some clean aviation players hope to change Boeing's mind on hydrogen-based propulsion, including Paul Eremenko, founder and chief executive of California-based start-up Universal Hydrogen.
Following first flight of his company's hydrogen-retrofitted De Havilland Canada Dash 8-300 on 2 March, he told FlightGlobal his company aims for its hydrogen-electric hybrid propulsion system to be incorporated into next-generation narrowbody jet designs.
Eremenko believes rapidly developing and scaling hydrogen propulsion systems, which emit water vapour as exhaust, is the only realistic way of achieving zero emissions from aviation by 2050. He also says embracing SAF as a primary decarbonisation strategy could eventually stifle the industry, as reducing operations could become the only way to achieve emissions-reductions targets.
"Whether it is dinosaur kerosene or SAF, it is still a hydrocarbon that you are going to burn at 35,000 feet," he says. "If we end up with one or two hydrocarbon-burning narrowbodies in the 2030s, I think there will be a curtailment of traffic volumes, and a curtailment of growth – and I think that would be really bad for the industry and the world."
"We are doing this in large measure to influence that late-2020s decision, because that is going to be right at the heart and soul of the aviation sector for quite a while," he adds.
NEXT GREAT LEAP
Airlines clearly view SAF as the clearest way forward – at least for large jets, and at least for now. They also have few other options, as fuel-burning turbofans will be flying for decades.
But some carriers say novel technologies might work for regional aircraft.
"We think about electric-hydrogen as sort of a real possibility for [regional operations] in the future," Diana Birkett Rakow, senior vice-president of public affairs and sustainability for Alaska Airlines, said during Boeing's 17 May forum.
Alaska recently delivered a Dash 8-400 to ZeroAvia, which intends to retrofit it with a hydrogen-electric propulsion system. The 76-seat turboprop is set to become the "world's largest zero-emissions aircraft", the companies say.
But that does not offer an immediate solution for Alaska's mainline operation. "Our mainline is all Boeing 737s, and that is going to be flying on jet fuel and SAF in the future," she says.
That is an example of why Boeing is betting SAF will be the most-critical factor in helping the aviation sector take its next great carbon-reduction leap.
For that to happen, the industry must develop supporting technologies, energy sources and infrastructure. Currently, SAF is available for purchase at only a few airports around the world, but that is expected to change as global aviation pushes toward a cleaner future.
"It is an exciting time in this industry," Raymond told attendees. "We are attracting venture capital, we are attracting engineers, we are attracting all this interest. Why? Because we have a big, hard problem to solve."