The Wuhan Coronavirus outbreak in China comes after years of strong traffic growth from Wuhan Tianhe International airport, which serves dozens of domestic and international destinations.
Media reports about the outbreak indicate that reported cases have risen to over 440 with nine fatalities being recorded. The virus, which is in the same family as the Severe Acute Respiratory Syndrome (SARS) virus that struck in 2003, is apparently capable of spreading through - as the Chinese government puts it - "respiratory transmission" contact between people.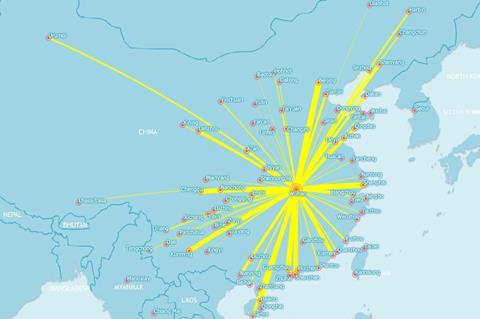 After facing demands from crew, Cathay Pacific will allow crew to wear face masks on China services. Singapore is conducting temperature checks on all passengers arriving from China, and a case has been reported as far away as Seattle. Some airlines are offering passengers with tickets to Wuhan the chance to change or cancel for free.
A key difference between 2003 and 2020 is, of course, the massive growth in China's air connectivity, both domestically and internationally. Wuhan, the city of 19 million that is the epicentre of the outbreak, is emblematic of this growth.
According to Cirium schedules data, airlines will offer 332,861 departing seats from Wuhan in January 2020, double the number offered in January 2010, and triple those offered in January 2003 during the SARS epidemic.
The airport's key markets are namely domestic such as Beijing (111 flights weekly), Chengdu (93), Guangzhou (84), and Haikou (83), and dozens of other major cities.
Wuhan has also seen the development of a strong network to neighboring countries such as Japan, South Korea, and Southeast Asian countries such as Cambodia, Malaysia, Singapore, Thailand, Malaysia, and Vietnam.
Bangkok, a popular destination for Chinese tourists, is a particularly big market. In January 2020, China Southern Airlines will operate 84 flights to the Thai capital and Thai AirAsia 64. Tokyo, another key market, will see All Nippon Airways operate 31 flights, China Eastern 13, Spring Airlines 12, and China Southern Airlines eight.
The city's international long-haul network, however, is not as well developed. Still, there are direct services to San Francisco (13 flights monthly), Dubai (17), and New York City (14). In addition, the airport offers direct connections to European cities such as Istanbul, London, Moscow, Paris, and Rome.
Of the airlines serving the city, Guangzhou-based China Southern Airlines and Shanghai-based China Eastern Airlines account for 50% of departing capacity. Beijing-based Air China accounts for another 9%, followed by Xiamen Airlines, Hainan Airlines, Beijing Capital Airlines and others.
A portion of the travellers on the major hub airlines are likely to transfer for long-haul international routes.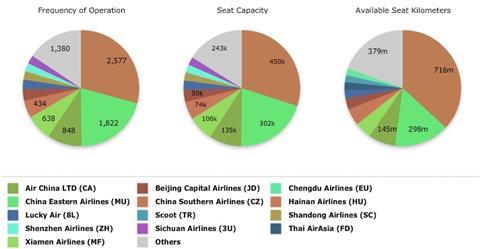 International airlines serving the city include ANA, Air France, Scoot, and Thai AirAsia.
If the SARS crisis of 2003 is any guide, then airlines will be in for a rough ride.
The Cathay Pacific 2003 annual report opened with these lines: "In 2003 Cathay Pacific's operations were severely disrupted by the SARS outbreak, which resulted in a steep decline in passenger demand and several months of heavy losses."
The year saw the number of passengers carried fall 18.4% to 10.1 million. The carrier was forced to reduce its schedule by 45% and park 22 aircraft. Overall load factors fell 4.6 percentage points to 72.2% from a year earlier. North Asia load factors fell 9.2 percentage points to 61.3%.
That year's operating profit plummeted to HK$2.2 billion ($285 million) from HK$4.8 billion a year earlier.
The Singapore Airlines annual report for 2003/2004 also focused on the "turmoil" cause by SARS and its "crippling effect" on the travel industry. In April 2003 the airline had to cut services by 19.7% and release 206 cabin crew. In June 2003 service cuts rose to 31.5%.
Overall passengers carried fell 13.4% to 13.3 million, though overall load factors only declined 1.2 percentage points to 73.3%. The period saw the airline cut ASKs 18%. Operating profit for the year fell 28.1% to S$150.2 million.
Eventually the SARS epidemic was contained and air traffic returned to normal. That said, it is far from certain how the Wuhan outbreak will play out. Airline chief executives will be watching events very closely.