A new wave of coronavirus infections — caused mainly by the more infectious Delta variant — threatens to thwart the domestic recovery in key Asia-Pacific markets, though prospects in the region remain mixed.
A quick look at the region's operating indicators reveals a tale of two trajectories: once vibrant domestic markets reduced to skeletal capacity, while other markets rebound strongly after bottoming out.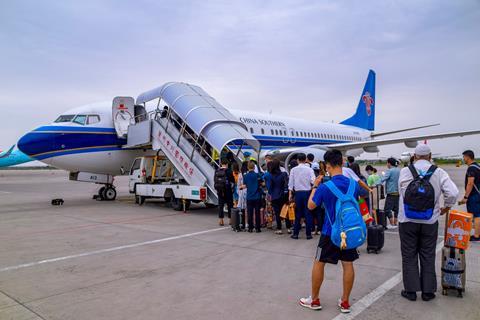 While in June traffic fell below pre-pandemic levels, it is in July and August that the divergence becomes more pronounced.
IATA data for June shows that key domestic markets in the region reported traffic declines, including China, which had been on track for recovery.
Compared to pre-pandemic 2019, traffic across key domestic markets fell between 11 and 71% in June.
In Australia, where the first signs of a Delta variant outbreak were starting to emerge, June traffic fell 41% compared to 2019.
China slipped 11% compared to 2019, while in India, which was battling its worst-ever wave of infections, traffic plunged 71%.
Capacity fared no better, with India reporting a 59% decline compared to June 2019, when government restrictions amid the pandemic curtailed flying activity.
But just a month later, two of the region's largest economies – India and China – bounced back strongly.
Traffic results from China's three largest carriers — Air China, China Eastern Airlines and China Southern Airlines — show an uptick in traffic for July, both compared to June, as well as a year ago.
This was despite a fifth wave of infections sweeping across several parts of China in late-July, which left several cities, including the infection epicentre of Nanjing, under lockdown and with many others imposing stricter social gathering measures.
Meanwhile, in India, traffic picked up significantly in July, after bottoming out in May and June. Data from the country's Directorate General of Civil Aviation shows a 61% month-on-month rise in domestic passenger numbers in July, to just over 5 million passengers.
However, the same rebound has not been matched in other areas of Asia-Pacific, particularly in Southeast Asia and Australia and New Zealand.
Countries like Thailand, Indonesia and Malaysia report new infections by the tens of thousands daily. Strict domestic travel restrictions, including capacity limits, have forced airlines to scale back flying.
Some have even suspended domestic operations altogether, for example AirAsia's units in Thailand and Indonesia. The pair have completely stopped flying to support pandemic suppression efforts.
Australia, which experienced a breathless recovery in the early months of 2021, shut domestic borders as the Delta variant ripped through several states. New South Wales and Victoria, the country's two most populous states, are currently under lockdown, with interstate travel kept to a minimum.
Flag carrier Qantas has had to furlough around 2,500 staff, while competitor Regional Express stood down 500 staff as a result of reduced flying activity.
The severe lockdowns has led Qantas to flag a "significant impact" to its earnings, with the Oneworld carrier noting that recovery has been "delayed" by five months.
Even New Zealand, which had remained relatively pandemic-free for a good part of the year, entered a strict lockdown in August. Consequently, flag carrier Air New Zealand has had to operate a reduced domestic network.
Indeed, for Australia and New Zealand carriers, which have had to deal with tightly-shut international borders, the latest surge in infections spells bad news.
Still, carriers in the region have pinned their hopes on rising vaccination numbers. In its annual results, Qantas notes that once Australia has vaccinated some 70% of its population, domestic restrictions are likely to be eased, paving the way for a resumption of regular travel within the country.
Malaysia Airlines, too, has been reported as forecasting a domestic recovery from 2022, as more and more people get inoculated.
But until the vaccination targets are met, airlines will have no choice but to hunker down amid the disarray.