News that Singaporean firms ST Engineering and investment company Temasek are joining forces to create a new leasing venture for converted freighters is the latest in a series of recent announcements focused on the booming market for passenger to freighter (P2F) modifications.
Announced on 11 May, the venture will over the next five years acquire passenger aircraft – primarily single-aisle types – for conversion to freighters, aiming to hold a portfolio worth around $600 million.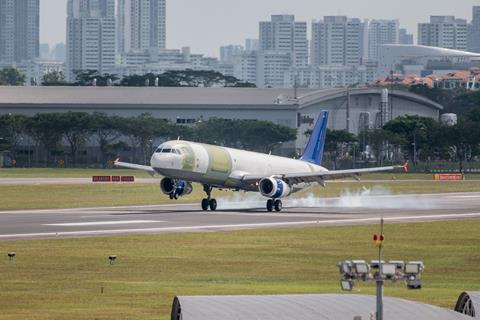 Prior to news of the partnership emerging there had been a flurry of activity in the sector. For instance, Boeing revealed it will in 2022 set up a P2F conversion facility for 737-800s in Costa Rica – the first such operation in South America – while Israel Aerospace Industries (IAI) will in 2024 establish a modification line in Seoul, South Korea for 777-200LRs and -300ERs.
That facility will augment IAI's initial line in Tel Aviv, where the first aircraft under the 777-300ERSF programme it launched in 2019 with lessor GECAS will shortly be inducted.
Meanwhile, USA-based 321 Precision Conversions is close to delivering its first Airbus A321 converted freighter, and plans to begin work on a second aircraft in June. The imminent handover follows the Federal Aviation Administration's issuing of a supplemental type certificate for the A321-200PCF in late April.
And on the other side of the Atlantic, Ireland-based lessor GTLK Europe is to acquire four A321 converted freighters, induction for which will commence this year. The aircraft will undergo modification by the EFW joint venture which is run by ST Engineering and Airbus.
EFW says the air cargo market has experienced increasing demand. "Interest in our A321P2F conversion solution has been on a significant rise over the past year," says chief executive Andreas Sperl.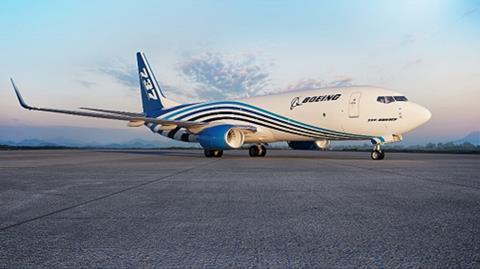 The strong demand for converted freighters has been driven by a robust cargo market, one of the few bright spots for the airline industry over the past 12 months.
While the loss of belly-hold capacity, typically around 54% of total capacity, through the collapse of long-haul passenger demand has presented a logistical challenge which has required some creative solutions, both demand and rates are now higher than they were as the pandemic took hold last year.
In fact, IATA data for March shows a record for air cargo, with cargo tonne kilometres (CTKs) flown 4.4% above the same month in 2019 – well before Covid-19 appeared. CTKs have climbed consistently over the last 12 months, save for the annual post-Christmas slump.
Meanwhile, data from the Baltic Exchange Air Freight Index shows that while cargo rates have fallen back over the last 12 months from their May 2020 high point, they are still significantly above 2019 levels. Indeed, in April this year rates on the Hong Kong-North America lane spiked to $8.48/kg, higher even than the $7.73/kg seen in May last year, driven upwards by reduced capacity due to stricter quarantine regulations in Hong Kong.
Clearly it is the absence of belly-hold capacity that is keeping rates buoyant. "Overall air cargo rates remain at elevated levels because of stronger demand and an ongoing capacity crunch caused by a reduction in belly-hold services," says Damian Brett, editor of FlightGlobal's sister publication Air Cargo News.
Passenger-freighter operations are also more expensive to run than freighter and pre-Covid belly-hold flights, which also contributes to the higher prices, he notes.
Figures released in early 2021 by consultancy IBA show the stark contrast between passenger and freighter aircraft operations. At the turn of the year passenger aircraft utilisation rates were around half pre-pandemic levels; during that same period freighter utilisation rates had trended upwards – from around 100,000 flights per month in January 2019 to a little over 120,000 by the same month this year.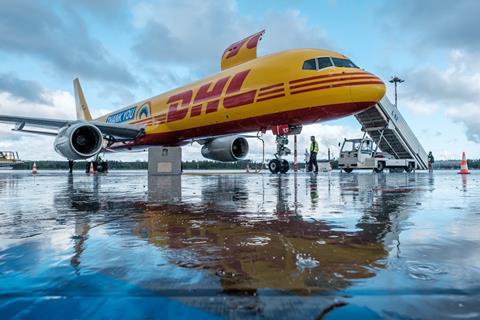 Such has been the clamour for cargo capacity that even aircraft thought long retired have been brought back into service: Georgian start-up Geo-Sky has re-activated a 1987-built 747-200 converted freighter (4L-GEN) that was last operated in 2012, according to Cirium fleets data.
Of course, growing demand for conversions pre-dates the pandemic, driven by the need of the big integrators – express parcel carriers such as FedEx, DHL and UPS, and Amazon, to a degree – to update their fleets of smaller freighters. For instance, the EFW A321 P2F conversion programme was launched in 2015, with a launch order secured two years later.
But the pandemic has undoubtedly added more fuel to this fire. Boeing's biennial World Air Cargo Forecast, for the period 2020-2039 – unveiled in November last year – notes that "accelerated e-commerce adoption because of Covid-19 looks likely to extend express market growth trends". Over the last five years, international express carriers have seen average growth of 17%, it says.
Boeing sees the cargo market as a whole growing at an annual rate of 4% over the next 20 years, resulting in the need for a freighter fleet 60% larger than today's, rising from 2,010 to 3,260 units. 2,430 aircraft will be delivered, around 50% of which will replace current inventory. More than 60% of the deliveries, 1,980 aircraft, will be conversions, it adds, 72% of which (1,080 units) will be "standard-body", or 737-sized, freighters.
Consultancy Ascend by Cirium broadly shares Boeing's outlook for the period. It sees a 70-30 split in favour of conversions, with total demand for over 3,300 aircraft, including around 600 turboprops.
"Conversions are being driven by the growth of e-commerce which has been boosted by more online deliveries during lockdowns," it notes.
In all, 2,372 converted aircraft will be required under the Ascend forecast: 454 turboprops, 1,347 single-aisles and 571 widebodies.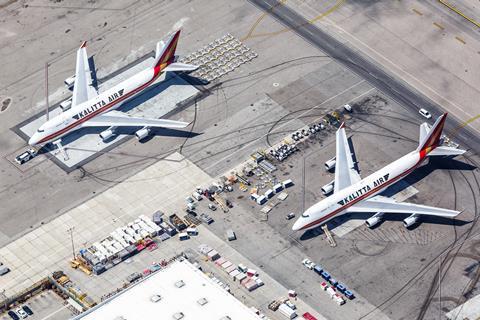 Another factor weighing on the market is the increased availability of feedstock aircraft available for conversion "driven by the accelerated retirement of passenger aircraft fleets", notes IBA.
Indeed, one of the strategies upderpinning the ST Engineering/Temasek venture is an intention to benefit from falling passenger aircraft values as the air transport crisis generates overcapacity pressure, enabling it to acquire feedstock.
In IBA's view, the 737 will continue as the mainstay of the smaller narrowbody market, with conversion activity shifting to the -800 as feedstock availability of earlier 737 Classics dries up. Between May 2020 and January 2021, a total of 30 converted 737-800 freighters were added to the global fleet. 2021 is "looking to be an even stronger year" for the type, it says, with nearly 40 aircraft pending.
The 757 continues to dominate the larger narrowbody space, says IBA; an additional 20 examples are pending conversion having been retired from passenger roles, it says, adding to the 298 units in operation as freighters at February 2021.
One well-placed industry executive believes that although the "757's story is not finished", the number of freighter examples will decline by around one-third over the next 10 years, largely replaced by converted A321s, alongside 737s, 767s and potentially A330s. The prospects for the Airbus narrowbody will be aided by a choice of engines, allowing operators to avoid over-reliance on one manufacturer.
Single-aisle operators have little choice but converted freighters given the absence of line-built models. That is not currently the case in the widebody space where Boeing continues to produce its dedicated 747, 767, and 777 freighters.
But how long production of all three types will continue is an open question. So far, the only certainty is that 747-8F output will end in 2022.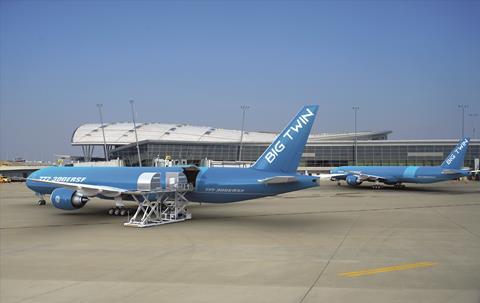 Boeing is building three 767s per month, and at that rate will have depleted its current 97-unit backlog (40 of which are -300Fs, the rest are military tankers) in a little over two and a half years. But with the US Air Force having an eventual requirement for 179 KC-46 tankers, the orderbook will be periodically topped up over the coming years. Of course, whether Boeing continues to offer the -300F is not guaranteed.
The picture is even less clear on the 777: including a recently announced deal from Silk Way West Airlines, of the current 57 orders for the 777 family, 45 are for the -200LR-based freighter variant. Boeing is this year cutting output to two aircraft per month, including an unknown number of 777Xs. Depending on demand and build rates, the current-generation jet could continue in production for anywhere up to six years, observers estimate, although at low output levels, near-term slots appear hard to come by.
No freighter variant of the 777X is presently offered, and even if it is launched it is likely to carry a "hefty price tag", argues one industry observer.
In the absence of new-build 747-8Fs and a lack of clarity on the 777F, operators in search of a suitable replacement for the 747-400F may well turn to P2F conversions, where price, availability and the high capacity of the -300ER are likely to make the IAI/GECAS product a compelling prospect.
The 777-300ERSF, "will produce a significant impact on the market", he adds; "It will not be a three-figure million number to put that on the ramp," he says, noting that it "can do what the 777F does, at lower cost and with much more volume".
While no figures are officially available, IBA estimates the conversion cost of a 2005-built 777-300ER to be around $32.5 million. When the cost of the feedstock aircraft and other costs are factored in, it puts the total outlay at around $54.5 million for an aircraft that will be able to carry a little over 100t. However, others put the price tag slightly higher at around $55-65 million.
Industry watchers also suggest the partners involved, together with the support of engine provider GE Aviation, lend credibility to the effort, despite the engineering challenges involved.
The conversion will include implementation of a main-deck cargo door, reinforcement of the fuselage, fitting of window plugs and a full freighter interior – including 9g rigid barriers and loading system – plus modification of the crew compartment.
Kalitta Air is set to be the launch operator of the aircraft, receiving its first example on lease from GECAS in 2023. The identity of the launch customer further strengthens the case for the programme argues one industry insider: "I don't think its owner has put a foot wrong in all the years it's been in operation."