As countries around the world start to tap on domestic travel as a means of reviving economies battered by the coronavirus pandemic, one major economy has gone full steam ahead with its domestic recovery.
In recent months, Chinese carriers have doubled down on domestic air travel efforts, touting discount after discount, with some throwing in all-you-can-fly "unlimited passes" that allow travellers to fly as often as they like for a set period.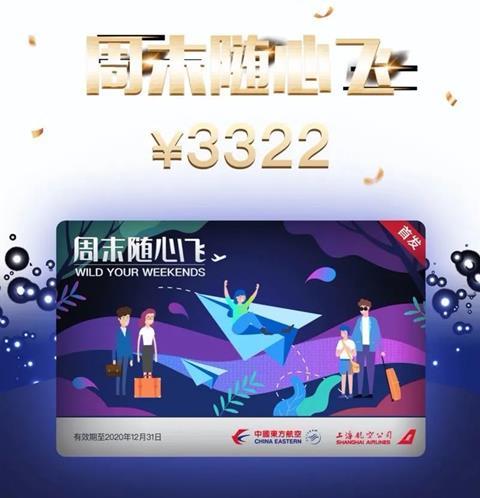 Their efforts have not gone unnoticed. A report by travel analytics company ForwardKeys in late August states that the Chinese domestic air travel market could recover as soon as the start of September.
It based its forecast on several factors, including China's ability to keep the coronavirus outbreak under control domestically, as well as airlines' aggressive touring of pricing promotions to stimulate demand.
It hailed it as a "significant" milestone since the start of the outbreak early this year, as a major market in the world has returned to pre-pandemic levels.
STEADY AS IT GOES
Since bottoming out in February, when the coronavirus pandemic forced several Chinese cities and provinces to go into lockdown, domestic air travel capacity has seen consistent month-on-month increases.
Data disclosed by three of China's largest carriers – Air China, China Southern Airlines and China Eastern Airlines – reveal a similar trend of gradual growth in passenger numbers, as well as ASKs and RPKs.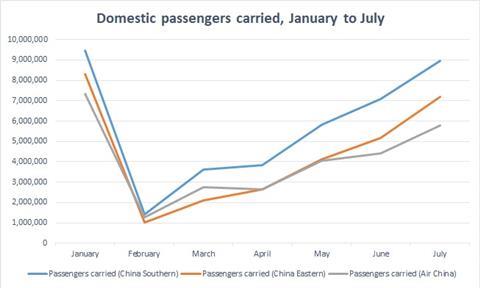 China Southern and Air China both experienced a slight plateau in traffic rebound in May-June, due to the discovery of an outbreak in Beijing, which are bases for both carriers. That wave of infections led to the suspension of a significant number of domestic flights in and out of the capital's two major airports.
Since then, however, both carriers have seen continued growth in domestic passenger traffic.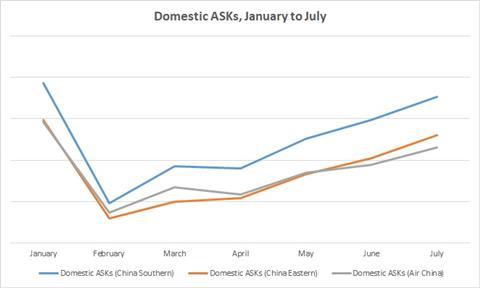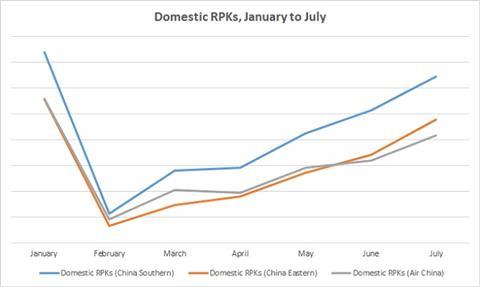 While traffic levels have yet to match pre-pandemic levels, the drumbeat of recovery is sounding louder and louder. As at July, the 'Big Three' were just about one million passengers or so shy of January traffic figures, right before the pandemic turned widespread.
China Southern, for example, carried about 8.9 million passengers in July, compared to 9.4 million in January. Air China's July passenger number, at 5.8 million, is about 1.5 million passengers lower than its January figure of 7.3 million passengers.
Cirium schedules data indicate that by the end of September, domestic passenger capacity is expected to be about 10% higher than the same period last year, another indication that recovery is well on its way.
Examining fleet storage data for the 'Big Three' airlines reveals patterns of recovery. Cirium fleets data shows that the number of stored aircraft has largely tapered off in recent months, a possible indication that carriers are moving full steam ahead with capacity reintroduction.
The three carriers had the most number of aircraft in storage in March, in the immediate aftermath of strict lockdown measures imposed in several parts of China to curb the pandemic's spread.
Looking at China as a whole, a similar trend in aircraft storage rates emerges. Stored aircraft numbers peak around February to March, led mainly by Airbus A320s and Boeing 737 NGs.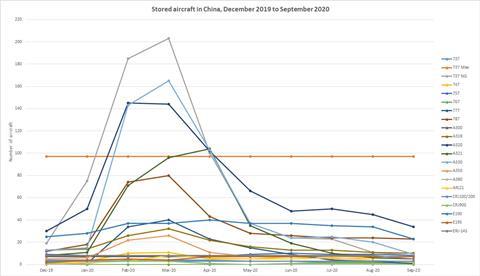 The number of stored aircraft tapers down by May, the period when China announced it had largely got the pandemic under control.
TOURISM LIFTS AIR TRAVEL RECOVERY
In July, China moved to allow travel agencies to operate group tours across provincial borders, giving a fillip for many agencies whose fortunes were badly battered by the pandemic. China's culture and tourism ministry also eased restrictions on tourist attractions, allowing them to operate at 50% of their capacity, raising the limit from 30% imposed in April.
Such a move hopes to tap on pent-up travel demand, and comes just in time for the peak travel period in October, during China's National Day holidays.
A HSBC report released on 9 September points out that the upcoming 'Golden Week' holiday in October will "likely stimulate domestic travel demand", noting that several airports in Mainland China have already recorded month-on-month increases in flight movements to meet travel demand.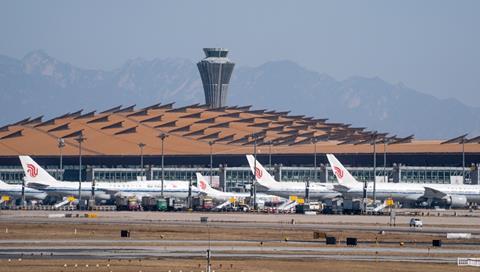 Industry watchers tell FlightGlobal that it is undisputed that the Chinese domestic air travel market is experiencing a post-pandemic rebound, and that the trend should continue.
It is clear that a lot of the increases in passenger traffic is due to the heavy discounts dangled by carriers, as a means to rebuild domestic travel demand, they note. Indeed, HSBC researchers say the country's shift toward local tourism will "further fuel the recovery in domestic traffic and load factors".
However, industry watchers add that while capacity and passenger traffic will be the first to recover, profitability will take some time to do so.
Transportation research analyst at Bocom International Luya You tells FlightGlobal: "The reasons for this are the high airfare discounts, which continue to eat into revenue at a time when many planes are still flying close to, or just below their break even loads. All of this means domestic carriers won't be [breaking] much ground in terms of moving into positive profits, but they can stop the bleeding better than in [the first half of the year]."
Concurring, Ascend by Cirium head of consultancy Asia Joanna Lu adds that the steep discounts and unlimited passes offered by Chinese carriers "will not necessarily allow earning more, but losing less".
Another advantage for Chinese carriers is their lower reliance on international traffic, which hitherto remains shut off.
"Chinese carriers are much less reliant on international demand than most other airlines in [Asia-Pacific], so the impact of plunging international demand is much less overall," says You.
YIELD FOCUS
The HSBC research report states that the Chinese carriers will now shift their focus on improving yields, especially from next month, after experiencing a strong domestic recovery.
Still, airlines should be cognisant of another spike in coronavirus cases in the country, which could trigger fresh lockdowns.
Says Ascend by Cirium's head of global consultancy Rob Morris: "[An] increase in Covid-19 cases in China would cause this recovery to derail. There is no sign of that to date, but this must remain a real (and potentially increasing) risk."
You notes that the volatility of the pandemic means airlines will have to be as flexible as possible.
"It is very hard for domestic carriers right now to plan ahead like they used to pre-Covid. Carriers must be prepared to rapidly redeploy capacity from one route to another if [the coronavirus] impacts a region.
"As a result, these small hindrances can still add up to become much larger obstacles. At the moment, it appears domestic carriers are doing well to cope with this new reality, but we expect slimmer margins as a result," she adds.
For now, it would appear that the Chinese carriers have got demand recovery largely in the bag, even while peers around the region languish amid crushing travel restrictions. This sets the stage for global market share.
As You puts it: "Given the distressed state of major carriers throughout [Asia-Pacific], Chinese carriers have a rare window to make significant moves on global market share given their strong liquidity and months of domestic recovery. Simply put, they're in a fantastic position (in both financials and fleet) compared to regional peers to take advantage of the Covid lull."