Aerospace analysts are now considering whether the coronavirus-induced airline industry downturn, should it persist, could eventually lead airlines to defer aircraft deliveries or even cancel orders.
While aircraft makers say their industry remains healthy, the downturn is also raising questions about potential fallout to Boeing's 737 Max, an aircraft Boeing expects will be certificated by mid-year.
"When Max comes back, it happens in a big way," says Richard Aboulafia, aerospace analyst with Teal Group. "Controlling the Max supply spigot is going to be a bit difficult, and if traffic is still shrinking, then that would be a problem for everyone."
The scale of the coronavirus impact on aerospace remains anyone's guess. But airlines rebounded relatively quickly from past outbreaks, and aerospace executives insist underlying factors foretell long-term industry growth.
Still, the effects of the coronavirus (and the related disease COVID-19) have been pronounced, with airlines globally trimming schedules in response to sagging demand.
"The impact of COVID-19 on the commercial aerospace sector will be substantial, but the situation remains very fluid," says Canaccord Genuity in a 5 March industry update. Some aerospace companies are "seeing very little impact", while others are reporting 30% sales declines, it adds.
General Electric, for example, reported on 4 March that the coronavirus will likely shave $200-300 million off its first quarter operating profit.
That same day, United Airlines, a 737 Max customer, said it will cut domestic capacity 10% and international capacity 20% in April, and likely also in May.
IATA has forecast the virus could cost airlines $63-113 billion in 2020.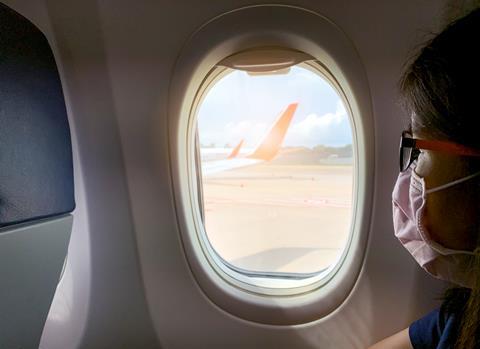 Analysts say the impact could be short lived – little more than a blip on an industry that has been growing steadily.
But a longer-term downturn could threaten demand for new widebodies and narrowbodies, analysts say. Demand for narrowbodies has surged in recent years, while widebody demand has been more muted.
"Should [COVID-19] result in a global economic recession, all bets are off," says Ernest Arvai, president of AirInsight Group.
Boeing declines to comment about how the virus might impact the Max programme, saying the outbreak remains too recent a development.
"Right now, the focus is on working with our customers to understand the impact on their operations and seeing how we can support them. The commercial airline industry has consistently shown that demand for air travel is resilient," Boeing says.
Airbus says it anticipates "the world economy and air traffic will grow in 2020 in line with prevailing independent forecasts, which assume no major disruptions, including from the coronavirus".
"We are monitoring closely the potential impact of the coronavirus situation on our business. Discussions with our customers on delivery schedules are confidential," Airbus adds.
FUEL FACTOR
The outbreak also comes amid declining fuel prices, which could further erode demand for new jets, says Aboulafia. Cheap fuel makes efficiency improvements less valuable to airlines, and can lead carriers to keep older aircraft flying longer and to postpone fleet renewals, he says.
Jet fuel prices at the end of February had declined 11.8% in one month and 28.3% in one year, according to IATA.
Boeing 737 Max customers face double uncertainty, not knowing when the downturn will ease or exactly when regulators will clear the Max to fly, Arvai says. Both could happen by summer, he adds.
The global 737 Max fleet stands at about 780 jets, including 357 already-delivered aircraft and 420 undelivered jets that Boeing produced after the grounding took effect, Boeing Commercial Airplanes chief executive Stanley Deal said on 5 March.
Boeing has said it intends to resume Max production even before the grounding lifts and to resume deliveries once regulators certificate the aircraft.
Already-delivered Max will "certainty come back into" airlines' operating fleets, though, should the downturn persist, carriers could retire older jets like 737NGs in the process, Arvai says.
A prolonged downturn raises more questions about the 420 undelivered Max.
"The key is what airlines will do with those airplanes filling the Boeing parking lot," says Arvai. "In a down market, most airlines will be looking to defer deliveries."
"I don't think you are going to see cancellations, just a lot of deferrals," says Aboulafia.
Analysts note Airbus and Boeing would be similarly impacted by deferrals. Indeed, news broke recently that AirAsia X is deferring A330neo deliveries.
But should airlines ultimately want to cancel orders, Max customers might have legal or contractual loopholes through which to do so, analysts say.
Often, commercial aircraft purchase contracts include clauses giving airlines the "right to walk away" from orders for aircraft grounded more than one year, says Arvai.
He is unaware of specific Max purchase contract provisions, but says such clauses have been included in contracts for "many years".
Boeing declines to comment about such provisions.
"As for the 12-month matter, we do not discuss contractual agreements with our customers," it says.