The city of Cheongju – with its population of under 1 million people – might not come across as one befitting of a hub, but for airline head Mike Kang, it forms a critical part of his business strategy.
The 44-year-old is the chief executive of South Korean low-cost carrier start-up Aero K, which began operations out of the city in April, operating domestic daily flights with a sole Airbus A320 between the central Korean city and the island of Jeju.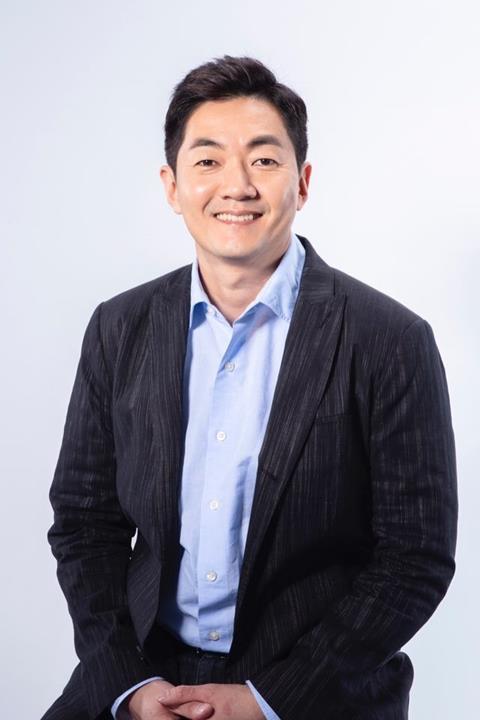 Speaking to FlightGlobal, Kang, who founded the airline with two partners, says the decision to pick Cheongju was simple: a secondary airport allowed Aero K to lower its operating costs.
While Kang was coy about how much Aero K could save by basing itself at Cheongju instead of the larger primary cities, he notes that landing fees and airport costs at Cheongju are "about one-third" of Seoul's two airports.
Basing the airline at such a facility, as opposed to the primary cities of Seoul, Busan or Jeju, also allows Aero K to "better optimise" its network and schedule.
"If you are [based at] Seoul Incheon or… Seoul Gimpo, your slots are not going to be given to you the way you may want to, in terms of operations. So your [aircraft] turnaround times, all of that, are things that you are not going to be able to have a lot of control over," Kang tells FlightGlobal.
While Cheongju itself has under 1 million people, Kang says the catchment population grows to about 5 million within a 50km radius. It takes about an hour and 30 minutes to get from Seoul to Cheongju by road or public transport, he adds.
At the heart of Kang's first foray into the airline industry – he has held positions in equity firms and Korean entertainment giant CJ Entertainment & Media – is his strategy of establishing what he calls a "global best practice low-cost airline".
He hopes to take the "best practices" from low-cost giants like Southwest Airlines and Ryanair for Aero K, including operating out of secondary airports like Cheongju.
Aero K, he says, will also be focused on international flights of three hours and under from Cheongju – another trait he has adapted from other low-cost carriers like Southwest.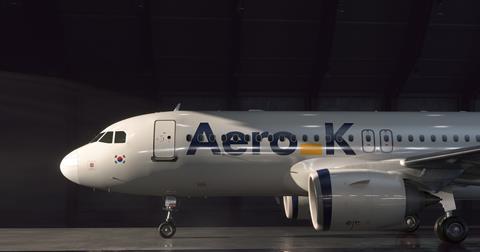 For now, however, Aero K is operating only one domestic route – Cheongju-Jeju – as international travel restrictions make it difficult to expand overseas.
The carrier will operate "about 95%" international routes once borders reopen, focusing on three key markets: Japan, Taiwan and China.
Asked if the carrier might consider cities further afield, like in Southeast Asia, Kang reiterates the point that Aero K will stick to its business model of flying to points of three hours and under.
"We're trying to be a very competitive airline for the Northeast Asia region. We [have to be] very disciplined to keep it within three hours," he says.
Again, the airline will take a leaf from the low-cost giants' books and fly point-to-point.
"A lot of other LCCs are getting away from the model… and I am sure they have their own strategy. But we still believe [in] a disciplined, global best-practice LCC model," he tells FlightGlobal.
The bottom line: bringing the operating costs down – while not sacrificing safety – by selling direct, utilising its fleet of A320s as much as possible, and of course, sticking to those secondary airports where possible.
THE LONG PATH TO TAKE-OFF
The journey to getting Aero K off the ground – a "long journey" that began in 2016 with its inception – was not without its challenges, as Kang will have you know.
For one, when the airline applied for its business licence some time in 2017, it was rejected at the first instance. Airline start-ups in South Korea need to make two applications before being able to fly: first a business licence, followed by its air operators' certificate (AOC).
It was reported in late 2017 that South Korea's transport ministry had cited concerns over the start-up's financial strength, as well as intensifying competition in the market.
The rejection marked a dark moment for the airline.
Says Kang: "We really didn't know how to recover out of that, because you know, we were ready with the capital, we were ready with everything yet, we did not receive the licence.
"It was a major challenge for us to recover [from]…because some of our investors then wanted to leave… some of the investors that had come in, [basically] wanted their money back," he adds.
Luckily for the airline, its second attempt in 2019 – Kang admits that the team was wary of failing yet again – proved to be successful, and Seoul granted the airline its business licence.
Then, a year later, the coronavirus pandemic struck as the airline began finalising its application for an AOC. This time, applications went smoothly and it received its AOC right before the year ended.
The fledgling airline then found itself in a conundrum: as the pandemic battered the airline industry, and with borders firmly shut, Aero K, with its intentions to fly a largely international network, wondered if it should commence flying immediately, or wait out the pandemic.
"We felt that we should at least commence flights… for the operational safety of the airline," Kang tells FlightGlobal.
"[To] not fly and wait, it also means the implications of getting back and ready to fly again, whenever that may be, would be a risk to operations as well."
Starting operations in the middle of the pandemic might seem counterintuitive for an airline, but Kang is seeing the silver lining in it.
For one, it has allowed Aero K to manage its scale of operations. "When we compare ourselves to other airlines, we feel that we can at least sustain with one aircraft. As much as we are losing money by flying, it also helps us get ready for the international flights that may pick up towards the end of the year," says Kang.
If Aero K had launched earlier, Kang reckons that the pandemic would have wrought greater damage on the airline.
"So the delay… in the launch… has actually helped us somewhat… to start now and start small, and gradually, as the industry comes back, we can… grow more aggressively along with it," he adds.
While the carrier currently operates just one A320 now, it is due to receive two more jets.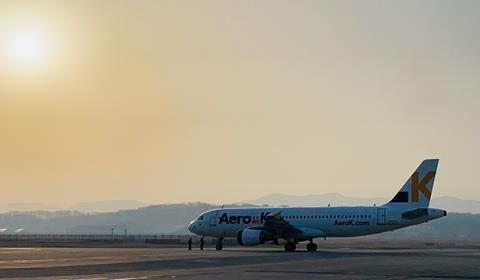 Kang says it is targeting to receive four to five aircraft a year, and if the market recovers strongly, possibly five to seven jets annually.
The A320 is a good fit for the airline's operating model, especially since it would be flying to points three hours and under. The A320neo, says Kang, could enter the fleet in the medium to long-term, when the industry "moves towards" more of the type.
BREAKING THE CORPORATE MOULD
With its striking colour scheme of blue and yellow, Aero K cuts a youthful, modern vibe. Indeed, Kang says the airline's main target audience is young, millennial and Generation Z-type flyers.
One talked-about element of its distinctive branding was the introduction of gender-neutral cabin crew uniforms – a first for a Korean carrier, says Kang.
But more than attracting younger flyers, Kang wanted to create an airline "with a better corporate culture" for the younger generation to work in.
"Korea in the past has been recognised as being very conservative, very hierarchical. [With] the younger generation, whether they are from Korea or any other country in the world… they are looking for something different.
"This means an open… corporate culture where they can speak their minds. [It is] critical because you know, airlines [are] all about teamwork and transparency," he adds.
Kang also hopes the journey in getting Aero K up and running will be an inspiration for young, budding entrepreneurs, to show that "they can start something up in Korea and make it work".
Says Kang: "I think hopefully, with the success of this airline, it can help the younger generation get the courage to try and build something from scratch.
"For me personally, getting to where we are now [and flying] has been a miracle in itself."
The airline start-ups trying to confound Covid crisis by launching during pandemic
1

2

3

4

5

6

7

Currently reading

A-OK at South Korea's low-cost start-up Aero K