Aircraft delivery delays mean airlines in the USA and elsewhere have been forced to adjust their fleet plans into the medium term, even as demand recovers after the Covid downturn
In common with peers around the world, US airlines have hauled back fleet expansion plans in response to aircraft delivery delays, marking ongoing fallout from the supply chain and labour struggles affecting Airbus, Boeing and other aerospace manufacturers.
In January and February, executives at numerous carriers revealed they expect to receive significantly fewer new narrowbody jets in 2023 than previously planned.
"OEMs are behind on aircraft, on engines, on parts. Across the board, there are supply chain constraints that limit the ability of airlines to grow," United Airlines chief executive Scott Kirby said in mid-January.
"There are constraints out there in terms of engines and aircraft… aircraft manufacturers that are just starting to get their feet back under them," American Airlines chief executive Robert Isom said in the same month.
The problem is affecting customers of Airbus and Boeing, airlines large and small.
"We have been notified by Airbus that a number of our expected 2023 deliveries will be delayed until 2024, which may cascade some aircraft into 2025," Spirit Airlines chief executive Ted Christie said in early February.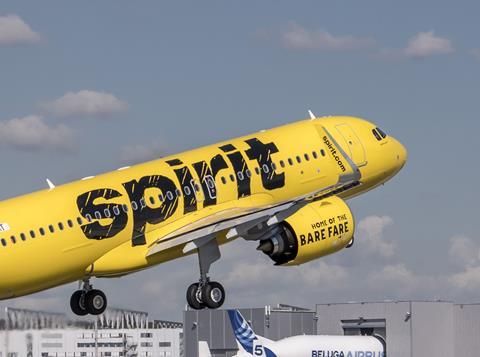 Florida-based Spirit now expects to receive seven fewer Airbus A320neo-family jets this year. It also trimmed its planned 2023 capacity growth to 19-22% from 23-27%, reflecting delivery delays, maintenance issues, accelerated retirements of A319s – the smallest of Spirit's jets – and adjustments to "support the operation due to continued industry infrastructure constraints", says Spirit chief financial officer Scott Haralson.
"We are forced to be more conservative with our schedule planning than we otherwise would be."
GROUNDED AIRCRAFT
Many US carriers have been partly able to mitigate the impact of delivery delays by moving into active service more of the aircraft they had grounded and stored during the pandemic – especially larger single-aisles like A321neos, says Bloomberg Intelligence senior aerospace analyst George Ferguson.
Also, carriers are shifting towards flying larger aircraft, he adds. Bloomberg Intelligence estimates North America's airlines are now flying an average of 12.9% more seats per flight.
Airline trade group Airlines for America notes that some carriers have kept aircraft in service for longer than planned to offset delayed jets.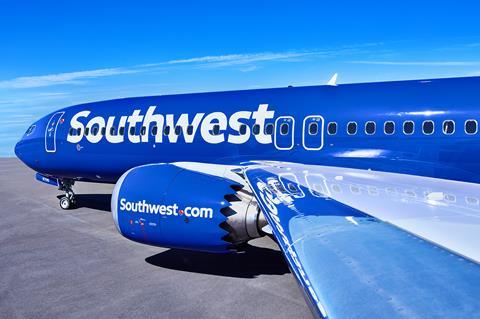 US airlines received more than 300 new cargo and passenger aircraft in 2022 and expect to receive 500 in 2023 and 2024, including aircraft that had been scheduled to arrive in prior years.
Delivery delays are not the only factors hindering airlines' expansion. US carriers are also constrained by too few pilots and limited maintenance availability, and executives have pointed fingers at the Federal Aviation Administration, saying its air traffic control system needs modernisation.
Such issues became salient as the industry and world have recovered from the Covid-19 pandemic. But the aerospace supply chain had been stressed even before the pandemic, with some suppliers – notably engine makers CFM International and Pratt & Whitney – struggling in the mid-to-late 2010s to keep pace as Airbus and Boeing ramped narrowbody jet production.
Then came the grounding of Boeing's 737 Max, followed by the Covid-19 downturn, which prompted aerospace manufacturers to downsize rapidly, shedding thousands of skilled workers.
DOMESTIC DEMAND
Fast-forward to today. Demand for domestic air travel is booming. International travel is recovering. People want to fly – so much so that several US carriers recently reported record-high revenue. Some executives have noted, interestingly, that limited capacity has its benefits. "Constraints across the industry are everywhere, creating a favourable supply-demand environment," United chief commercial officer Andrew Nocella said in January.
Still, airlines need new jets – especially narrowbodies – and Boeing and Airbus are having the hardest time meeting their delivery commitments. The problem stems, again, from worker and component shortages, both at the airframers and their suppliers.
"The single biggest issue this year and into next year is labour. Trained, capable, skilled labour; white collar and blue collar," BofA Securities financial analyst Ron Epstein said at an aerospace supplier conference near Seattle in early February.
During that event, executives from numerous suppliers said they were working feverously to boost production to meet Airbus' and Boeing's narrowbody output goals, in some cases seeking to expand their workforces 30% this year.
But they described a business environment hemmed in by a conflation of stresses. Skilled workers are hard to find. Wages are skyrocketing. Credit, which many companies need to expand, is both tight and only available at elevated interest rates. Suppliers say their suppliers cannot keep up.
CFM and Pratt & Whitney engines for 737 and A320neo-family jets are among components in shortest supply, industry players say, reflecting the engine supply chain's dependence on highly skilled workers to produce the complex and precise metal guts of modern airliner turbofans.
In 2022, Boeing chief executive David Calhoun called out shortages of CFM International Leap-1Bs as chief among the factors keeping his company from producing more 737 Max jets.
CONSTRAINED SUPPLY
Aerospace analysts generally suspect the supply chain that feeds commercial jets will remain constrained through this year, though the industry is showing improvement.
In 2022, Boeing delivered 387 737s, up from 263 in 2021. Many of those included aircraft produced earlier – such as during the Max grounding – meaning the figures do not reflect production.
Boeing does not disclose month-by-month production figures, saying only that its 737 lines are running at a 31-per-month rate. Aerospace analysts estimate 737 production actually, however, hovered around 25 jets monthly in 2022.
Supply chain and labour issues have also forced Airbus back down to earth. The Toulouse company delivered 516 A320neo-family jets in 2022, up from 483 in 2021. Several times recently, Airbus set aggressive narrowbody production targets, only later to walk back its goals, prompting criticism it has been unrealistic.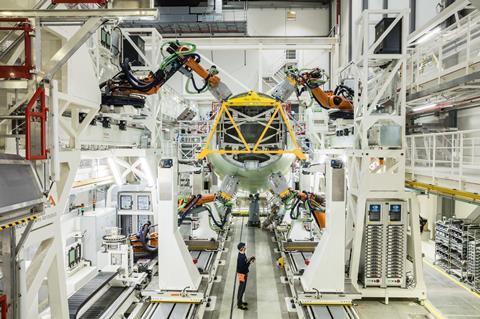 Most recently, in February, Airbus delayed, from early to late 2024, its expectation to hike production to 65 A320neo-family jets monthly, and pushed back, from 2025 to 2026, its 75-per-month target.
"To match supply, we have adapted the ramp-up trajectory," Airbus chief executive Guillaume Faury said in February.
For some perspective, consider that several years ago Airbus and Boeing were each producing more than 50 narrowbodies monthly.
Production bottlenecks have forced US carriers to revamp aircraft acquisition plans.
"Based on our latest guidance from Boeing, we now expect to take delivery of 17 737 Max 8s in 2023, compared to Boeing's contractual commitment of 27 deliveries," American's then-chief financial officer and now strategic advisor Derek Kerr said in late January.
American also expects to receive two A321neos this year and four 787-9s, for 23 total expected deliveries. The Fort Worth-based carrier anticipates closing 2023 with capacity in available seat kilometres (ASKs) up 5-8% year-on-year.
"Demand for domestic and short-haul international travel continues to lead the way. We expect a strong demand environment to continue in 2023 and anticipate further improvement in demand for long-haul international travel this year," American chief Isom says.
"We need them to keep it up," he adds of Boeing's production ramp.
Delta Air Lines aims to grow its ASKs 19% in 2023, closing the year with slightly more capacity than in pre-pandemic 2019.
But on 13 January, Delta chief executive Ed Bastian qualified that goal. "I think expectations have quotation marks around them, and they do feel, still, a little bit more aspirational," he said.
Boeing has also missed delivery commitments to Dallas-based Southwest Airlines, which operates more 737s than any airline – 770 of the jets at the end of last year.
In 2022, Southwest received 68 737 Max (all Max 8s), far fewer than it had contracted.
"We are still short 46 aircraft from the 114 contractually scheduled 2022 Max deliveries, due to Boeing supply chain challenges and the timing of the [Max 7] certification," Southwest chief financial officer Tammy Romo said in late January.
Boeing's Max 7, the smallest of the Max family, has languished in the FAA's certification process, with the company now aiming to have the jet cleared this year.
PLAYING CATCH-UP
At the end of 2022, Southwest held orders for 564 737 Max, and Boeing's delays are affecting its multi-year fleet plan.
The airline has now shifted 2022's 46 undelivered 737s into its 2023 delivery bucket, adding to another 90 737s previously tagged for 2023 delivery. That means, to catch up, Boeing would need to deliver 136 737s to Southwest this year. The airline though was only expecting to receive 100 in 2023, and chief executive Bob Jordan in mid-March disclosed that even those expectations have dropped, as it now expects to take "roughly 90" deliveries.
Still, Southwest says it is well along in restoring its network to pre-pandemic levels, and aims to expand its ASKs 16-17% in 2023.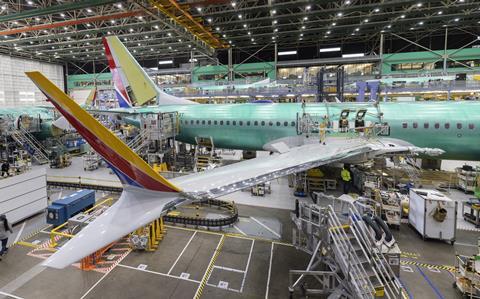 US ultra-low-cost player Allegiant Air ended 2022 with 121 A320-family jets in its fleet – six fewer than planned in February last year. It has also dialled back 2023 aircraft-acquisition expectations.
The Las Vegas-based carrier, now an all-A320-family operator, made big news in January 2022 by ordering 50 737 Max, with plans at the time to receive the first 10 in 2023.
But on 1 February, chief financial officer Robert Neal said he now expects Allegiant will receive just two 737 Max this year – both 737 Max 8-200s, both expected to arrive "late" in the fourth quarter. Allegiant does not expect those jets will be carrying paying passengers until "the early weeks of 2024", he adds.
Allegiant has modest 2023 growth plans, with the carrier expecting to boost capacity 2-6% year-on-year.
"As we head into 2023, we are continuing to take a more-conservative approach to growth", the carrier said in February, calling its expansion "slow and concerted" and aimed at maintaining reliable operations.
Fellow ultra-discounter Frontier Airlines is having trouble getting its hands on some Airbus jets it ordered.
"In December 2022, Airbus notified the company of its intent to shift aircraft deliveries by a range of one to five months for aircraft initially scheduled in 2023," Denver-based Frontier said in early February.
GROWTH CAP
That delay means Frontier will now wait until 2024 to receive nine A321neos it expected to see in 2023, reducing capacity growth by 5% this year, the airline says.
Even so, Frontier still expects in 2023 to receive 13 A321neos and expand its capacity 23-28%.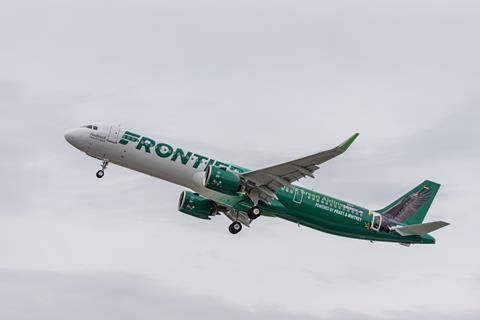 Whether airlines can achieve aggressive growth goals remains unclear, but Chicago-based United suspects not.
"The OEM delivery delays, both on engines and aircraft, have been really unprecedented… We're plotting our course in very bumpy skies when it comes to the availability of aircraft," United's Nocella says.
"There's not a quarter that goes by where I don't get an update with obviously disappointing results… for aircraft deliveries."
As for its 2023 fleet-acquisition plans, United is in the same boat as competitors. The carrier expects this year to receive 92 737 Max and four A321s – short of the 135 737 and 12 A321neo deliveries specified in its purchase contracts. United also expects to receive two 787s this year.