The air cargo boom seen in 2021 was always likely to make subsequent years appear weak by comparison.
That is because the factors that drove the record performance during the pandemic were, in some cases, temporary. They include supply-chain snarl-ups, capacity shortages and the challenges in the shipping industry that meant more forwarders looked to air freight as an alternative, despite the latter being structurally more expensive.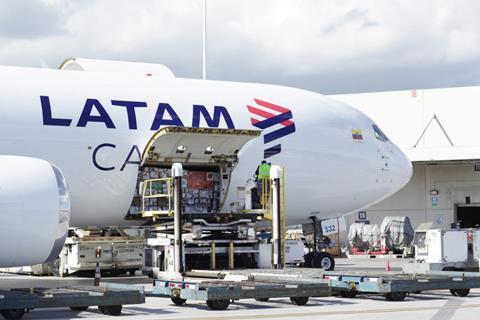 As those factors subside, air cargo demand has been softening against 2021 levels for several months, IATA data shows. But that does not mean longer-term trends are heading in the wrong direction.
The chief executive of LATAM Cargo, Andres Bianchi, characterises the current period as the "stabilisation" phase of the freight sector's journey out of the Covid-19 crisis.
"Volumes are stabilising, supply chains are starting to [be] more normal, and you have to start thinking about what the post-Covid world is going to look like," Bianchi tells FlightGlobal.
That post-Covid normality is likely to emerge during "a very uncertain" couple of years, he suggests.
Indeed, while a 'normalisation' period was always baked in, the wider economic and geopolitical uncertainties that form the backdrop today were not.
"We don't need to tell you that challenges are mounting," said Brendan Sullivan, IATA's global head of air cargo, during the association's World Cargo Symposium in late September.
ECONOMIC VOLATILITY
Alongside high jet fuel prices, "the war in Ukraine has grounded some key players", Sullivan says. "Economic volatility has brought inflation, a weaker trading environment, shifting currency rates and slower GDP growth."
But those short-term challenges are manageable, insists Sullivan, noting that the air cargo industry "is in a better place than it was in 2019 – financially stronger, more efficient with advances in digitalisation, and better appreciated for the heroic efforts that we all made to keep cargo going during a very difficult crisis".
Notably, 2019 – the last full year unaffected by the pandemic – was a tough period for air cargo, due to US-China trade tensions.
"The challenges and opportunities that we face are those that we are used to dealing with," Sullivan says.
IATA chief economist Marie Owens Thomsen paints a similarly positive picture, saying that while global GDP growth is predicted to slow in 2023, the performance will still compare favourably with historic growth levels.
Amid the uncertainties created by several global factors, she urges people to fight the instinct to view a slowdown in economic growth as a negative development for air freight, pointing out that "growth is still growth".
And offsetting the challenges to an extent is the rise of e-commerce, which accelerated during the pandemic and appears to offer genuine long-term opportunities to the air cargo sector.
"Some of these big e-commerce guys… we had a relationship with them pre-Covid but now it's even more important," Cathay Pacific's director of cargo Tom Owen tells FlightGlobal.
Crucially, airlines offer the only solution to quickly moving goods over long distances within countries and across borders – a prerequisite for meeting consumer demands for speedy e-commerce deliveries. For parts of the air cargo sector that grapple with the volatility that comes with competing against shipping, for example, such a built-in advantage is highly attractive.
That development helps to explain why aircraft conversion specialists in particular are reporting strong demand for slots well into the future, and why the big airframers are confident about future demand for line-built freighters.
Amid those positive indicators, the outlook for 2023 very much depends on "what kind of glasses you have on", suggests Marco Bloeman, managing director at Seabury Cargo, speaking during the IATA conference.
He puts recent developments into context: "[2021] was super-stellar. [2022] will not be that, but it's still one of the record years that we've seen in air cargo."
And his view is that while there are "significant headwinds" in the short term, "economic indicators suggest continued long-term growth".