The global air cargo market is heading for a potential "winter of discontent" amid plummeting rates, softening demand and rising capacity.
Recent outlooks from airline industry association IATA and air freight data specialist Xeneta both suggest the Covid-era air freight boom – which had already reversed in volume terms – is now rapidly losing its shine in terms of yields.
Aside from having a near-term impact on revenues and profitability at airlines, the changing market is prompting questions over whether some carriers moved too quickly to secure fresh long-term freight capacity coming out of the pandemic.
Developments such as the slowing of the rapid e-commerce growth seen at the height of Covid-19 are not helping to calm jitters regarding potential freighter oversupply.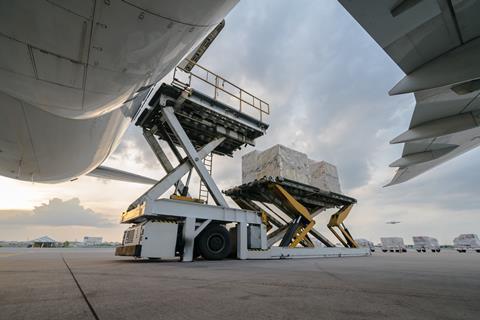 IATA's most recent analysis, released in early August, shows global air cargo yields were down 38% year on year in June, leaving them at around 40% above 2019 levels. Xeneta's most recent analysis – also released in early August – shows a 41% year-on-year fall in air freight rates in July, marking the fourth consecutive month in which they had fallen by around 40%.
"What will be concerning airlines and forwarders is the constant month-on-month decline in average rates, and the quickening pace of this fall since the turn of the year," says Niall van de Wouw, chief air freight officer at Xeneta.
As rates plummet, data from IATA and Xeneta continues to show air cargo demand trending below Covid-era highs and pre-Covid levels.
IATA data indicates that global demand measured in freight tonne kilometres (FTKs) peaked at some 7% above 2019 levels for full-year 2021, on capacity – measured in available cargo tonne kilometres (ACTKs) – down 11%. The airline association's most recent data shows FTKs were down 3.4% year on year in June this year and were some 2.4% lower against 2019. Capacity was 9.7% and 3.7% higher respectively.
That supply-demand imbalance is one reason for falling freight rates. Operators of dedicated air freighters, for example, had enjoyed the capacity constraints and consequent rates rises that followed the grounding of much of the world's belly capacity (in passenger jets) at the height of the pandemic. But those passenger aircraft are now back in the air, alongside newly delivered jets, alleviating supply tightness.
At the same time. when it comes to demand trends, IATA notes that "leading indicators of air cargo demand, including global goods trade, manufacturing PMIs, and inventory-to-sales ratio, continued to point to contractions" during June.
Xeneta offered no better news from its July analysis, stating that for the remainder of this summer, it expects "air freight volumes will remain muted".
Crucially, the maritime shipping industry has normalised, with flows at key ports no longer suffering the Covid-era challenges that created further cargo capacity tightness and promoted a modal shift towards air transport. Amid that 'normalisation', IATA notes that maritime shipping rates have been falling even faster than air cargo ones, at 83% year on year in May alone, putting them to within touching distance of 2019 levels.
The air cargo outlook could brighten, IATA suggests, amid the easing of inflation in major economies. "This, in turn, could encourage the central banks to loosen the money supply, which could stimulate greater economic activity," says Willie Walsh, IATA's director general.
But for now, when it comes to air freight demand, Xeneta suggests the key questions is: "How low will it go?". And when it comes to yields, Xeneta says that shippers will likely enjoy "leveraging their enhanced buying power after the pricing pain of the pandemic".
"The airfreight rates merry-go-round will be intense this winter, as we have indicated in previous months' analyses," van de Wouw says. "Many freight forwarders, who at the peak of the pandemic chose multi-year contracts to secure airline capacity, are now reportedly bleeding cash, so they are under significant pressure to renegotiate rates which reflect the reality of today's freight market and the expectation that the current market environment could continue for the foreseeable future into 2024."
The weakening market is increasingly being reflected in the performance of key players in the air freight sector.
Xeneta notes that the "top three" air freight forwarders – Kuehne+Nagel, DHL Global Forwarding, and DSV – all saw falls of around 50% in their air revenues year on year during the second quarter of 2023.
Dedicated cargo airlines big and small – including market leader Fedex – have been grounding aircraft and reducing utilisation of their in-service fleets as rates and demand fall.
Among the airlines groups that cover passenger and freight operations, there have been stark reversals in fortunes between those segments. Korean Air's cargo revenue more than halved year on year in the second quarter of 2023, for example, to W964 billion ($731 million) from W2.17 trillion, as its passenger income rose by more than 2.5 times to W2.2 trillion.
And already, on 7 August, US freight operator Western Global Airlines voluntarily filed for Chapter 11 bankruptcy protection, citing, among other challenges, a customer shift away from dedicated freighters.
Indeed, one consequence of the inflated rates and lack of bellyhold capacity during the peak of Covid disruption was a scramble for dedicated cargo aircraft, notably for passenger-to-freighter (P2F) conversions. On the back of this soaring demand numerous new conversion lines were opened or planned, and orders placed for their output.
In its 2022 Fleet Forecast, consultancy Ascend by Cirium predicts over 500 converted narrowbody freighters will enter the market in the period to 2027, alongside 304 converted widebodies.
On top of which, both Airbus and Boeing have new-build freighters to offer. Boeing holds orders for 46 767-300Fs and 69 current-generation 777Fs, plus 55 for its developmental 777-8F, due to enter service in 2027. Airbus, meanwhile, has a 39-unit backlog for its A350F, set to arrive in 2026.
But with freight rates now sliding, some are beginning to question whether the glut of new aircraft can be entirely absorbed by the market.
Although some, particularly new-build aircraft, will be destined for replacement as older aircraft are retired, consultancy IBA says there are "signals of potential oversupply" of 737-800 converted freighters, forecasting that 60 will enter the market in 2023 alone.
Data from its IBA Insight platform shows that the 737-800 has been converted at a faster rate than any other P2F programme, with the fleet now standing at 200 aircraft.
"The total 737-800 P2F fleet is on course to surpass the 757-200 P2F fleet of 311 aircraft, which IBA believes suggests a risk of oversupply based on the rapid fleet growth."
Ian Putzger, an air cargo market specialist, and contributor to FlightGlobal's sister title Air Cargo News, is also eyeing the market warily.
"Last week there were nine converted 737-800 freighters up for grabs, a stark difference from a year ago, when conversion lines were booked into 2026," he says.
"The widebody market isn't looking much better, and booming passenger demand augurs more bellyhold capacity coming into a saturated market, further depressing yields."
Putzger says a key unanswered question is how airlines view the freight market in the longer term. While "there was a lot of talk about the strategic importance of cargo" in the wake of the pandemic, "the volume of those statements has weakened over the past year" – a change in sentiment that has also seen lessors cancelling previously booked conversion slots.
"Will airlines show a similar return to pre-Covid priorities, or will there be enough with a long-term perspective on the freight business as part of their business model? It looks like the jury is still out on this one," he says.
For now, Xeneta forecasts a "winter of discontent" in the air freight sector.