Sentiment in the air cargo market continues to trend sharply below Covid-era highs, as rising capacity, lower rates and weak demand trends contribute to a challenging backdrop for the sector.
Speakers at The International Air Cargo Association's (TIACA's) executive summit in Brussels this week said they were working on the basis that air cargo demand would be down 4% for the whole of 2023.
They note some improvement heading towards year-end – which is also reflected in IATA's latest data, which shows that air freight demand was up 1.9% year on year in September, albeit on capacity some 12% higher – but key indicators such as the Purchasing Managers Index still suggest production levels are declining.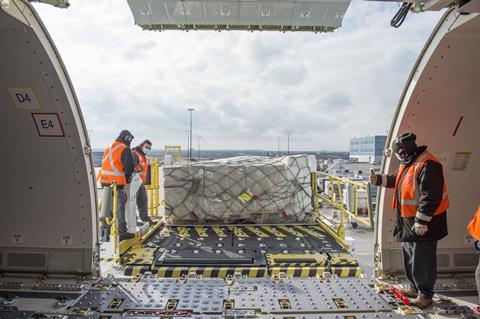 The demand outlook into 2024 is further muddied by factors including questions about the strength of the global economy and the impact of geopolitical tensions – both of which do not bode well for trade volumes.
With those challenges and more in mind, there was a high degree of caution among executives regarding prospects for any near-term pick-up in freight demand.
"I'm optimistic that by the latest Q4 next year, demand is going to start to pick up," said Turhan Ozen, chief cargo officer at Turkish Airlines, during a panel debate at the summit, offering one of the more positive perspectives among speakers.
"Of course, geopolitical challenges, risks, wars or possible threat of wars, any kind of conflict can jeopardise this," he adds.
Still, Ozen's hope is that with European and US governments able to focus more on economic growth and less on dealing with high inflation in the coming months, "air cargo will be the first to react very, very positively".
Speaking on the same panel, UPS's air freight director for the Europe region Marco Tafuro says he has "a similar view" to Ozen's.
"For sure we expect some of the challenges to continue, at least for the first half of 2024, but we want to remain positive," he says, citing expectations of some demand growth "towards the end of 2024".
Tafuro adds, however: "Unfortunately, we were positive at the beginning of this year [regarding] a bit of improvement in the second half that didn't materialise."
Indeed, Brussels Airports' director of cargo Geet Aerts acknowledges that "I think we all had our hopes up" for 2023 but were left disappointed.
And with geopolitical tensions rising – most recently in the Middle East – Aerts is reluctant to predict anything but "neutrality" in 2024 when it comes to demand trends.
The geopolitical situation weights heavy on the sentiment at Challenge Group, too.
"In 2024 in terms of the global economy and all the geopolitical situations, unfortunately it will not change and hopefully it will not escalate more, but the signs are not that good," says the air cargo group's chief executive Yossi Shoukroun.
Hong Kong Air Cargo Terminals chief executive Wilson Kwong meanwhile predicts "a lot of volatility, judging by all the events which are happening right now".
"But I think next year we'll see a small growth compared to this year," he says of demand.
All told, there was a strong sense at the summit that the air cargo sector is experiencing a rendezvous with reality after its Covid-era highs.