The AirAsia Group has revised its fleet plan for 2021 upwards, expecting to operate 231 aircraft by December 2021, compared to its previous forecast of 221.
Although it expects to have 231 jets by the end of the year, this still marks a 14-unit reduction from 245 in December 2020, according to a fleet plan the company's full-year 2020 results presentation.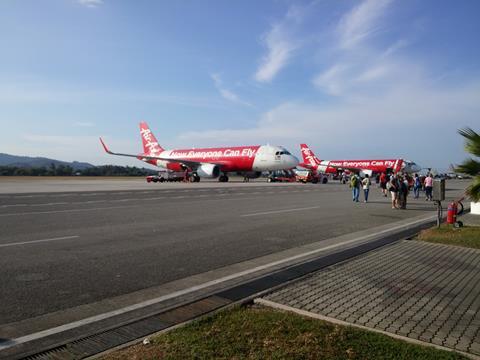 Of the six group airlines, only its Malaysia unit will see fleet growth in 2021, with the addition of eight aircraft that will bring its fleet to 104. This is compared with its previous forecast of 89 aircraft in December 2020, when it released its third quarter results.
All other units will see aircraft cut. Although AirAsia is upbeat on demand in Indonesia, Indonesia AirAsia will still lose six aircraft in 2021, taking its fleet to 22. Plans still call for AirAsia India to lose five aircraft during the year, taking its fleet 28.
In regard to specific units, AirAsia says that lockdowns will continue to weigh on AirAsia Berhad in the first quarter, but expects capacity will be at 33% of pre-Covid levels in the second quarter.
As for Indonesia AirAsia, it will operate close to 100% of capacity in the second quarter with 21 new routes launched during the year, while Philippines AirAsia will operate "close to 50% in 2Q21" on the back of a recovery of travel to domestic leisure destinations, particularly during the summer.
Thai AirAsia will operate 78% of its pre-pandemic capacity with the resumption of operations on 40 domestic routes.
Much of the AirAsia Group's assumptions about a traffic recovery in Southeast Asia ride on regional vaccination programmes aimed at countering the coronavirus pandemic. It estimates that by the third quarter about 40-50% of the populations in key Southeast Asian markets will be inoculated against Covid-19.
"We believe resumption of international travel will begin in 2H2021 and full recovery in the next two years, on the back of vaccine rollout, improved testing efficiencies, digital health passports, leisure travel bubbles and contactless procedures," says AirAsia.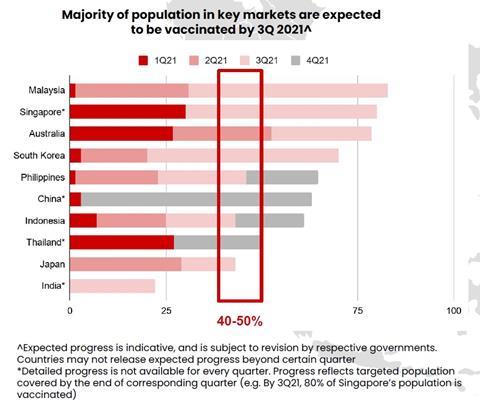 While AirAsia talks up its hope for a recovery this year, its results did not shed any light on the outlook for the 404 A320neo aircraft it has on order. Nonetheless, it has received support from lessors and banks for deferrals, which cut repayments on borrowed funds and lease liabilities by 70% in the fourth quarter of 2020.
The airline was also able to reduce fixed costs by 52% during 2020 and initiated payment plans with creditors.
As for cash burn, AirAsia was able to cut this 92% during 2020 to MYR26 million ($6.3 million) per month in the fourth quarter of 2020, compared with MYR327 million per month in the first quarter of the year.
Nonetheless, cash and cash equivalents stood at MYR541 million on 31 December 2020, compared with MYR2.6 billion a year earlier.
"The low-cost model and strong dominance in Asean will provide a significant boost to AirAsia Group once travel revives," it adds.
In a sharp departure from regional peers, AirAsia did not go out of its way to trumpet its performance in the cargo space. Revenues for the company's Teleport logistics app collapsed 77% owing to a decline in cargo capacity, although it did enjoy a negligible profit on a pre-tax basis.
"Teleport will soon be delivering vaccines in Malaysia and around the region," says AirAsia. "Teleport expects to convert two A320 aircraft into cargo only freighters and to expand on our partnership with other airlines to allow more cargo belly space availability."
The airline has also made much of its digital strategy in 2020. In its results presentation it boasted that it has "successfully pivoted the airline into a digital lifestyle company, anchored on travel."
It noted that digital comprised 42% of the group revenue in 2020.This, however, came about in a year during which revenues collapsed 75%.