Kenya Airways this week became the latest airline to bemoan the impact of MRO delays on its ability to operate a full schedule – a global trend that could weigh on airline capacity in 2023.
The chief executive of the African carrier, Allan Kilavuka, cites supply-chain challenges, a shortage of qualified staff at manufacturers, and sanctions on Russia – an important source of titanium – as reasons for a limited inventory of aircraft spares at MRO providers.
That situation means aircraft are being grounded for longer than expected.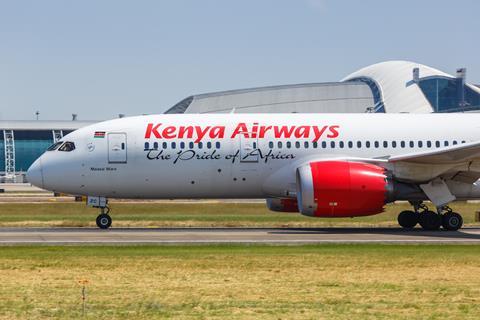 Kilavuka's comments chime with those of IATA director general Willie Walsh, who said in December that "a number of airline CEOs" had highlighted the parts shortage as a significant concern.
Indeed, Walsh noted that "the scale of it [is] a lot worse than I had realised".
Among the carriers to have highlighted issues with MRO delays in recent months, Indian low-cost carrier IndiGo in November named spares shortages as among the drivers for its move to wet-lease a number of aircraft.
Supply-chain challenges "are forcing us to look at different ways and means to make sure we have the capacity to operate", said IndiGo chief executive Pieter Elbers.
Elsewhere, in June last year Air Baltic chief executive Martin Gauss called on engine and aircraft manufacturers to find solutions to the supply-chain issues that were grounding the carrier's Airbus A220s for prolonged periods during maintenance.
As a result of the overhaul delays, Air Baltic was having to wet-lease capacity to "bridge the gaps", Gauss told FlightGlobal.
And Lufthansa Group chief executive Carsten Spohr in October gave the example of a shortage of 787 cockpit windows, as he suggested that spares shortages would be among the factors that could structurally limit the growth of airline capacity for the foreseeable future.
If such issues persist in the coming weeks, expect them to have a higher profile as the industry heads into the busy northern hemisphere summer period.
Read the newsletter for free every week by signing up to the Airline Business Weekly Briefing