Lessor Avolon this week joined other stakeholders in warning that a shortage of commercial aircraft is a growing theme around the world amid "endemic" delays to the delivery of new jets.
In a 2023 outlook published on 16 January, Avolon blames the lack of aircraft on the "deadweight loss" of some 1,700 single-aisle and 700 twin-aisle aircraft "that had been planned but were not built" due to the Boeing 737 Max grounding and then the pandemic, which is combining with the supply-chain difficulties and worker shortages faced by airframers today as they attempt to ramp up production.
Avolon says the lack of aircraft is restricting the airline industry's ability to adequately respond to rebounding passenger demand around the world.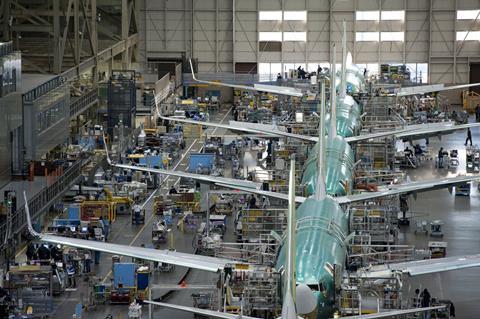 Indeed, speaking at the Airline Economics Growth Frontiers Dublin event this week, Steven Udvar-Hazy, executive chairman of leasing giant Air Lease, predicted that the two main airframers will miss their narrowbody aircraft delivery targets for 2023 as supply chain hold-ups continue to plague the industry.
"I can speak from our own experience that both OEMs are struggling to meet their contractual commitments," Udvar-Hazy states.
Supply side constraints, not passenger demand, will therefore by the limiting factor for airlines in 2023, Avolon suggests – an assessment repeated by Ryanair group chief executive Michael O'Leary later in the week, who said: "There are not a lot of spare aircraft out there".
O'Leary cited high fares as being among the consequences for consumers of that lack of capacity in the wider market, as Europe enters 2023 with fewer jets in service than in 2019, despite strong demand for air travel.
And potentially exacerbating the supply-side challenges in the medium term, Avolon believes Airbus' aim to increase A320-family production to 75 monthly units over the next three years, from 45 today, will be challenging to meet, given "no programme has ever ramped up at a rate exceeding four-to-five monthly units per year".
It believes Airbus' target – and a similar one at rival Boeing for its 737 programme – will be delayed by one year, "to focus on delivering to schedule and quality versus aspiration".
Earlier this month, Airbus said it delivered 661 commercial aircraft in 2022, falling nearly 40 short of a conservatively revised target, while data released this week shows Boeing produced far fewer 737s in 2022 than it had planned to.
Read the newsletter for free every week by signing up to the Airline Business Weekly Briefing