The global airline executives gathering in Doha for this year's IATA AGM will reflect recent trends including better gender diversity among incumbents and big changes at Indian carriers
While 2021 was marked by announcements regarding chief executive successions at several of the top North American carriers, two fresh themes have emerged at the mid-point of 2022, as the global industry heads to Doha for this year's IATA AGM: a surge in the number of women leading airlines and a changing of the guard at several operators in India.
Dutch carrier KLM is at the centre of both developments, with Marjan Rintel set to take control of the SkyTeam carrier in the coming weeks, and the incumbant Pieter Elbers lined up to succeed Ronojoy Dutta at Indian low-cost carrier IndiGo from 1 October.
Notably, when Dutch rail chief Rintel arrives at KLM on 1 July she will become the fourth woman to take control of a large passenger airline or group in 2022, with some 10 of the top 100 on course to have female chief executives at that point, according to FlightGlobal data. That will represent a rise of four from the six female chief executives identified at the end of 2021, when FlightGlobal completed its most recent comprehensive survey of gender diversity in the airline C-suite.
That 2021 figure already marked a high point in the five years of data collected by FlightGlobal, which shows four women led top airlines and groups in 2017, two in 2018, four in 2019 and three in 2020.
Indeed, aside from Rintel, the appointments this year of Annette Mann at Austrian Airlines, Guliz Ozturk at Turkish low-cost carrier Pegasus and Dina Ben Tal Ganancia at Israeli carrier El Al are driving positive change at the top of an industry that has often acknowledged a need for greater gender diversity in the C-suite, and is working to achieve that through initiatives such as IATA's 25by2025 programme.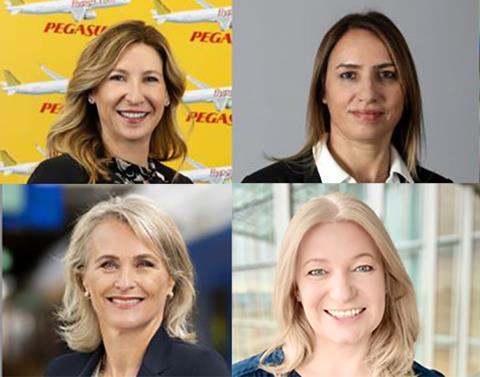 "One of the issues on which we will be most focused will be gender equality," Ozturk said as her appointment was announced in April. "We will make every effort, institutionally and individually, to contribute to the equal participation of women and men in all areas of social life and to enable women to express their full potential."
Ozturk was previously Pegasus' chief commercial officer, while Mann worked as head of product management at Lufthansa Group carrier Swiss, and Ganancia stepped up from the vice-president of commercial and industry affairs role at El Al.
The other women leading the largest airlines and groups today are Lynne Embleton at Aer Lingus, Anne Rigail at Air France, Annick Guerard at Air Transat, Christine Ourmieres-Widener at TAP Air Portugal, Nguyen Thi Phuong Thao at VietJet and Jayne Hrdlicka at Virgin Australia.
Notably, both network carriers in the Air France-KLM Group are now led by women, with Ben Smith heading the group.
The recent flurry of appointments means the airline industry suddenly compares favourably to the wider economy when it comes to women in top roles – even if the gender mix is still heavily weighted towards men. Among S&P 500 companies, for example, some 6% of leaders are women, according to recent data from global non-profit organisation Catalyst.
Away from the chief executive role, JetBlue Airways was a standout performer in FlightGlobal's 2021 survey, becoming the first carrier to employ women in four of the six surveyed C-suite positions.
The survey encompasses airlines featured in FlightGlobal's World Airline Rankings based on pre-Covid traffic, which covers the top 100 airlines and groups. Outside the top 100 airlines, female leaders include RwandAir's Yvonne Makolo, HK Express's Mandy Ng and Atlantic Airways' Johanna a Bergi.
In India, meanwhile, the airline sector has witnessed a series of leadership changes so far in 2022, involving experienced industry executives moving to helm several carriers.
The May announcement that Elbers will take the helm of IndiGo came soon after it was revealed that Scoot chief executive Campbell Wilson will lead Air India from mid-June.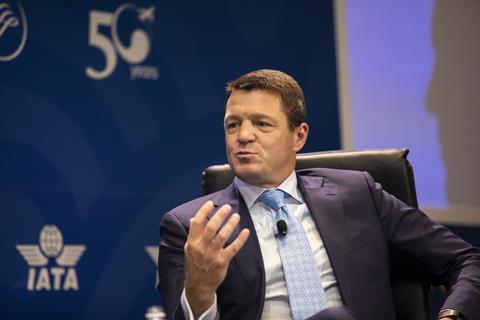 Eyes are on Tata Group as it formulates a long-term strategy for the newly privatised flag carrier – and decides what happens to related carriers including AirAsia India and Vistara. Notably, Wilson's appointment came after a failed attempt to name former Turkish Airlines chairman Ilker Ayci as Air India chef.
The revitalised Jet Airways, meanwhile, announced in April that industry veteran Sanjiv Kapoor is its new chief executive. Kapoor was previously chief strategy and commercial officer at Vistara, as well as SpiceJet's operations head before that.
As it goes through several key developments over a short period of time – new leaders, a reinvigorated flag carrier, potential consolidation and a string of start-ups – the Indian market is set to look very different over the coming months.