The Airline Strategy Awards, which were held in London on the evening of 16 July, came with global traffic and capacity rapidly nearing 2019 levels after a painful few years for most carriers.
Indeed, the latest Airline Business Covid-19 recovery tracker shows that while share prices still have ground to make up, 2019 milestones are either in sight or surpassed when it comes to measures such as traffic, capacity and in-service fleet. And the latest airline earnings reports – this week including from EasyJet and United Airlines – notably often feature terms such as "record high" and "record-breaking" in the context of revenues and profits.
As such, the winning stories from Sunday night – all of which can be read here – reflect a degree of 'normalisation' in the sector, with more carriers having been able to elevate longer-term strategic thinking above shorter-term firefighting during the past 12 months.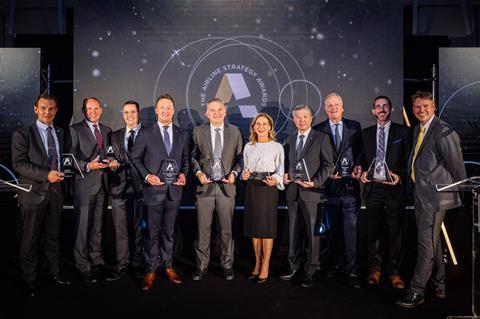 The winners from the world's three largest airline regions – Ben Minicucci of Alaska Air Group, Guliz Ozturk of Pegasus and Goh Choon Phong of Singapore Airlines – all had stories involving record profits and growth beyond their pre-Covid size.
Atlas Air Worldwide's executive team meanwhile received the Air-Cargo Leadership award with the business having returned to private ownership in March – a development that judges said reflected well on the value created at the cargo carrier in recent years.
But for those carriers and others, the effects of Covid-19 will reverberate for some time yet. Indeed, in the smaller regions, a key part of the narrative involved airlines beating the odds to emerge strongly from the downturn.
In the case of Chile-based low-cost carrier JetSmart, the pandemic hit just as it was ramping up operations following its launch in 2017. In a region that is incredibly challenging for start-ups at the best of times, judges said its continued success under founding chief executive Estuardo Ortiz is no small achievement.
For South African carrier Airlink, the loss of a franchise agreement with South African Airways came just as the worst effects of the pandemic were being felt. But today, it has achieved a remarkable turnaround as a standalone airline, judges said.
The industry's 'normalisation' has also seen the return of a focus on genuine innovation and leadership in areas such as digital and ESG initiatives. In the former category, Volaris was recognised for its continued philosophy of being a technology company that just happens to fly aircraft. Air New Zealand picked up the ESG award, in no small part thanks to its recent commitments to investigating new aircraft technologies and its comprehensive sustainability roadmap.
The final award of night – the Airline Business Award – went to former American Airlines chief executive Doug Parker; a man who already knew a thing or two about successfully guiding airlines through tough times, even before Covid-19 hit.