It is not without reason that the airline industry is one of the least consolidated sectors globally. Regular competition issues are compounded by the inherently international nature of the business, which for a majority of operators involves connecting cities in different countries, even if the consolidation itself is not cross-border.
Indeed, as the US Department of Justice intervention in March over JetBlue's move for ultra-low-cost carrier Spirit Airlines illustrates, even domestic mergers are far from straightforward.
In the past week Korean Air ticked another overseas regulatory approval off the list when the UK become the 11th authority to clear its planned merger with fellow South Korean operator Asiana Airlines, while IAG agreed a new deal to acquire full control of Spanish operator Air Europa. That both deals are still winding through the approvals process underlines why consolidation largely still remains at the fringes of the airline industry.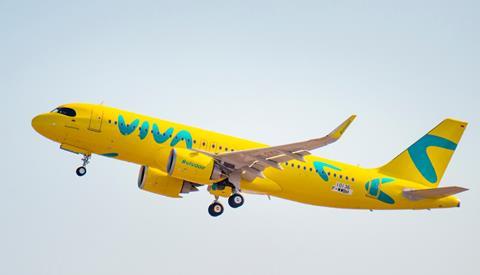 Korean Air, which announced its plan to acquire Asiana in November 2020, had initially hoped to secure the necessary approvals by the end of last year.
But having received a green-light from the UK authorities, after Korean cleared a path for Virgin Atlantic to start London-Seoul flights, it is now working with EU, US and Japanese regulators to gain the remaining competition clearances.
IAG's on-off move for Air Europa pre-dates the Korean-Asiana tie-up by a year, and while fresh terms have now been agreed on the acquisition, the European airline group expects it to take another 18 months to complete.
Previously, tripartite talks between IAG, Air Europa parent Globalia and the Spanish government failed to broker a deal, and European and UK regulators had both also flagged competition concerns. But IAG chief executive Luis Gallego now points to the "greater certainty" in the market now as a reason for optimism that the transaction can be concluded.
MERGER DELAYS HIT VIVA OPERATIONS
Regulatory hurdles have also hit Avianca's move for fellow Colombian carrier Viva Air. The struggling budget carrier has suspended operations, citing regulatory hold-ups regarding its efforts to merge with Avianca. The latter had earlier identified a deal for Viva as part of its wider consolidation efforts, under which it is establishing the Abra holding group with Brazilian carrier Gol.
While Viva says the flight suspension is "temporary", it stresses the link-up with Avianca was the "only possibility" for continuing its business. In the meantime, rival Chilean budget carrier JetSmart has said it is interested in acquiring Viva.
Following Viva's suspension of flights, Colombia's transportation superintendent, the oversight authority for the sector, has taken control of the troubled airline and is seeking to submit the carrier to a business recovery process.
The challenges serve as a reminder that such acquisitions may take some time to come to fruition. In India, for example, the planned deal for the Tata Sons-SIA Group joint venture Vistara's integration with Air India is not expected to complete for another year, though the latter's chief executive Campbell Wilson confirms the Vistara brand will be dropped once the merger is completed.
JETBLUE FIZZES AT SPIRIT LAWSUIT
While domestic consolidation should theoretically be easier to achieve, JetBlue's move for Spirit has now prompted the DOJ to take legal action to block the planned acquisition. That the deal prompted regulatory scrutiny is little surprise. Both Spirit's board and that of Frontier Airlines flagged competition concerns in initially backing a tie-up between the two over JetBlue's rival offer, before the latter ultimately secured Spirit's backing following a bidding war.
Robin Hayes, chief executive of JetBlue, downplayed the DOJ move, maintaining that JetBlue had also anticipated a court trial since the $3.8 billion deal was approved by Spirit's board in July 2022.
Admitting to being "disappointed" by the DOJ's decision, he argues that fears of a discount airline monopoly are overblown. "This is not Pepsi buying Coke," he said during a 7 March television interview. "Together, we are going to be 8% to 9% of the market."
If combined, JetBlue and Spirit would become a distant fifth largest airline in the USA, behind American Airlines, Delta Air Lines, Southwest Airlines and United Airlines, Hayes adds.
"The issue in the US industry – and this is where we agree with the Department of Justice – we've got four large airlines with about 20% of the market each," he says. "That's 80%. The rest of us have 20% between us."
Others say the deal has the potential to profoundly change the highly competitive North American discount airline market. ULCCs play a critical role in the American economy by making air travel more affordable, says Vanita Gupta, US associate attorney general. She adds that the US government's complaint "rests on well-established theories of anticompetitive harm".
"We allege that the proposed merger would lead to fewer seats and higher prices for travellers," she says. "And we allege that the proposed merger would heighten the risk that remaining airlines would coordinate to raise prices."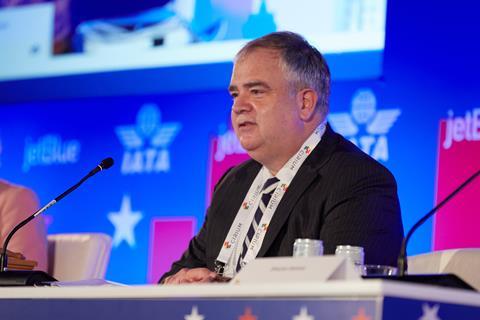 JetBlue says the ULCC market would "continue to thrive" if it successfully purchases Spirit: "Because many Spirit aircraft will continue to fly in their current configuration during the retrofitting process after the transaction closes, there will be no short-term change in capacity."
The US Department of Transportation (DOT) also says it will also work to prevent New York-based JetBlue from swallowing Spirit. "The Department of Transportation typically has not gotten involved in these merger cases, but that's changing today," said US transportation secretary Pete Buttigieg during a 7 March television interview. "It is so important to make sure passengers have choices, that they have access to low fares, that they have access to competition."
Specifically, the DOT plans to deny JetBlue and Spirit a transfer application requesting that they be allowed to combine and operate international routes under one certification. "The department will continue to separately investigate the transfer as part of its statutory public interest mandate and under its authority to enforce against unfair and deceptive practices and unfair methods of competition," the DOT says.
MORE CONSOLIDATION TO COME
Despite the challenges in getting consolidation over the line, more is activity is in the works. In Europe Lufthansa remains in talks with the Italian government over its planned acquisition of ITA Airways. It forms part of a desire to add a base in southern Europe.
"The five hubs we have are fairly northern positioned, which has its advantages when you think about the North Atlantic, Japan and China," explained Lufthansa group chief executive Carsten Spohr during a full-year results call in early March.
"When it comes to the, in my view, relatively small but growing southern hemisphere markets, being further north is a disadvantage because a certain share of our European passengers need to backtrack."
ITA is one of two southern European airlines openly in the market for investors alongside TAP Air Portugal. While Spohr does not rule out a move for the Portuguese carrier, he outlines a key benefit of ITA and its Rome hub.
"The difference between TAP and ITA, is TAP would be new markets for us. They only serve two markets which we serve ourselves in Latin America," he says, noting that as the group covers many of the same destinations at ITA, this would enable it to increase its market share and reduce backtracking time.
"Now we focus on ITA. Then of course we will be looking at TAP, like probably my two best friends in the industry will as well, and we take it from there," he says, referring to rival European airline groups Air France-KLM and IAG.
Air France-KLM chief executive Ben Smith recently reiterated the group's interest in TAP, while IAG boss Luis Gallego said the carrier's own move for Spanish airline Air Europa did not rule other acquisition opportunities.
TAP's attempt to position itself for sale have though been complicated by the abrupt removal in early March of the airline's chair Manuel Beja and chief executive Christine Ourmieres-Widener. That followed publication of a report into a controversial severance payment to a former TAP administrator, with Portugal's finance minister Fernando Medina seeking to "turn the page" at TAP after a political scandal which had already seen two governments officials resign.
Elsewhere in Europe a planned merger between Spanish regional carrier Air Nostrum and Irish capacity provider CityJet – plans for which date back to the summer of 2018, but since when CityJet has been through a formal financial restructuring – appears back on the table after EU regulators in March gave fresh blessing for the deal.
Japanese carrier All Nippon Airways is set to acquire freight operator Nippon Cargo Airlines after owner NYK in March outlined its intent to divest the airline. The shipping group cites the ongoing cost of running the cargo airline for the decision. The terms of the deal are still under discussion but both parties hope to finalise the transaction by October.
Meanwhile in Africa plans remain under way for Kenya Airways and South African Airways to establish an IAG-style pan-African holding company, though few firm details have emerged – beyond a codeshare agreement – since an initial strategic partnership agreement was signed in 2021.
Editor's note: This is longer, updated version of an article first published on 3 March 2023
Read the newsletter for free every week by signing up to the Airline Business Weekly Briefing