Australian low-cost start-up Bonza is making traction with its unique business model, which aims to stimulate demand among infrequent fliers on largely un-served routes.
Bonza chief executive Tim Jordan claims that following its launch on 31 January, Bonza had the biggest airline ramp up in country's history.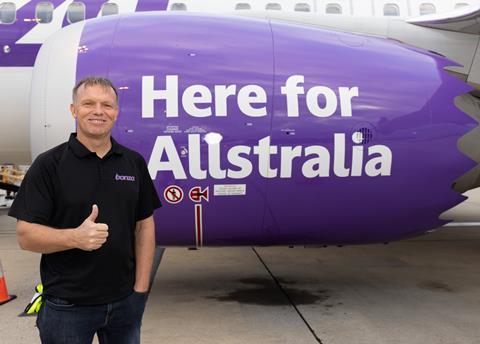 "The ramp up we went through from January through May was the biggest aviation ramp up in Australian aviation history in the fact we started with 17 destinations and 27 routes over that initial 17-week period," says Jordan, who was speaking to FlightGlobal in a virtual interview.
"I don't think that was understood by many in the industry."
Jordan describes with enthusiasm how Bonza originally identified gaps in the market and feels that the airline's original plans have largely been borne out.
Of the carrier's initial 27 routes, 25 were unique to the new carrier. Of those 27 routes, the carrier continues operations on 22 following a series of network cuts in July.
While the network changes prompted some to question what this meant about Bonza's strategy, Jordan says they were par for the course for a low-cost carrier – and represented a mere 7% of Bonza's ASKs.
Building on its home base of Sunshine Coast, Bonza added a base at Melbourne in March, and will add a third base at Gold Coast with flights to commence on 15 November.
Jordan says that prior to Bonza's arrival the Australian low-cost market was "stagnant" with about 60 routes, and that Bonza has increased this by nearly half. This was consistent with Bonza's pre-launch strategy, which aimed at avoiding Australia's triumvirate of trunk routes between the cities of Brisbane, Melbourne, and Sydney, and focusing on leisure travellers in secondary locations.
"Our customers are infrequent travellers…travellers who have been stimulated by price when either they would have stayed home or drove," says Jordan.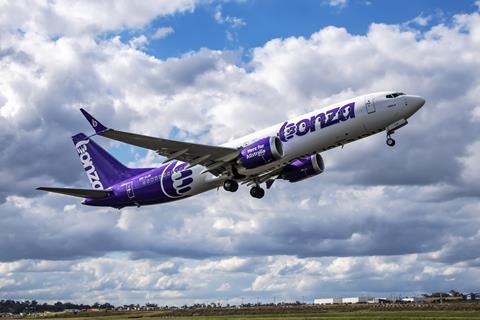 Cirium schedules data shows that from its Sunshine Coast and Melbourne bases, Bonza serves secondary destinations such as Cairns, Townsville, Mackay, Newcastle, Toowoomba, Mildura, and others.
Jordan says load factors have been strong. Nearly 500,000 passengers have either flown with the carrier or having a booking. He estimates that 95% of bookings have come through the airline's mobile phone app, which can also be used for ancillary purchases during flights.
There has been little in the way of a competitive response from Australia's other airlines. Jordan contends that Bonza has not taken traffic from them but stimulated an entirely new market.
"I think the incumbent airlines have their own ongoing challenges competing on trunk routes against each other. I suspect this is preoccupying those airlines quite extensively. We're creating a brand-new market that is not coming out of anybody's pockets."
Jordan observes that of the carrier's 18 destinations only one, Melbourne, is a major city. From Melbourne, Bonza operates to nine markets, seven of which are flown by no other carriers.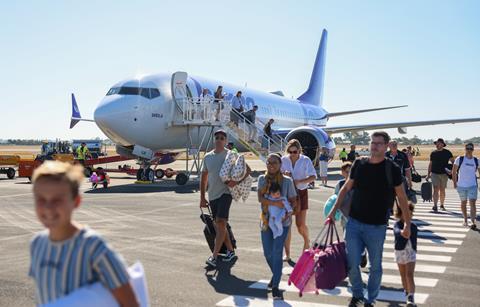 Bonza has also benefited from being based in Sunshine Coast, an attractive leisure destination. This offers employees a certain quality of life perhaps not available in Australia's major cities and creates a selling point when hiring staff.
Near the airline's Sunshine Coast headquarters Jordan recently bumped into a Bonza pilot carrying a surfboard.
"Aren't you flying me to Rockhampton in four hours?" he asked.
"Yeah, I'm just going to have a quick surf first," replied the pilot.
The ability to attract staff will be key as the airline grows. For the time being Bonza operates four 737 Max 8s leased from its Miami-based backer, 777 Partners. To add scale in Australia's "super peak" school holiday months in December and January, Bonza plans to wet-lease a pair of Max 8s from another carrier affiliated with 777 Partners, Canada's Flair Airlines.
The latter half of 2024 will then see 777 Partners taking delivery of additional 777 Max 8s, some of which will make their way to Bonza.
"We expect a significant number of additional aircraft to join us from the second half of 2024 into 2025," says Jordan.
Asked whether Bonza will commence international services, Jordan says the focus now is entirely on Australia's domestic market.
"The great news is that six months in, there's a gap in the market. In fact we'd say it's a Bonza-sized gap, which is really encouraging."