British Airways is halfway through a transformation of the business under the leadership of Sean Doyle, focused on building the brand's 'premium' reputation, improving engagement with staff and increasing the resilience of the technology that underpins operations.
Doyle's efforts to transform BA began when the former Aer Lingus boss took over at BA in October 2020, replacing Alex Cruz. The latter had overseen three profitable years for the British flag carrier in the run-up to the pandemic and had initiated an overhaul of the operator's premium product. But he also faced challenges around a perception of excessive cost-cutting, high-profile technology failures and strained relations with staff – notably amid the handling of job-losses and contract renegotiations as Covid-19 grounded operations.
Speaking during a second-quarter earnings briefing by BA parent company IAG on 28 July, Doyle split the airline's ongoing transformation effort into four "key components": leadership, resourcing, product investment and technology.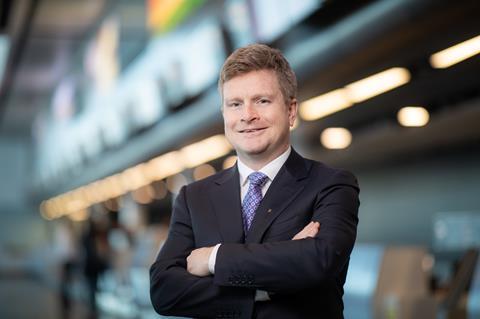 One of Doyle's priorities, he explains, has been to bring in "a lot of very, very strong leaders" to spearhead change at the business, including KLM's Rene de Groot as chief operating officer and former LATAM Airlines and Lufthansa executive Dirk John as chief digital and transformation officer, both appointed in July 2022.
Challenges around technology failures at BA have frequently made the news in recent years, and Doyle says the carrier is working under its new leadership to build "new foundations", including through a programme to migrate its data centres into the cloud. The airline is also redeveloping its website and "looking to transform the digital experience" for customers.
On the resourcing effort, Doyle notes the BA has taken on around 13,000 more people since "the start of the end of the pandemic" in early 2022, including 3,000 in the first half of 2023 ahead of the summer peak. The airline's workforce had shrunk from around 40,000 pre-Covid to less than 30,000 in 2021.
The relative lack of experience among BA's staff was cited by IAG chief executive Luis Gallego as among the reasons for the UK carrier's operational struggles this summer, when compared with the stronger performance of stablemate Iberia. Another fresh leadership appointment, BA's Heathrow director Tom Moran, is helping to address operational challenges at the airline's main hub, Doyle notes.
And as BA's workforce heads back towards 2019 levels, Doyle says the airline is making "significant improvements" in employee engagement – an important development for new starters and for existing staff who may have suffered morale issues during the turbulent pandemic years.
"We're putting a lot of work into making sure that people have the right skills, the right training and the right tools to do the job of the day, and to make sure we support all of our front-line operational people in looking after our customers," he says.
"That's trending very much in the right direction."
When it comes to investments, Doyle cites "significant fleet deliveries", including the six more Boeing 787-10s announced as IAG's second-quarter earnings were released. Those jets and more of BA's existing fleet will be equipped with its new business-class product, as part of the aforementioned push to improve the airline's 'premium' credentials.
"We now have 55% of our Heathrow fleet with the [new Club class]," he states. "That will rise to 63% by year-end and we [we will] start reconfiguring the 787-8s and -9s next year."
The airline has also increased its call-centre capacity by 30% year on year, Doyle says, through investment in new sites in Delhi, Bucharest and Kuala Lumpur. That came after another raft of negative press stories during the pandemic, citing long waiting times for BA customers as they sought refunds or to make changes to bookings.
"So there's a lot of foundations going in, a lot of progress being made and very exciting developments that will begin to impact the business positively in the next 12 months," Doyle states.
BA booked revenue of £3.67 billion ($4.72 billion) in the second quarter of this year, up from £2.74 billion in the same period of 2022 and £3.46 billion in 2019. Its operating profit of £514 million was up from £60 million last year but down slightly on the £527 million it booked in 2019.
Its capacity in the second quarter was still 12% down on that flown in the same three months of 2019. That comes amid the relatively slow recovery of Asia-Pacific markets and BA's continued efforts to replace seats flown by the 31 Boeing 747s that it retired when Covid-19 hit.
Parent company IAG's second-quarter earnings beat analyst expectations by some distance, and were marked by praise for the group's Spanish operations – Iberia in particular – alongside a recognition that BA's transformation was still a work in progress.
BA is still, however, by far the largest airline within IAG, offering more than twice the capacity and booking significantly more than twice the revenue of Iberia during the second quarter. Aer Lingus and Vueling are, in turn, much smaller operations than Iberia by those metrics.