In their traffic results for October, China's three largest carriers announced something few might have imagined half a year ago, when the country was in the throes of the coronavirus outbreak.
The 'Big Three' — Air China, China Eastern Airlines and China Southern Airlines — each announced new domestic route launches.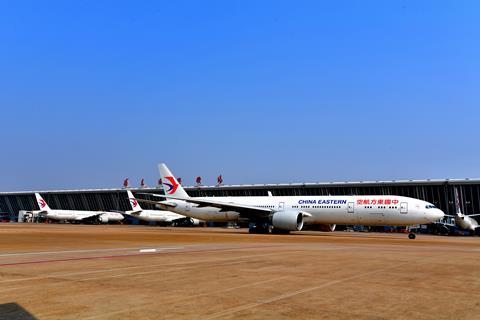 What made it more significant for the carriers was that it was announced in piecemeal fashion; instead, each of the carriers rolled out more than 10 new routes, many of them between second and third-tier Chinese cities.
Indeed, the announcements of October underscore the rapid domestic recovery seen by the Chinese airline industry — one that has been helped by the Chinese government's ability so far to keep the virus under control.
It is also a strange juxtaposition against the gloom other carriers in Asia and around the world are experiencing, as they hunker down amid a pandemic-driven downturn.
But while the carriers have more or less secured domestic recovery — and then some — their international traffic figures still remain woefully depressed, thanks to the travel restrictions to curb the spread of the coronavirus.
It is a trend that is likely to continue into 2021, as countries battle fresh outbreaks and borders remain closed.
For Chinese carriers, however, they will enter the new year in better financial state than most of their competition, having had the advantage of strong domestic growth in the second half of 2020.
Indeed, a HSBC Global Research report in November underscores the sentiment, stating that Chinese carriers are best poised to recapture lost international capacity when borders reopen, while their competitors languish in shaky financial state.
The HSBC researchers also note that what could also be in Chinese carriers' favour is the fact that many flagship carriers of key Chinese outbound destinations are in bad shape financially, like Thai Airways, Malaysia Airlines and Cathay Pacific.
In 2021, it is likely Chinese carriers will continue to see domestic market growth, as they tap into more second and third tier markets, as part of the Chinese government's attempt to spur development in these areas.
While it is anyone's guess when mass international travel will resume, it is very certain that Chinese carriers will be quick to seize on pent-up travel demand when it comes.
The coming year should also see the introduction of a new generation of carriers.
China Eastern itself owns two of these new carriers: Shanghai-based OTT Airlines, as well as Sanya International Airlines, based on Hainan island, the launches of both carriers announced in 2020.
While China Eastern has not disclosed any timeline about these two carrier's launches, it is certain that work to launch these carriers will stretch into 2021, with OTT already on the cusp of beginning operations.
With OTT, the carrier will operate only China-made aircraft, such as the Comac ARJ21 regional jet, which it has since taken delivery; as well as the C919 narrowbody.
As for Sanya International, China Eastern launched it in June 2020, amid the coronavirus outbreak no less, with the aim of establishing a presence in the newly-minted free-trade zone of Hainan island.
China Southern, too, will be busy building up its wholly-owned cargo subsidiary, tapping into burgeoning freight demand seen during the pandemic.
But the year closed with a reminder that this crisis has shown no recovery can be taken for granted. After consecutive months of steady recovery, China's three largest carriers reported their first month-on-month domestic traffic slump the first in more than half a year, in November — with at least one carrier blaming a resurgence in domestic coronavirus cases for the decline.
While Air China and China Southern domestic passengers levels were only slightly down on 2019 levels in November, traffic was down 14.5% year on year at China Eastern.
"Recently, there were confirmed cases of Covid-19 casually found in certain domestic places, which have affected the operations of the company to a certain extent, the airline says in its November traffic results.