While there was relief among airlines in October when ICAO adopted a long-term aspirational goal (LTAG) of net-zero carbon emissions from air transport by 2050, the deal concurrently upped the ante for everyone involved.
With commitments from governments now aligned with those of industry, there are few excuses left for avoiding the difficult task of implementation.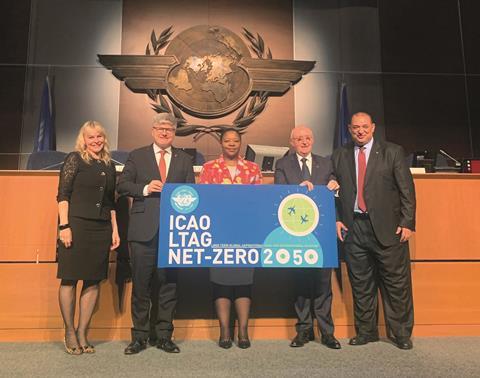 Realistically, opportunities for significant sustainability breakthroughs will be few and far between in 2023. But two big themes are likely to underpin the industry's efforts: continued investment in new-generation aircraft that deliver fuel savings in the 15-20% range, and the push towards the sustainable aviation fuel (SAF) 'tipping point', where its use becomes mainstream and starts to chip away at jet kerosene's current dominance in whole-percentage-point terms.
The USA is setting the standards regarding the latter issue, having recently detailed plans for a massive scale-up of domestic SAF production from 5 million gallons in 2021 to 3 billion in 2030 and 35 billion in 2050.
TIPPING POINT
Airlines will strive to send strong SAF demand signals in 2023, as they work with governments and the energy sector to deliver that tipping point by 2030.
Aside from those key themes, other developments are likely over the next 12 months.
European airlines in particular will continue to highlight airspace reform as a way of delivering emissions reductions of 10%-plus in one fell swoop. Given the long history of failed attempts to introduce a 'Single European Sky' amid national airspace security concerns, however, progress seems unlikely.
2023 will also bring some focus on the roll-out of market-based measures, such as the voluntary stage of ICAO's CORSIA offsetting scheme, which play a significant role in many net-zero roadmaps – but one that most stakeholders hope will get smaller as other developments deliver emissions reductions at source. In the meantime, the industry will continue to push back against government attempts to introduce or expand competing programmes, such as the European Union's Emissions Trading System.
Furthermore, the coming 12 months are likely to see continued airline support for the development of breakthrough aircraft and propulsion technologies – and concepts such as carbon-capture – that might aid the net-zero push as 2050 gets closer.
The concept of 'green-hushing' is also a topic to look out for in 2023. Amid the lawsuits faced by some businesses – including Dutch flag carrier KLM – over allegedly misleading sustainability boasts, 'green-hushing' describes firms becoming less willing to trumpet their progress towards net-zero CO2 for fear of attracting similar lawsuits.
In a related issue, many stakeholders complain that the airline industry's lack of universal sustainability metrics is weighing on its ability to confidently shout about progress on the topic – whether to sceptical pressure groups, the travelling public or investors seeking reassurance on the sector's credentials. Airline association IATA is working on a set of metrics that might be the solution to that problem going into 2023.
Ultimately, the coming year is likely to see airlines make steady progress on the net-zero effort with a new-found confidence that governments and industry are aligned.
It might not bring the big leaps that are probably needed to win over sceptics, but no serious roadmap suggested it would. Hard work in the coming months will, however, ensure such points can be reached sooner rather than later.