Kenya Airways chief executive Allan Kilavuka believes the operational fundamentals of the carrier are strong after its restructuring efforts, but that raising capital is key to it moving back onto a growth path.
The SkyTeam carrier has been undergoing a major restructuring after a decade of net losses were exacerbated by the pandemic. It is pursuing a turnaround plan which the country's government hopes will end the requirement for further state financial support by the end of this year.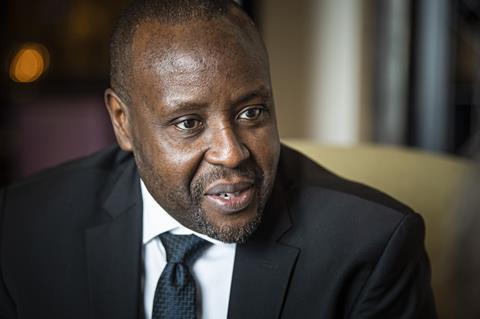 "The restructuring was a 36-month process, a lot of which was operational restructuring, optimising the fleet, optimising the schedule and so on," Kilavuka tells FlightGlobal during an interview at the IATA AGM in Istanbul. "What we believe is the fundamentals of the business, operationally, the company is doing really well.
"We are now moving to the next phase which is restructuring the capital structure and capital raising," he says. He says the new Kenyan government, which took office last year, asked it to look at raising external capital. "So that is what we are currently doing."
The airline, in which SkyTeam partner KLM for many years previously held a minority stake, is keeping its options open on the type of investment partner is looking for. "Strategic is better because it add more value to the company. However, it doesn't have to be, because I think we have sufficient skills in the organisation to run it soundly." But he says a strategic partner could "complement" what Kenya Airways already has.
The fresh capital will be used to not only clean up the carrier's balance sheet, but to fund future growth.
"One of the things we did was to try to get the basics correct before we look for growth," Kilavuka explains, "so we grow on a good basis. That's exactly what we are now doing. We are working on a fleet plan that is talking to growth. We definitely need to be in the next five years at 50 plus aircraft, but that will depend on the capital we are able to raise"
While Kenya Airways sharply boost revenues in 2022, the impact of worsening foreign exchange rate on its financing costs meant its pre-tax and net losses deepened in 2022. However Kilavuka says the carrier still expected be at least breakeven "if not better" in 2024.
"We believe that is doable because, operationally we are ok, and we hope that by next year we will have worked on our capital so we reduce our debt and so our financing costs come down significantly," he says.