Few airlines have been hit harder by outside factors in the recent past than Cathay Pacific. But chief executive Augustus Tang is confident that good times will return
It is Augustus Tang's first overseas trip in more than two years, and the chief executive of Hong Kong-based Cathay Pacific is understandably excited – even if he does not always show it.
When talking about how it is good to be at an in-person event after two years of virtual meetings, Tang, who was speaking to FlightGlobal on the sidelines of the IATA AGM in Doha, says: "You know, some people actually believe that online meetings are the same. It's not the same, I can tell you."
He earnestly doubles down on the comment: "It's definitely not the same!" The sentiment is understandable, given the lack of travel opportunities over the past two years, and the barrage of negative news that has come from – and been written about – Cathay.
Since he took helm of Cathay in August 2019, Tang has largely kept a low profile, even while steering the airline through the worst period of its over-70-year history.
Hence his appearance at the IATA AGM marks a shift in direction – both for the airline and Tang, who is marking his 40th year in the aviation industry.
"I am here to meet with a lot of our friends and business partners… to make sure that they know that Hong Kong is back, Cathay Pacific is back and we are slowly building back the hub of Hong Kong," Tang says.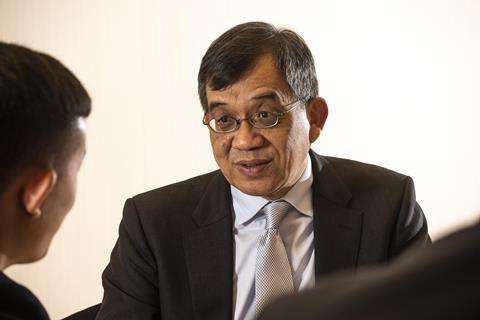 At the interview, Tang exudes a different aura from the quiet persona seen in virtual press briefings.
For instance, when FlightGlobal enters the meeting room where the interview is to be held, the 63-year-old deadpans, before breaking out into a hearty chuckle: "Please don't call me Mr Tang, call me Augustus; I tense up every time I get called Mr Tang."
Tang was picked to lead the carrier in August 2019, in the middle of the political turmoil in the city that saw his predecessor, Rupert Hogg, abruptly step down.
He is a veteran of Cathay parent company Swire Group, first joining the airline as a management trainee in 1982. In 1994, he had a brief stint at regional unit Dragonair (known later as Cathay Dragon) before returning to the mainline carrier to take on a business improvement role.
By 2008, Tang moved from the airline to Swire-owned MRO provider HAECO, where he sat at the helm until 2019.
That year, as anti-government protests rocked the city – and the airline – Tang was arguably thrust into the uncomfortable spotlight upon his appointment, to tread through politically delicate waters.
Cathay was already seeing a decline in passenger traffic, as travellers steered clear of the city, wary of further political unrest. Then, less than half a year after Tang took over, the Covid-19 pandemic struck, dealing the carrier with an even larger blow.
The subsequent two years or so has – in Tang's words – "profoundly changed" the airline's business model.
Cathay had some natural protection because of its strong cargo activities, where revenues jumped 50% on 2019 levels. Its reliance entirely on international traffic meant, however, that its passenger business was heavily exposed.
Hong Kong's long-drawn pandemic curbs – as part of a broader zero-infection strategy in line with Mainland China – left the airline's international network in tatters.
While peers in the region have been ramping up their international networks as borders reopen, Cathay largely remained deep in operational hibernation, its capacity and network a shadow of their former selves. It also earned the censure of the Hong Kong government earlier this year, when it was blamed for a surge in infections after its crew were found to be disobeying quarantine rules.
But nothing affected Tang more than the events of October 2020.
TOUGH DECISIONS
As losses widened amid a collapse in travel demand, the airline group embarked on a wide-ranging restructuring exercise, and made the "painful" decision to cut thousands of jobs. Former regional wing Cathay Dragon was also shuttered, its network folded into mainline operations.
Looking back, Tang says it was a decision no one would have wanted to take, but that it was necessary to ensure the airline's survivability.
"The whole objective is to make the Cathay Pacific Group into a [much more] competitive and highly efficient airline. The decision to depart with the staff was, of course, painful, but as I said it was necessary for the survival of the company," Tang states.
He moves on to better news: that recruitment has started for up to 8,000 roles across the group. Of these, around 4,000 will go to mainline carrier Cathay, while the rest will be spread out across subsidiaries, including Air Hong Kong and low-cost carrier HK Express.
He declines to say how many axed staff members will be rehired, but notes that the airline has reached out to all former staff who have indicated their interest to be rehired when the opportunity arises.
CAUTIOUS APPROACH
The issue of manpower also becomes an opportunity for Tang: Cathay's relatively slow pace of recovery means it has been spared – so far – the teething issues other carriers, especially in North America and Europe, are experiencing.
Tang is acutely aware this could pose a challenge for Cathay should Hong Kong decide to fully ease border restrictions.
"The key to all this is… planning well… in advance [and working] out what are the bottlenecks. [For] example, when it comes to pilots or cabin crew, it would be training.
"So that's something we need to do… that's the constraints we [will be] facing because it is all very regulated," says Tang. One step the airline has already made is to restart its cadet pilot programme, with the aim of building a pipeline of pilots in the near- to medium-term.
The optimism struck up by Tang contrasts starkly with the doom and gloom surrounding the carrier – and its Hong Kong hub – earlier this year, as Hong Kong battled a record surge in infections from the Omicron variant.
As Hong Kong tightened its grip on restrictions, the airline found itself slashing capacity, even in its cargo network, which had hitherto been a financial lifeline.
Questions of Cathay's survivability came to light: will the airline, already battered by a prolonged period of poor traffic, survive this latest round of curbs? Is a takeover – possibly from the Mainland – imminent?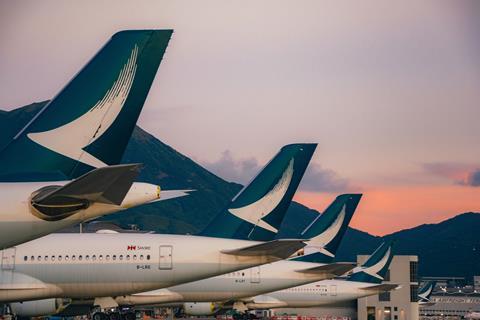 Cathay chairman Patrick Healy dismissed any notion of Cathay being shut down. At a results briefing in March, Healy said the airline is "resolutely committed" to its role as the de-facto flag carrier of Hong Kong, as well as "to protecting and enhancing the city's aviation hub status despite the challenging circumstances presented by Covid-19".
Tang concurs, and puts it plainly: "The survivability of Cathay Pacific has never been on my mind."
He notes that the airline group has "such a strong brand" and quickly highlights its liquidity position. As at end-2021, Cathay had HK$30 billion ($3.8 billion) in cash and cash equivalents, higher than the HK$28.6 billion at the start of the year.
The airline also recently received a one-year extension – the second one in two years – for the drawdown of a HK$7.8 billion bridging loan from the Hong Kong government.
These are "good signs" the airline is not on the cusp of a collapse, says Tang.
"Our liquidity position… is tremendously strong, [and] we have the support of the investment community. We have no problems raising funds if necessary," he adds.
"Am I concerned about [Cathay's future]? No, not at all," says Tang.
'LAGGING BEHIND'
Then there was the sentiment that Hong Kong risked losing its competitive edge if the city remained shut for too long.
At an April media briefing, IATA director general Willie Walsh warned that Hong Kong was "very much an outlier" and that it was "effectively off the map" as a global aviation hub, as the city continues to impose onerous restrictions.
Asked about this, Tang gives a knowing smile, and says: "I don't agree with any assertion that Hong Kong is off the map. Hong Kong is always on the map.
"The importance of the Hong Kong aviation hub is always there, and will always be."
There is an admission that the city is "lagging behind" its peers, but Tang is quick to point out that Hong Kong is on the path to opening up.
"The [direction] is right… and I am very optimistic about the future of Hong Kong as an aviation hub. We will rebuild our network and will make sure we are competitive."
Already the carrier is ramping up: by year-end, Cathay aims to be flying to more than 60 points in its pre-Covid network – twice the number from the start of the year.
Tang believes the Oneworld carrier is truly moving on from its darkest days, and stresses that the business "could not have done it without our team".
Calling the past three years "unparalleled and unprecedented", Tang says: "I will never forget [this] in my life, but it is… so satisfying to work with the best team in the industry… [and with] the support from the team."
And as someone who had a front seat in arguably one of the aviation industry's darkest periods, Tang is hopeful for brighter days ahead.
At the end of the interview, and in a moment of self-reflection, he says: "You know, we are all working in the airline industry, and [I hope] there will be some kind of… period of stability going forward."
With a hint of realism, Tang adds: "But I know, this is probably wishful thinking, there will be challenges, new challenges coming up, and we are all very used to it."