China Airlines has said that its regional unit Mandarin Airlines will be around for the foreseeable future, even as its peers in the region have shuttered or merged such brands into mainline operations.
In an email interview with FlightGlobal, China Airlines vice-president for corporate communications Marian Lu says the airline group's brands are "differentiated" enough to target different segments.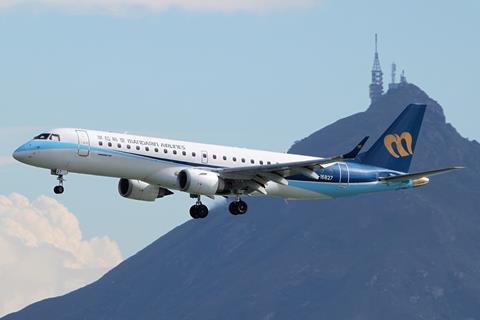 Apart from China Airlines and Mandarin Airlines, the group also consists of low-cost unit Tigerair Taiwan.
Mainline China Airlines is based at Taipei's Taoyuan airport, and operates international flights, while Mandarin Airlines flies domestic routes with ATR 72s and Embraer E-190s, and wet-leases China Airlines aircraft to operate cross-strait and international flights.
Tigerair Taiwan, which China Airlines once jointly owned with Singapore's Tiger Airways Holdings, operates intra-Asian low-cost flights with a fleet of Airbus A320s.
Says Lu: "The three carrier brands of China Airlines Group target separate market segments through differentiated facilities and services."
Major airline groups like Cathay Pacific and Singapore Airlines have simplified their group structure. SIA, for instance, is in the process of integrating regional unit SilkAir into its mainline operations, while Cathay closed its Cathay Dragon brand last year, as a result of the pandemic's impact.
As for Mandarin Airlines, Lu says it has enjoyed a boost from pent-up domestic travel demand amid the coronavirus outbreak, with the airline noticing "a spike" in bookings from June 2020.
"If the regional routes and recreational tourism recover first as expected in the future, the lower capacity and fuel consumption of Tigerair Taiwan's fleet of narrowbody aircraft will undoubtedly lead the charge in the return to normal business operations," she adds.
Lu tells FlightGlobal that despite the three distinct brands in the group, Mandarin Airlines and parent China Airlines have largely integrated their back-end operations, including loyalty programmes, operational planning and marketing strategies.
"It is a key component of [China Airlines] Group's network strategy during the distribution of international flight rights," she adds.
Still, China Airlines will "monitor market trends" closely and determine if there is a need to change its group resources.
"Our passenger fleet, freighter fleet, routes and network resources will be consolidated to boost the competitiveness of the group as a whole in the airline industry and strengthen our market leadership," says Lu.
Asked by FlightGlobal to comment on competition in the Taiwanese airline market, which in 2020 saw a new entrant in the form of StarLux Airlines, Lu acknowledges that the market was a hotly contested one, especially given Taiwan's strategic location in Asia-Pacific.
"Limited flight rights, time and resources, however, mean that the newcomer can only use branding as its differentiation strategy to try and carve out a market niche," says Lu, without naming StarLux.
Noting that financial preservation is of the essence amid the pandemic, Lu goes on to say: "The continued deterioration in the aviation business environment means that carriers should decide on their business strategy as early as possible. They should also optimise their passenger and freighter fleets while leveraging their co-operation with different partners in different regions."
On fleet plans, Lu reiterates that the airline's fleet "optimisation" is a continuing process. The carrier's cargo arm recently took delivery of its first Boeing 777 freighter, and now operates three examples.
This year will also see China Airlines take the first of 25 Airbus A321neos, which it ordered during the 2019 Paris air show. The aircraft will replace the carrier's fleet of 737-800s, and will operate regional routes — though Lu says the new jets will have improved seating comfort, inflight entertainment and menu design.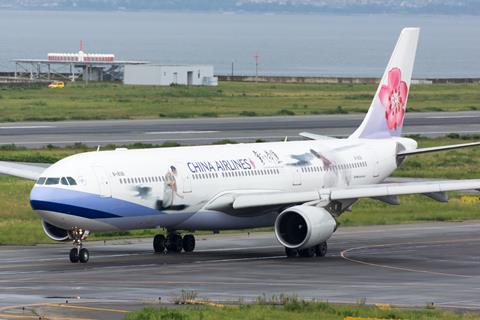 The carrier is also in the process of "evaluating the future replacement" for its fleet of A330-300s, but did not elaborate. Cirium fleets data show the carrier to operate a fleet of 23 A330s, of which 15 are leased.