Air travel to Southeast Asia is rebounding following the elimination of many travel restrictions related to the coronavirus pandemic, but traffic from China remains effectively non-existent.
Despite some snafus mostly related to personnel shortages, Southeast Asia is back on the air travel map. Singapore's Changi Airport – a bellwether for international travel in the region – is in the process of reopening terminals amid strong demand. Tourists are again flocking to destinations such as Da Nang, Phuket and Bali.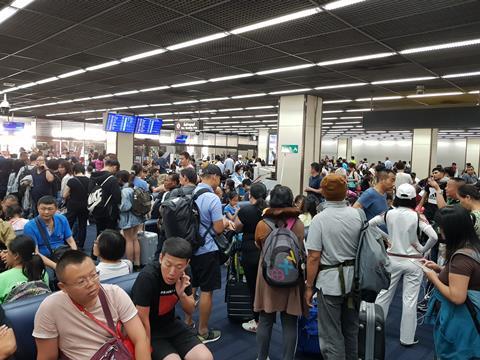 Still, Cirium schedules data indicates that things have some way to go before a return to normalcy, namely due to China's continued absence from the market.
In the fourth quarter of 2019 – the last quarter before Covid-19 made itself felt in air travel – airlines operated 43,174 flights from China to Southeast Asian destinations, accounting for 8.4 million seats and 21 billion ASKs.
As the pandemic took hold and China imposed its 'zero-Covid' strategy, airlines provided just 1,552 flights from China to Southeast Asia in the second quarter of 2020. From there things have continued to go downhill. In the third quarter of 2022, Cirium data suggests airlines will operate just 864 flights on China-Southeast Asia routes for a mere 220,510 seats – this works out to roughly two days of pre-pandemic capacity.
Highlighting the collapse in traffic from China is Thailand, which saw 16,922 flights from China in the fourth quarter of 2019. In the third quarter of 2022, it is likely to receive a grand total of just 150 flights from the mainland.
India's Southeast traffic, by contrast, offers yet further proof of the air travel rebound that attends the lifting of travel restrictions.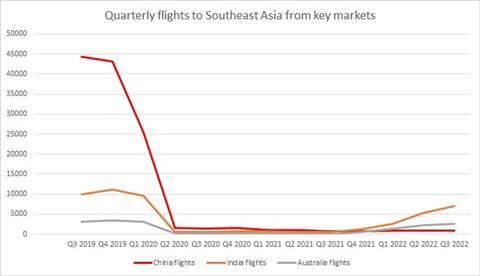 In the fourth quarter of 2019, airlines operated 9,969 flights from India to Southeast Asia – less than a quarter of the flights operated from China during that period. India's capacity to the region also collapsed in 2020 and 2021, but has rebounded this year with the lifting of international restrictions.
In the third quarter of 2022, Cirium data suggests that airlines will operate 6,992 flights to Southeast Asia from India, seven times more than those operated from China. While going some way to support Southeast Asia's air traffic recovery, it will likely be years (if ever) before Indian capacity will approach China's massive Southeast Asia traffic before the pandemic.
Australian capacity to Southeast Asia is also rebounding. It is likely to hit 2,617 flights in the third quarter, up from just 97 flights a year earlier, when Canberra was struggling with its own 'zero-Covid' strategy. Still, traffic from Australia to Southeast is still about two third below pre-pandemic levels.
Unfortunately, Chinese leader Xi Jinping appears as wedded as ever to crushing the virus, while Southeast Asia and other regions have emerged through the use of Western vaccines. As vaccinations picked up pace, restrictions such as quarantines and onerous testing requirements have fallen away.
China is charting an opposite course, with less focus on vaccines but a relentless emphasis on mass testing and movement restrictions. This while Covid-19 continues to evolve among populations beyond China's borders. This creates a dilemma for the Chinese Communist Party, which has tied its political legitmancy to protecting a vast population with limited immunity from an ever-evolving virus.
While endemic, Covid-19 is becoming yesterday's news in Southeast Asia, but China's continued absence from the region's air travel market means the boom times of the 2010s won't be back anytime soon.