As an elevator pitch, you can understand the appeal. Take city pairs with a sizeable daily demand for mid-haul premium flights; provide travelers with an exclusive, intimate experience using smaller, more efficient aircraft configured with a few dozen business class seats; and perhaps choose convenient, secondary airports to avoid traffic congestion and crowded terminals.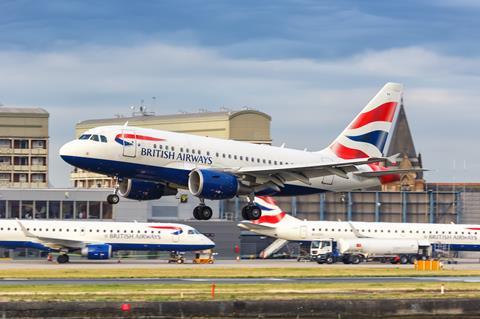 All-premium class services are an idea that should work, but their track record suggests otherwise. Pitched as a more affordable version of private-jet travel, both blue-chip airlines and start-ups have tried the concept. Arguably only France's La Compagnie has endured, with flights between Paris, Milan and Nice and New York Newark – although its attempt to establish a UK version flopped.
The latest to enter the fray is Bermudair, which plans to launch services between Bermuda and the US East Coast, using a pair of Embraer 175s. Unlike other ventures that have focused on longer routes, Bermudair wants to be the "first genuine business-class short-haul airline" – the UK Atlantic territory, famous for its offshore banks and plush vacation resorts – is just 680nm (1,261km) from New York.
Bermudair's founder Adam Scott has previous experience in the sector. Ten years ago, he unveiled Odyssey Airlines, an all-premium carrier that would offer flights between London City Airport and the East Coast, placing an order for 10 Bombardier CS100s (now Airbus A220-100s). Scott admits the Odyssey project is "on hold" but the work has fed into the new venture.
London City, a small airport on the edge of the capital's financial district, was where British Airways began its A318-based all-premium service in 2009, offering flights with 32 lie-flat seats to New York JFK airport with a westerly stopover in Shannon, Ireland to refuel and clear immigration. The operation, which had halved to a single aircraft in 2016, was axed at the start of the pandemic.
The UK flag-carrier had an earlier attempt at transatlantic all-premium flights with its Paris-based OpenSkies venture in the late noughties. The offshoot, which operated ex-British Airways Boeing 757s fitted with 64 seats, incorporated the 757-200s of French competitor L'Avion into its fleet in 2009. BA retired the OpenSkies brand with its final 767-300ER in 2018.
After shutting during the Covid-19 crisis, La Compagnie restarted its daily Paris to Newark service in 2021 with a pair of Airbus A321neos fitted with 74 seats. The narrowbodies replaced the company's original 757-200s in 2019. The "boutique airline" has defied some sceptics by staying in business since its launch in 2014, although a London Luton service lasted only a year.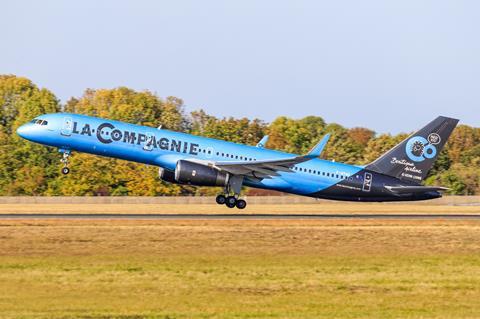 The mid- to late-2000s were the short-lived heyday of all-premium services. As well as L'Avion, three new names began flying from Luton or Stansted to the USA – Eos, Maxjet and Silverjet. All failed within a few years, partly because British Airways and its US counterparts responded in kind, with BA launching its London City operation and American Airlines flying briefly to Stansted.
Several first-tier airlines have introduced all-premium transatlantic services. Swiss-based business-charter specialist PrivatAir operated Boeing 737-700s and other types on behalf of Lufthansa, on a Dusseldorf to Newark route, and SAS, from Copenhagen to Boston. PrivatAir, which also had a fleet of business jets and a private terminal in Geneva, ceased trading in 2018 after more than 40 years.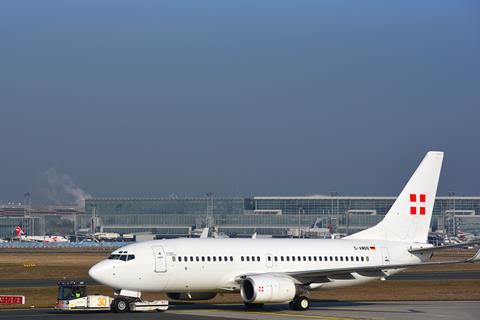 There have been other short-lived attempts in other parts of the world. In 2008, Singapore Airlines announced plans to reconfigure its five Airbus A340-500s to a 100-seat, all-business class configuration for flights between the city state and the USA. In 2014, Qatar Airways began deploying a 40-seat Airbus A319 on one of its six daily Doha-London Heathrow frequencies.
It could even be argued that the concept of all-premium services started with Air France's and British Airways' Aerospatiale/British Aerospace Concorde services in the 1970s. While Concorde's interior did not stretch to today's wide, high-tech, lie-flat business-class seats, the price point and unique offer of supersonic travel restricted its scheduled market largely to well-paid, wealthy, or celebrity travellers.
However, just as for all-economy long-haul services, the economics of configuring an aircraft for one class of travel rarely stacks up. For top airlines it can create brand confusion and product inconsistency, while start-ups with limited routes and a lack of scale have struggled to compete against established carriers.
Bermudair is unlikely to be the last to give it a go, but all-premium services are an idea whose time may have passed – if it ever arrived.