As recent as May and June, things were looking up for Qantas — at least on the domestic front.
Amid continued international border closures and rising travel demand on its domestic network, the Oneworld carrier deployed its Boeing 787-9s — traditionally a long-haul workhorse — on its domestic network.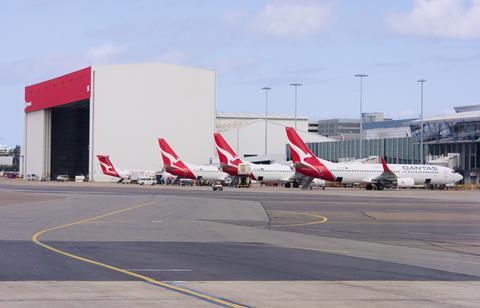 It capped off months of steady capacity growth, which saw new routes rolled out and capacity on several flights increased, as it tapped into pent-up demand.
The carrier said in May that it expected capacity "in the coming months" to surpass pre-pandemic levels.
Then the party screeched to a halt, and Qantas's buoyant mood was quickly undone by a resurgence in coronavirus infections in several parts of the country.
The rise in cases, as a result of the more contagious Delta strain, has put several states in lockdown, including New South Wales, where state capital Sydney has been locked down for nearly a month.
A 21 July internal staff memo from Qantas chief Alan Joyce, first reported in several Australian media outlets, warns of potential staff stand-downs if state border closures and lockdowns continue to drag on.
Where it used to operate nearly 90% of pre-pandemic domestic capacity, Joyce's latest memo indicates a sharp decline — to just around 40% pre-Covid-19 levels — as a result of inter-state lockdowns.
A previous series of domestic lockdowns in late-2020 was estimated to have cost Qantas some A$429 million ($316 million) in lost revenue. It is unclear how badly affected financially Qantas will be from the current lockdowns, but Qantas will definitely be counting the costs closely.
Qantas is not alone in reeling from the impact of resurgent infections — compatriot and arch-rival Regional Express, a relatively new entrant to mainline jet domestic operations, has also cut capacity across the network.
A 21 July notice on the airline's website states: "Domestic and regional routes on Rex's network in New South Wales, Victoria, South Australia, Queensland and Tasmania will be either temporarily suspended or greatly reduced until the end of the State Government imposed border closures and/or lockdowns."
A check on Rex's schedules indicates that the airline has also suspended most of its 737 operations through 1 August. Rex flies its six 737-800s on mainline domestic routes, including to Sydney, Melbourne, Adelaide, as well as Gold Coast.
Adding further woe to recovery prospects was Australian prime minister Scott Morrison's forecast that the country's economy will shrink in the quarter ending 30 September, as a result of these lockdowns, which could leave more workers facing unemployment in the coming months.
The sombre mood is a stark contrast to the optimism months ago that Australia's carriers would also ride the domestic recovery wave seen in other major economies like Mainland China and the US.
Yet, the swift —and potentially long-drawn — lockdowns and border closures that state governments have imposed have sucked the wind from these airlines' sails.
Already, a quarantine-free travel bubble arrangement with neighbouring New Zealand — seen as a means to boost revenue — is in disarray, as Australia battles the latest wave of infections.
It also remains to be seen if the latest series of lockdowns will affect the eventual reopening of international borders. The Australian government has on several occasions hinted that international borders will remain closed for most of the year, with any meaningful reopening only taking place from mid-2022.