There is an unwelcome sense of familiarity for Europe's airline sector this week as strike action and operational challenges once again impact services.
If a planned strike on 16 September by French air traffic controllers feels like the type of disruption airlines have grown all too used to over the years, fresh operational challenges at Amsterdam Schiphol airport is very much a product of the post-pandemic recovery.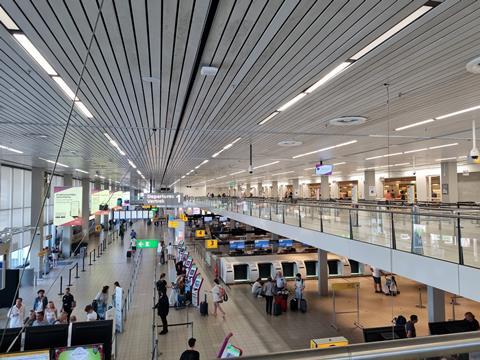 Airports across Europe have faced security staffing challenges amid a struggle to keep pace with the sharp ramp-up in demand, resulting in flight delays, cancellations and baggage pile ups. Steps to improve operational reliability, notably capping flight movements at a number of airports over the summer, has lifted some of the pressure.
However, Schiphol, one of the airports to limit flight movements, was on 12 September again forced to ask airlines to cancel flights owing to a shortage of security staff. It serves as a reminder that operational pressures remain. "After weeks of improvement, Schiphol did not expect to have to take these measures again," the airport operator said.
Even with the flight caps in place, Schiphol handled 5.37 million passengers in August – an increase of just over 40% on August last year. That though remains a fifth down on pre-crisis levels.
Alongside operational challenges, industrial action is also affecting airlines in Europe and beyond – evident again by tomorrow's French ATC strike.
Labour unrest is certainly not a new concept for airlines – nor unique to the industry at present– but it has been creating plenty of recent headlines in Europe. Lufthansa and SAS have been among those affected by industrial action, although both have made progress with cockpit unions. Lufthansa averted a further stoppage and has now finalised terms that will ensure a labour truce with its pilots until at least next summer.
Neither does IATA director general Willie Walsh see labour disruption having a noticeable impact at an aggregate level, even if does impact individual operators.
"I don't see any pattern of behaviour at the moment," he states. "We're not seeing any evidence of a change in the environment or any concern that we will see widespread disruption as a result of industrial action."