JetBlue Airways and American Airlines got a nasty surprise last month when a US court struck down their "Northeast Alliance" (NEA), calling it anti-competitive and therefore unlawful.
A federal judge ruled on 19 May that the collaboration, which the two carriers had been pursuing for four years, must be "permanently" unravelled within a scant 30 days.
American at first downplayed the court ruling, saying the NEA did not have any "material" effect on earnings, as it accounted for just 5% of the carrier's non-hub flying in the region.
But on 31 May, 12 days after the ruling, American's chief executive Robert Isom said it will appeal.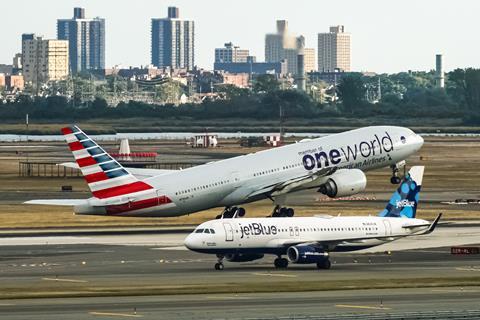 "We were sued by the DOJ and the judge's ruling said the NEA can't go forward," American's chief executive Robert Isom told an investor conference on 31 May. "We have a system that allows for appeal, and we are going to do that."
"I'm disappointed and quite frankly disagree with the ruling," he continues. "At the end of the day the reason [for the alliance] was to provide stronger competition in an area that could use it. The NEA was a creative way to take a look at that problem."
New York-headquartered JetBlue adds that "we made it clear at trial that the Northeast Alliance has been a huge win for customers".
The ruling "deals a blow to the path forward" at American and JetBlue, says Jefferies analyst Sheila Kahyaoglu. "Since beginning of the NEA, neither airline has articulated a Plan B and both have talked about the growth in daily departures and margin tailwinds… along with items such as substantial loyalty and corporate benefits."
Helane Becker, an analyst at TD Cowen, agrees that the ruling hurts both airlines, and says it leaves a third carrier – Delta Air Lines – laughing all the way to the bank.
"It will be interesting to see how the airlines spin this, but it's negative for American Airlines," she says. American has lost market share in New York and has not been profitable in the region.
She also says the decision will have a negative impact on JetBlue, "especially as it thinks about how it crosses the finish line for its merger with Spirit Airlines".
The US government has also taken aim at that $3.8 billion deal, inked last year. The case is scheduled to go to trial in October.
"We do not believe the merger will ultimately receive regulatory approval, in part because of the Justice Department's suit to block it, but also because at least four state attorneys general joined the lawsuit," Becker says.
Read the newsletter for free every week by signing up to the Airline Business Weekly Briefing