On 8 April, German carrier Lufthansa announced it would be accelerating the retirement of six of its 14 Airbus A380s, as part of wider fleet cuts across its airline group.
The Star Alliance carrier had planned to return the six aircraft to Airbus in 2022, as part of an order for more A350s disclosed in 2019. However, in light of the coronavirus crisis, it will "permanently" decommission these aircraft, along with 23 others, including Boeing 747-400s and A340-600s.
In the Asia-Pacific, where the coronavirus outbreak first broke out, various A380 operators have also parked their superjumbos, though none have gone to the extent of prematurely retiring them.
Airlines in the region, from Qantas to Korean Air, have parked all, or most of, their A380 fleets. For many superjumbos, their fate post-coronavirus is still uncertain.
Indeed, one of the more interesting threads to have emerged, as the coronavirus outbreak continues its unabated spread, has been how the A380 – once the darling of the aviation industry – has seen its already-faltering fortunes take a turn for the worse.
However, the A380 is not alone in its uncertain fate. Across the world, airlines are considering bringing forward the retirement of older aircraft types, as part of a wider narrative of cost-cutting and schedule trimming.
British Airways and Iberia parent IAG was reportedly considering accelerating the retirement of older aircraft in the fleet – including some 747-400s and Airbus A340-600s – as part of the capacity-reduction measures.
The pandemic is also prompting American Airlines to retire its 767-300ER fleet by May and its 757 fleet by 2021, ahead of schedule.
When the outbreak finally abates, the question will remain if these accelerated retirements represent an anomaly, or a "new normal" – to borrow a phrase oft-used during the pandemic crisis.
For one, the average global widebody retirement age has remained relatively stable across the years, even throughout previous crises.
Ascend by Cirium global head of consultancy Rob Morris notes that while the average age of widebody retirement appears to be heading downward, when adjusted for years in storage, the average age is still relatively stable, at around 23 years.
However, the average age will come down if this coronavirus outbreak continues to hold a "fundamental impact" on demand, adds Morris.
"If the pandemic has a relatively long-lasting and fundamental impact on demand, then it does seem likely that we could see an increase in widebody retirements which would likely also result in a reduction in the average age of those retirements," he says.
Cirium's fleet data shows that there are about 5,000 widebody passenger aircraft in operation, with an average age of about 10.4 years. Morris adds that of these, about 700 are above 20 years old.
"Only around 700 are more than 20-years old, so if we do see a tick-up in retirements I do expect that the average effective age of retirement of 23 years would reduce somewhat," he says.
OLDER WIDEBODIES IN ASIA-PACIFIC
FlightGlobal has analysed the widebody fleets of carriers in the Asia-Pacific region to see how many older widebodies are in the fleet now, and which carriers are more exposed to older widebody fleets.
For the purposes of this article, the definition of "older aircraft" is set at any widebody above the age of 10 years. It also takes into account aircraft that are currently in storage because of the coronavirus outbreak, as it is unclear if these aircraft will be permanently retired when demand picks up, or returned to service.
Cirium fleets data indicates there are nearly 600 such widebodies in the region.
By aircraft type, the A330-300 series takes a majority of older widebodies, at 130 aircraft, or about 22%.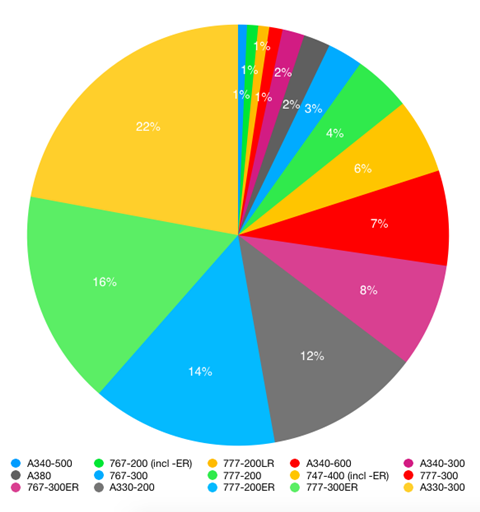 This is followed by the 777-300ERs, which at 97 aircraft, make up nearly 16%. In third place at the 777-200ERs, with 84 aircraft. The A380s come in at tenth place, with 12 aircraft, indicating that these superjumbos are relatively younger than their counterparts in other parts of the world.
Based on carriers, fleets data indicates Japan Airlines to have the highest number of older widebodies – at 64 such aircraft. These are mostly made up of 777s and 767s.
Next is compatriot All Nippon Airways, with 51 such aircraft. Again, these mainly comprise 777s and 767s.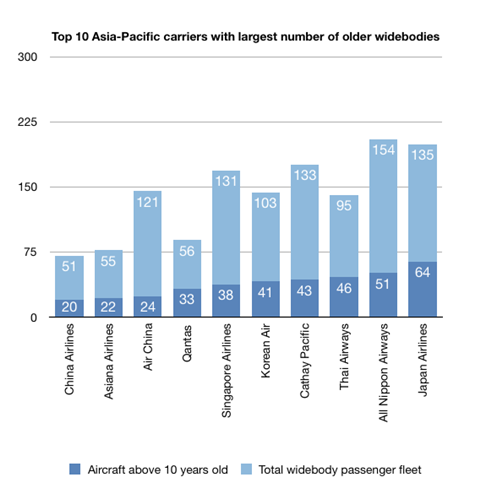 When looking at the proportion of older aircraft to the total widebody fleet, Qantas has the highest percentage among the 10 carriers, at about 59% of the fleet.
This is followed by Thai Airways and Japan Airlines, at 48.4% and 47.4% respectively.
Narrowed down to aircraft above the age of 20, Cirium fleets data indicates there are only 131 such widebodies in Asia-Pacific, the bulk of which are A330-300s and 777-200s.
The A380s, which only entered service in 2007, are absent from the list, which makes news of their accelerated retirement even more dramatic.
Morris says the retirement of larger jets like the 747 and A380s are not as much a result of their age, but "more as a consequence of their size and thus relative inflexibility, compared to smaller twin-aisle aircraft which can now offer similar range at only marginally higher seat mile cost, and which can be used on a far wider cross section of routes with different demand patterns".
But it is also indicative that older twinjets, which make up a large proportion in this region, might have a better chance at returning to the skies than their larger, four-engined siblings do.
Morris adds: "With the current massive dislocation in demand, there are likely to be even fewer routes which can support very large aircraft in the near-term. Hence, expect to see the fleets reduce or fail to return to service once demand does begin to recover."